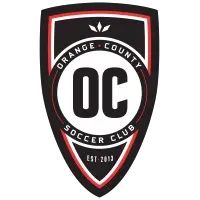 Thomas Enevoldsen Leaves Legacy as USL Champion with Orange County SC
December 2, 2021 - United Soccer League Championship (USL) - Orange County SC News Release



On November 28 during a crisp evening next to the Tampa Bay shore, Orange County SC forward Thomas Enevoldsen was substituted on for the closing 30 minutes of the 2021 USL Championship Final by his former teammate-turned-head coach Richard Chaplow. For the 34-year-old Danish international, it was the last half hour of his professional soccer career that ended with him and OCSC lifting a trophy at Al Lang Stadium after defeating the Tampa Bay Rowdies with the final score of 3-1.
"It was a very emotional game," Enevoldsen said. "It was a great feeling, exciting and also a relief that we won that. Now, I can go out as a champion and I couldn't have asked for anything else."
He admitted that he never felt so nervous before a game, not even his debut at 17-years-old with his hometown club Aalborg BK, or AaB, back in 2005. Enevoldsen knew it was going to be his last game as a player and so did the OCSC coaches, general manager and owner along with some of his teammates. With that in his mind, there was just one last thing for Enevoldsen to do-win the championship for Orange County.
"Thomas changed the dynamic from the first moment he stepped on the field as an Orange County player in 2018," President of Soccer Operations Oliver Wyss said. "His professionalism and pure talent are arguably among the best in the USL history and it has been an absolute privilege to have him part of our club. Thomas is a winner on and off the field and it could not be more fitting for him to end his career as a champion. We will miss him but he will be forever an Orange County SC legend."
Enevoldsen's appearance in the Final was not just for pomp and circumstance on national television, but it was expected and calculated to help change the dynamic of the match. Those who followed OCSC, specifically during the tailend of the season and playoffs, knew that Enevoldsen could eventually come off the bench at this point in the game.
"Thomas is going to be hard to replace," Chaplow said. "On the field, [he is] a master of his craft, a natural goal scorer. Off the field, a true gent[leman] that held himself to the highest standards, a fantastic role model to our younger players showing everyday what it takes to be successful. We wish Thomas all the best for the future, I couldn't be happier that we send him away as a champion."
At the onset of the 2021 USL Championship season, Enevoldsen was tabbed to be a key component in the OCSC starting lineup and be a part of an experienced team ready to compete for a trophy. In the third match of the season, a thriller in the 405 Derby against LA Galaxy II, Enevoldsen suffered a knee injury which kept him out until late August when he made his return for Chaplow's second match as interim head coach.
"I have been a fighter my whole career," Enevoldsen said. "When I got back, it was mostly from the bench and since the team was doing really well I accepted this role. As a sub, I can still change the game for the good of the team."
This season he made 15 appearances and scored two goals while adding three assists. In the playoffs, he converted both of his penalty kicks in front of record-breaking crowds at Championship Soccer Stadium in Irvine. Over the course of three seasons with Orange County, Enevoldsen finished with 22 goals in the USL ending as the third highest goalscorer in club history.
"Few if any players have had more impact on our Club than Thomas," Owner and CEO James Keston said. "His 2018 season for OCSC was a masterclass in soccer, and when we created the motto 'Ruthless and Relentless' for our Club, it was Thomas we had in mind: Ruthless in front of the goal, Relentless in his pursuit of winning. As he and I stood on the field in Tampa celebrating and sharing 'man tears of joy' at finally winning the Cup, it was clear how much it meant to both of us. I wish him and his family nothing but happiness in the future."
When Enevoldsen decided to shift his career to the United States in 2018, the goal was to win wherever he ended up. He has family that resides in Arizona and when OCSC signed him to star along Chaplow, who was the team captain at the time, Enevoldsen was excited and ready to prove himself in a new country and league. That season OCSC made it as far as the Western Conference Final after being the top team in the USL during the regular season.
He led the league in scoring with 20 goals and added 10 assists earning him second place in the 2018 USL Golden Boot race and a spot on the USL All-league First Team. Despite breaking the OCSC single-season goal scoring record, Enevoldsen left Southern California in 2019 and moved to Indy Eleven before returning to California to play for Sacramento Republic FC.
Ultimately, Enevoldsen found his way back home to Orange County in time for the 2020 season. Despite his return to Southern California, the 2020 campaign was derailed by the COVID-19 pandemic and Enevoldsen was forced to pivot on the fly. The pivot resulted in Enevoldsen winning his second trophy in his 16-year career by playing his penultimate season with Danish side Hobro IK.
"I think the last two years have been very challenging with COVID, of course," Enevoldsen said. "We had a few months on our own. We could only run in the street or go into a park, to play with a ball. You couldn't do gym training, especially at my age, you know we really need to take extra good care of your body."
Enevoldsen began his professional career in his hometown with Aalborg where he won his first league title and played in the UEFA Cup scoring a goal against Tottenham Hotspur. His early success earned him a contract with Dutch first division side FC Groningen before bouncing between Belgium and the Netherlands. During his time in Europe, Enevoldsen developed his playing style under coaches like Erik Hamren and Ron Jans and his way of life as a professional.
"As a young player, I was always seeking advice from the older veteran players and the experienced ones, but I think at the end you have to find your own way," Enevoldsen said. "So there are a lot of things going into a long professional career, physically and mentally living the right way and all that but in the end, you have to find a way that suits you."
In international competition, Enevoldsen made 11 caps and scored one goal for Denmark. He did start in the 2010 FIFA World Cup against the Netherlands in front of 90,000 fans, yet he was not as nervous then as he was before his final game for OCSC.
Through the experience, knowledge and balance that he learned and developed, Enevoldsen made as many contributions off the pitch as on the pitch. OCSC success this season also highlighted the mentoring of younger players like Ronaldo Damus, Kobi Henry and Francis Jacobs, by seasoned veterans like Enevoldsen, Michael Orozco and Rob Kiernan.
"I'm always trying to guide the younger person," Enevoldsen said. "I've had a great career with experience from the highest possible level. And all the guys here who want to get there as well I could help them with that."
Now that the champagne has been popped and the next generation of OCSC talents await to defend the county, a new chapter in Enevoldsen's life begins back in Denmark where he will be reunited with his daughter and girlfriend.
"I haven't seen her [my daughter] since the middle of August," Enevoldsen said. "I'm really excited to see her and spend time with her. Hopefully, she's going to hug me when she sees me and not run away, but we've been FaceTiming every day so she will recognize me."
On one hand, soccer, or fodbold in Danish, will always remain a part of life as Enevoldsen looks at taking a step into coaching or other soccer-specific roles. On the other hand, Enevoldsen will be a rookie in another field-media. In 2016, he co-founded a media company that has been growing and Enevoldsen looks to be more involved and develop his skills.
Enevoldsen won't be gone for too long as he looks forward to returning to Orange County in the near future to celebrate the championship with fans and to enjoy the Californian lifestyle.
"To everyone in the club, from the staff, front office and to fans, it's been great to be here," Enevoldsen said. "I am really proud of what we achieved together by winning the league, which was the ultimate goal. A really huge thank you and this isn't a goodbye, it is a 'see you later'. But yes, I will 100% come back for a game."
• Discuss this story on the United Soccer League Championship message board...


United Soccer League Championship Stories from December 2, 2021
The opinions expressed in this release are those of the organization issuing it, and do not necessarily reflect the thoughts or opinions of OurSports Central or its staff.