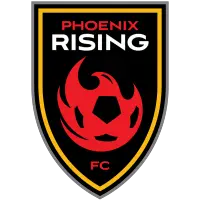 Rising Wins, 3-1, Returns to Casino Arizona Field Next Saturday, August 8
August 2, 2020 - United Soccer League Championship (USL) - Phoenix Rising FC News Release



PHOENIX, Arizona - Phoenix's three forwards Rufat Dadashov, Solomon Asante and Junior Flemmings all scored first-half goals to erase a 1-0 deficit as Rising bounced back with a 3-1 win tonight vs. El Paso at Casino Arizona Field.
Making his first start of the season, goalkeeper Eric Dick made a save at the near post in the 13th minute after El Paso forward Aaron Gomez accepted a pass on the left flank, turned his defender and got off a hard shot. Dick slapped away the chance and pushed a second quick, rebound shot out for a corner kick.
Two-minutes later a through ball from Dylan Mares split the Rising FC defense. The pass found Gomez in alone against Dick. The goalkeeper arrived a second late, catching a piece of the shot by Gomez, but the attempt trickled through and made its way into the empty net.
Sam Stanton earned a penalty kick in the 18th minute, when he took a pass from Junior Flemmings, just as he was entering the area. Stanton reached back to collect the pass from Flemmings, which threw off the timing of his marker. Arriving late, the defender clipped the foot of Stanton, forcing referee Alan Martinez to point to the spot.
Rufat Dadashov stepped up to take the kick, beating goalkeeper Logan Ketterer low to his left side to make it, 1-1, in the 19th minute.
Just after a water break, Flemmings won a duel on the left side and played a centering pass to Dadashov. The forward found time to pick up his head and he delivered a perfect pass into the space in front of Solomon Asante. The reigning league MVP charged towards goal and curled a shot past Ketterer and into the far side netting to make it, 2-1, in the 36th minute.
Flemmings nearly made it 3-1 in stoppage-time of the first half, when Dadashov recovered a bad touch made by an El Paso defender. Flemmings took a pass from Dadashov and cut to his left, around a defender and smashed a hard shot to the front post. Ketterer stood his ground and punched away the chance.
The Jamaican got one more chance before the half and did not disappoint. Collecting the ball near the corner flag, Flemmings turned two defenders inside-out before crushing a shot, high over the shoulder of Ketterer to make it, 3-1, at the break. The highlight-reel goal was Flemmings fourth of the season, tying him for the team lead with Dadashov and Asante.
El Paso pushed Phoenix Rising in search of a goal to get back in the game at the start of the second half. Rising center back A.J. Cochran made an outstanding slide tackle to deny a goal-scoring opportunity by Omar Salgado in the 57th minute. Dick made three saves in short secession to keep the score, 3-1. The goalkeeper's best came in the 62nd minute when Drew Beckie's left-footed shot from the left side of the area was pushed, just wide of the back post with a kick save from Dick.
Following the water break near the 75th minute, Rising returned with a calm presence and controlled possession and the pace of the match, steering the 3-1 victory home to move into second place of the Group B table with 10 points.
Scoring Summary:
EP - Aaron Gomez (Dylan Mares) 15
PHX - Rufat Dadashov (PK) 19
PHX - Soloman Asante (Rufat Dadashov) 36
PHX - Junior Flemmings (Jon Bakero 45+6)
Lineups:
Phoenix - Eric Dick, Owusu-Ansah Kontoh, Corey Whelan, AJ Cochran, Darnell King, Sam Stanton (Jack Barmby 64), Kevon Lambert (Joey Farrell 90+2), Jon Bakero (Jose Aguinaga 65), Junior Flemmings, Rufat Dadashov (Joey Calistri 82), Solomon Asante (Jordan Schweitzer 90+1).
Substitutes not used: Brandon Keniston, Lagos Kunga.
El Paso Locomotive - Logan Ketterer, Drew Beckie (Guillermo Diaz 72), Chiró N'Toko, Mechack Jerome, Andrew Fox, Richie Ryan, Dylan Mares, Nick Ross (Marios Lomis 82), Yuma Monsalvez (Saeed Robinson 71), Omar Salgado, Aaron Gómez.
Substitutes not used: Moses Makinde, Fordoh, Louis Herrera, Distel Zola.
Misconduct Summary:
EP - Yuma Monsalvez (caution) 23
EP - Drew Beckie (caution) 40
PHX - Kevon Lambert (caution) 67
PHX - Eric Dick (caution) 90+6
Referees:
REF: Alan Martinez
AR1: Noah Kenyawani
AR2: Melissa Beck
4TH: Alan Rios
Weather: Clear, 108
Phoenix Rising head coach Rick Schantz
General thoughts on the match...
Defensively, we were a little shaky at first but then they got organized. That's [El Paso] one of the best teams in the league. Going forward, they're very fluid. They move players around a lot. It was a difficult task but I was proud of the defending.
On the changes between this game and last...
Every time we got possession, the first five or 10 minutes we were playing like we did against Orange County - just moving the ball side-to-side. AJ [Cochran] and Corey [Whelan] started to look for Jon [Bakero] and Sam [Stanton] a little more as the game progressed. That opened up the space behind them. When we could find Solo [Asante] and Rufat [Dadashov] in-behind... that's when we are really dangerous. The biggest thing tonight was, when they make a little mistake, how fast can we go? Our goals were some of the best transition goals you're going to see. I thought Junior [Flemmings] was spectacular. What a goal. If that's not up for goal of the week, I'll be disappointed.
On all three forwards scoring tonight to tie for the team lead with four...
That's how it's supposed to be, right? Junior's individual effort to beat two players and curl that in - we see it often in training but... 30 seconds before that he took a 80-MPH shot right off the chest. Then he runs down the field and does that? He's a man. I'm proud of him.
Phoenix Rising forward Rufat Dadashov
General thoughts on the match...
I felt good. I am happy we won today. It was a hard game but we did well in the first half. We wanted to put the game away in the second half and it would have been easier but at the end a good game for us.
On getting the ball in the middle a lot this game...
We watched a lot of videos on El Paso and we thought I would have space in the middle. That was our plan and it worked on Solomon [Asante]'s goal. Junior [Flemmings] played the ball to me in the middle. I was able to turn and play to Solo. That was really good for us.
Rising FC goalkeeper Eric Dick
On making his debut...
As a team, I have to give credit to the defense. Corey [Whelan] was sliding in blocking shots. A.J. [Cochran] was blocking shots. Kevon [Lambert], Kontoh, Darnell [King] were all running their butts off. They made the job easy on me. It was a great, fun night and we got three points. I was proud to be out there.
This is something I've been dreaming of since I got here. It's one I can look back on and say 'the goal was to get three points.' That was the whole thing. I wanted to come out here and do my part and help the team. That's exactly what we did. Coming back from Orange County last week, this is a huge result. I'm happy it's out of the way and a positive result for the team.
Images from this story
• Discuss this story on the United Soccer League Championship message board...


United Soccer League Championship Stories from August 2, 2020
The opinions expressed in this release are those of the organization issuing it, and do not necessarily reflect the thoughts or opinions of OurSports Central or its staff.