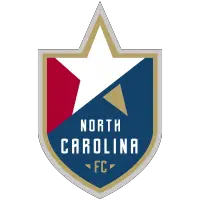 North Carolina FC Falls to Greenville Triumph SC, 1-2, After a Valiant Effort in Home Opener
May 8, 2021 - United Soccer League One (USL1) - North Carolina FC News Release



CARY, NC - Despite an incredible effort, North Carolina FC fell to Greenville Triumph SC 1-2 in their home opener on Saturday night. A standout performance from goalkeeper and captain Jake McGuire, a goal from newcomer Selmir Miščić, and the first-team debut of many new faces in tonight's lineup highlighted the night. One thing is for sure - the future of NCFC is bright as they competed against last year's USL League One champions for the full 90.
Greenville kicked off the scoring when a foul in the box provided the visitors with a penalty kick from the spot in the 10th minute. Former NCFC forward Marios Lomis took the kick and converted to give the Triumph a 1-0 advantage.
Greenville's lead would be short-lived, as Josh Coan sent a long ball upfield to find Miščić just outside of the 18. Settling the pass, Miščić beat his defender with two stepovers, cutting the ball to his right foot and burying a shot past visiting goalkeeper Dallas Jaye and into the upper 90. Miščić, who joined North Carolina FC on loan from the Philadelphia Union this season, made his debut for NCFC in tonight's match. A stellar leaping save from McGuire in the 26th minute maintained the 1-1 deadlock as the half wore on.
Later, in the 65th minute, Triumph midfielder Jesus Ibarra chipped a cross into the NCFC box to find the head of Lachlan McLean. McLean's redirection provided the Triumph with the go-ahead goal, giving Greenville a one-tally edge over the home team.
As the second half continued, NCFC was in desperate search of a second equalizer. Their chance nearly came when Cole Frame, NCFC Academy standout, entered the match as a substitute and threaded a cross into the box during stoppage time. Absolute chaos in front of the net ensued, as NCFC created several scoring opportunities that were stopped by Jaye and deflected off of a defender. Despite an impressive effort from Frame and Jay Tee Kamara in the final minutes, NCFC fell just short of their opponent, 1-2.
Post-game Quotes:
Selmir Miscic
How important it was to answer with a goal -
Obviously very important, we are a relentless group and truly believe we can beat anyone. We were unlucky by the end results but it's a good start. As disappointed as we are, we can take a lot of positives from tonight and bounce back
Walk us through the goal -
For me, winger is the position I love to play. With John, I've been able to come back into that position. One thing we have harped on is me making runs behind, and receiving diagonal balls. Once Josh put his head up I just started running and it was a good ball from him. I just settled it and took it 1v1 and was able to score.
Coach John Bradford
Initial thoughts on the game -
It was great to get the first game played and under our belt. As far as the way it went, I sensed some nerves from our young group pretty early and after we went down a goal we settled in and it showed a lot of character how we bounced back. Everything we have been working on in terms of trying to keep possession. But what a great opponent tonight for us to be able to test ourselves. A lot of positives from the game tonight.
On Jake McGuire -
I mean look, he got scored on by a PK and a header that dinged off the post and went in, so beyond that he kept us in the game in all moments. He has been great for us. Brining him in has been a big boost to the group and I think he is going to have a great season.
Up Next: North Carolina FC will hit the road to face off against Forward Madison FC on Saturday, May 15 at 8 p.m. ET at Breese Stevens Field in Madison, WI.
Box Score:
NCFC (3-5-2): Jake McGuire, Malick Mbaye, Nelson Blanco, Nelson Martinez (Malyk Hamilton - 89'), Max Flick, Peter Pearson (Cole Frame - 81'), Luis Arriaga, Selmir Miscic, Joshua Coan, Jay Tee Kamara, Robert Kristo
Subs Not Used: Nicholas Holliday, Collin McCamy, Britton Fischer, Curtis De Leon, Parker O'Ferral
GVL (4-3-3): Dallas Jaye, Abdi Mohamed, Tyler Polak, Brandon Fricke, Evan Lee, Don Smart, Andrew Booth, Alex Morrell (Jesús Ibarra - 64'), Maxwell Hemmings (Jacob Goodall - 89'), Marios Lomis (Cesar Murillo - 75'), Lachlan Mclean
Subs Not Used: Paul Christensen, Joshua Donnelly, Allen Gavilanes
Score:
NCFC: 1
GVL: 2
Goals:
NCFC: Selmir Miscic - 15'
ORL: Marios Lomis (P) - 10'; Lachlan McLean - 65'
Cautions:
NCFC: --
GVL: Tyler Polak - 71'; Cesar Murillo - 76'
Ejections:
NCFC: --
GVL: --
• Discuss this story on the United Soccer League One message board...


United Soccer League One Stories from May 8, 2021
The opinions expressed in this release are those of the organization issuing it, and do not necessarily reflect the thoughts or opinions of OurSports Central or its staff.