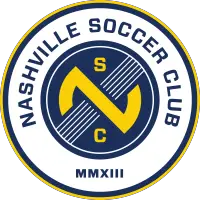 Nashville SC Shows Resilience and Determination in 2-1 Win over Charleston Battery
August 26, 2019 - United Soccer League Championship (USL) - Nashville SC News Release



NASHVILLE - At halftime on Saturday night, Nashville SC found itself in an unenviable position. It had dominated the first half, yet conceded the only goal and with 45 minutes and a steep mountain to climb to the top spot in the Eastern Conference.
That's when the Boys in Gold dug deep and showed the mettle of champions in the second half to complete a 2-1 comeback win over the Charleston Battery. The thriller was capped off with a Bolu Akinyode deflected goal in the final seconds of stoppage time.
"I think the second half epitomizes the character, the belief, the spirit of a group that are just going to keep fighting for what they believe they can achieve, which is to win this Eastern Conference," Head Coach Gary Smith said. "It was a vital game to win after getting beaten Wednesday. I didn't see there was any way that we couldn't win the game and still be in a reasonable spot to challenge, and with some tough games coming up against the teams around us, we've got another big one at the weekend. It was an incredible way to finish the game. I'm not sure they get any more exciting."
Akinyode settled down a desperation header by Ken Tribbett near the top of the box and turned with a shot that got deflected into the far side of the net. The goal sent First Tennessee Park into a frenzy as Nashville SC picked up the last-second victory.
It wasn't the first time Akinyode played the hero at the death. His last-minute equalizer against FC Cincinnati in last season's regular season finale helped boost Nashville SC into the 2018 USL Cup Playoffs on a high note. However, that moment couldn't compare to the bedlam of Saturday night.
"Tonight's bigger," Akinyode said. "It's an indescribable feeling. I honestly can't compare it to anything in the world. Last year was good, but I think tonight is better. Given the position we're in right now in the table, we're trying to win a trophy in the Eastern Conference so that was big time. We also haven't beat Charleston, this is the first time. It's huge."
At the end of a three-match week, Smith made nearly wholesale changes to his starting lineup from Wednesday's loss to New York Red Bulls II. Those fresh legs made a difference in this match, as did a few tactical substitutions from Smith late in the match as Nashville SC searched for a winning goal.
Smith was thrilled with how the new faces in the lineup performed under pressure, and with how the players adapted to a change in formation for this match.
"I can't be any more complimentary to the guys that came in. I think as a group they're so well-grounded and I think they've got such a good personality and way about their work. And I know there's some great relationships there, and there's been some disappointment with some of these guys. Bradley [Bourgeois] has not seen the field for awhile, and his performance was monumental back there. To come in and to play to that level I think gives you an idea of the type of inner drive that some of these lads have. Justin Davis has not seen the field as much as he has in the past. There are guys that have come back from injury. Matt LaGrassa's performance was wonderful, and I'm not even mentioning Cameron Lancaster, who sees his first 65, nearly 70 minutes of a game, and honestly other than scoring a goal, I thought his output was terrific. Absolutely terrific."
The performance tonight should be inspiring to everyone in the organization. It was a big game, a must-win game pretty much. If we want to be in the championship run and the guys were under a tad more pressure. We changed shape, there were a lot of changes. And honestly, I thought we dominated large portions of the game. Deserved to win, but you don't always get it."
With a massive win in hand, Nashville SC will turn its attention to the Tampa Bay Rowdies on the road on Saturday night. The matchup will be a massive battle for positioning near the top of the Eastern Conference, and it won't be the last match with massive playoff ramifications as the season winds down.
"Next week when we get ourselves back together again, it will be a very important game," Smith said. "It's an opportunity for us to stress again our credentials against a side that have had a wonderful season. We've got three or four of those: Pittsburgh here, Carolina coming, but I do believe the opportunity to win this Eastern Conference is in our hands. The only groups we won't play are New York and Indianapolis, who have got games in hand, so we can't dictate where they go or what they do. But for some of the other sides, I think we hold quite a key to where this division is going to be won."
• Discuss this story on the United Soccer League Championship message board...


United Soccer League Championship Stories from August 26, 2019
The opinions expressed in this release are those of the organization issuing it, and do not necessarily reflect the thoughts or opinions of OurSports Central or its staff.