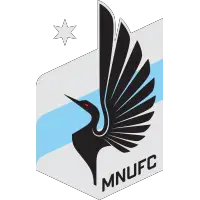 Minnesota United Advances to Western Conference Finals
December 4, 2020 - Major League Soccer (MLS) - Minnesota United FC News Release



KANSAS CITY, Kans. - Minnesota United came into their Western Conference Semifinal matchup with Sporting Kansas City having already bettered their playoff performance from 2019 by winning in the first round. But facing the top seed in the conference, on the road, in a stadium where they had never gotten so much as a point and had only scored one goal in the last four years? Nothing to do but go get a clean sheet, three-goal win, it seems. After weathering a strong opening salvo by the home side, the Loons took off with an opening goal by Kevin Molino in the 27th minute and never looked back, pushing it to 3-0 by the half and shutting it down in the second to book a trip to Seattle for the Western Conference Final.
The game began with the home side grabbing the initiative. Sporting Kansas City put pressure on Minnesota United's defense right off the whistle, even without Designated Player Alan Pulido, and pressed high to win the ball back when they gave it up. Just two minutes in, winger Johnny Russell cut behind the backline and picked up the ball with space to take on Dayne St. Clair one on one. The Scotsman chipped it over an onrushing St. Clair, but defender Michael Boxall was there to clean it up with a header over the endline for a corner kick.
Early on, when MNUFC were able to control the ball, they found space on the wings to send in crosses, but were unable to find targets in the box. On the defensive end, they continued to rely on St. Clair to keep the game scoreless as they worked out the kinks on the offensive side. In the 14th minute, forward Khiry Shelton got Boxall to commit and then turned him before putting on a burst of speed to get past Bakaye Dibassy. The move opened up a lane for Russell, who challenged St. Clair again but the Canadian was up for it again, going to ground to frustrate SKC's attack.
Only moment later, St. Clair had to come up big again. Defender Jaylin Lindsey pushed up onto the right wing and launched a pinpoint cross onto the head of defender Roberto Puncec. Puncec drilled it from point blank range but somehow, St. Clair got a hand on it and kept it out right on the goal line. The sequence came in a stretch that found the Loons bending but not breaking, spending most of their time pinned in their own half and absorbing body blows from SKC.
Once MNUFC could get some time and space on the ball, however, they began putting together strings of possession as they started to get the ball up to their attacking midfield. Over the last several games, the chemistry between Emanuel Reynoso and Kevin Molino has only grown and it was on full display in the 27th minute. Molino on the left side dropped the ball in to Reynoso and then continued his run. The Argentine tracked him and delivered an inch-perfect ball to Molino in space and the winger curled a right-footed shot around goalkeeper Tim Melia to open the scoring and give the visitors a 1-0 lead.
Less than 10 minutes later, the home side once again found themselves in trouble at the hands of the Loons' dynamic duo. Having once again worked their way into the final third, Reynoso held the ball 30 yards out and spied Molino loitering in the midst of an uneven backline and just onside. Reynoso lofted the ball over the defense and Molino stretched his right foot way out to tap the ball past a bamboozled Melia and onto the far post to double the lead to 2-0 in the 35th minute.
With the floodgates open, MNUFC added to their lead moments later. It was once again Reynoso setting the table as he stood over a corner kick from the right side. His inswinging corner found Dibassy, who hammered home the header in the 38th minute for his first MLS goal to make it 3-0. The play also have Reynoso his third assist of the night for the gentleman's hat trick. It also gave him a stunning 10 assists in his last five games.
Despite the desperate straits for Sporting Kansas City as they stared down the possibility of being eliminated, Head Coach Peter Vermes kept his cards close to his chest and made no changes to start the second half. MNUFC also kept the same lineup on the pitch and set about doing their best to control the tempo and not let SKC back into the game.
Although Johnny Russell did his best to take the game by the scruff of the neck and Vermes would eventually bring in Gadi Kinda and Erik Hurtado to change the feel of the contest, there simply wasn't much going in the second half, which was just the way Minnesota wanted it. While each team had a handful of chances, neither truly challenged the other's keeper through the second 45 and when the final whistle blew, Minnesota United stood victorious. Now unbeaten in 10 games, the Loons will head to Seattle to face the reigning champion Sounders on Monday at 8:30 p.m. CT.
BELL BANK MAN OF THE MATCH: Midfielder Emanuel Reynoso
GOAL BREAKDOWN
27' | Molino drops it off to Reynoso and keeps his run going, then Reynoso finds him and he curls it with his right foot around Melia to open the scoring. 1-0
35' | Reynoso lofts the ball over the defense and Molino stretches all the way out with his right foot, tapping it on the far post for his brace. 2-0
39' | Reynoso's corner comes in and Dibassy smashes it home with his head for his first MLS goal. 3-0
LINEUPS:
Minnesota United: GK Dayne St. Clair; D Chase Gasper, Bakaye Dibassy, Michael Boxall, Romain Metanire; M Jan Gregus, Osvaldo Alonso, Kevin Molino, Emanuel Reynoso, Ethan Finlay, Robin Lod
Sporting Kansas City: GK Tim Melia; D Roberto Puncec, Amadou Doa, Winston Reid, Jaylin Lindsey; M Ilie Sanchez, Roger Espinoza, Gianluca Busio; F Johnny Russell, Khiry Shelton, Gerso Fernandes
UP NEXT
Minnesota United @ Seattle Sounders
Lumin Field | Seattle, Washington
12.07.20 | Audi 2020 MLS Cup Playoffs | Western Conference Final
8:30 p.m. CT (FS1, MNUFC Radio on SKOR North)
MINNESOTA UNITED QUOTE SHEET
MINNESOTA UNITED HEAD COACH ADRIAN HEATH
On how much easier this postgame press conference is for him to do than his past few trips to Kansas City ...
"Well, I did say before the game, we haven't played very well here, but, I was convinced that we would play a lot better. And, that's down to the fact that we have a better team now than at any stage that we've come here. And, I think that was born out tonight. You know, we started okay, but, you know, we gave a couple away. A couple of really good chances. And, as I said to the players after, goals change games. Had them gone in, it might have been a different evening. But, they didn't. But, after that, I thought we were outstanding. I thought some of our approach play, combination play, between the people that we've been talking about. I thought Ethan [Finlay] came and joined in really well with Robin [Lod] and Rey [Reynoso] and Kev [Molino]. I thought we were worthy winners. If you look at the whole 90 minutes, we looked more dangerous probably after the first four or five minutes than at any stage during the game."
On the combination between Emanuel Reynoso and Kevin Molino ...
"It takes someone like Robin [Lod] to come and join in with them as well. Robin gets in the really little, delicate pockets of the opposition. He comes in and very rarely turns the ball over. You know, we can zip it in to him and we know that we can come and join in from there. And, if we continue - and, I said this before the game to the players, I said it to the people at FOX that did the game - if we can break their initial press, and get the ball in that second seam, then, we are going to be a match for anybody. That includes Seattle at the weekend. If we can continually break their initial press and get our players - our attacking players - on the ball, I think we're going to be dangerous to play against."
On the message after the Colorado Rapids victory being 'three more wins to go,' and what the message to the team was after this win ...
"We spoke about, a few weeks ago, can we go undefeated until the end of the season. Then we spoke about, we said, we've got five games. If we win five games, we'll be MLS champs. Now we've got two. And, you know, the last three games, 3-nil. Big games. Important games. A lot at stake. And that's a testimony to the players. I thought we actually were really resolute late on in our defending. We played when we could. We cleared it when we should. There's a lot of pleasing things. As I've said all along to a lot of people, my belief in this group, and then the belief within the group, is really, really high. And the people on the outside don't think that, it's okay. Because the only people that matter are the players and the staff. And, probably our supporters now. So, I'm really happy for everybody."
On that performance not looking like one of underdogs ...
"Yeah, I said to Peter [Vermes] before the game, how did he manage to keep a straight face when he said we were the favorites? In light of the result, he was maybe right. But, no, it was a big win for us. A big performance. On something that I thought before the game, I did say to the guys that we don't beat ourselves and give something away. Which, we nearly did, in the beginning. I fancy us strongly."
On Emanuel Reynoso and what it says after a game like tonight that all the money, transfer fees and chasing it all paid off ...
"Well, he's elevated everybody else's play around him because they enjoy playing with him. I said this the other day, we were never in any doubt about his ability. We never wavered. He was our guy and we were not going to move on. And, to be fair to the kid, he wanted to come. We spoke a few times and it looked like a couple of times it wasn't going to happen, and, you know, I told him to be patient, this will happen. Eventually, we got it done. So, we're pleased with that. The one thing that we didn't know and you never know, is the character you're getting. And, the most important thing for us is we brought an unbelievable, diamond of a guy into the locker room. He's incredibly popular. He defends from the front. Which is sometimes a rarity for number 10's. People, them playmaker-type players, sometimes the work rate is not quite there. This guy, defends from the front. And, I don't think it's a coincidence that we've had a few clean sheets because that's where we've started to defend from and make it difficult. I think that's what happened tonight. You saw that second half, they were trying to play little balls forward and Rey [Reynoso] and Robin [Lod] were in really good spots and determined not to give people easy balls to get into the next area of the field. He's a top-drawer player and a top-drawer guy and, you know, I thank the ownership for that because he was an awful lot of money for us. But, they trusted our faith and the choice that we were making. And, I'd like to think that now they are starting to see the quality that we were always convinced we were going to get."
On Dayne St. Clair and how he has really answered the call for this squad ...
"He's really good. We knew that. That's why we drafted him as high as we did. I think we have the best goalkeeping coach in the country. And, he was really, really high on Dayne [St. Clair]. He kept saying to us there was going to be a time. And, we probably threw him in the deep end a bit quicker than we anticipated, but he's been fantastic. And, the one thing I can say about Dayne is he's saved everything he should save and then he's come up with big saves in the big moments. And, that's a top-class goalkeeper. So, he's been terrific. And, as I say, if he keeps listening, if he keeps listening to Stew [Kerr], if he keeps doing his job, he doesn't get carried away, injury free...The kid has got a big future."
On after everything that has gone on this year, what it means to play for a conference title and be one win away from an MLS Cup victory ...
"I said it a few weeks ago. I don't think from the outside, I think you all understand it's been difficult, but I think the players - not only our players, all the players within the league - the coaching staff, none of us have had a year like this. It's certainly been the most trying, taxing year that we have had. Every single day, there's something. Your phone goes in the morning at 6:30 [a.m.] and your heart sinks. You go, oh no, please, it's not COVID, and then you lie down until you go to bed at night. So, it's like, it's full on. It's been an incredible year for all the players. The way they battle through the adversity. It speaks volumes for them. I couldn't be more proud of them as a group. I really couldn't."
On how different tonight's game could have looked if Michael Boxall didn't save the Johnny Russell almost goal in the first two minutes of the game ...
"Well, yeah. Goals change games! I've said it a long time. We got away with it, but that's Boxy's [Boxall] job. You know, he made a good decision. In the cold light of day, it's buts and maybes. If they would have scored, if we would have scored on the break. In the cold light of day, when I look at it, if we had that first five minutes where we gave up two really good chances, I thought, from them, I think would have been a different game. But, they didn't score. And that's the way football is. We got goals at really opportune moments. When we were on the attack. When we weathered the first storm, I said to our staff, if we can continue to get Robin [Lod] and Kev [Molino] and Rey [Reynoso] on the ball, in and around early, then we can create opportunities. And, that's what happened."
On three full days of rest before the conference finals in Seattle ...
"Well, it's factual. You know, an extra two days gives you a big advantage and then you play at home and don't travel. But, we knew that before. We'll rest the players up and we'll have a chat tomorrow and we'll see where we are. And then we'll go and give it our best shot again on Monday. But, certainly, they'll be tired and we'll have to work really hard with them in terms of recuperation and resting and sleeping and make sure that they do everything they can to be in the best possible condition for Monday night. We know where we're going. It's never easy in Seattle. Top team. Actually, our performances have probably been a little bit better than the results have shown. So, hey, difficult, but, tonight was difficult. Let's see what we do."
On how Osvaldo Alonso came out of his shift and Chase Gasper seemingly taking a knock ...
"Ozzie [Alonso] was obviously outstanding, I thought, being in the right spot. Showing that leadership. Composure. When we're under pressure, just takes the heat out of the game. But, obliviously, he's hardly done enough. The last three or four days are the first he's even joined in, for a few weeks. Chase [Gasper] has got a nasty cut on his knee, which, we're a little bit concerned about. We'll have to see how that is tomorrow when it settles down. It's not too bad now, but, it looks like he's going to need quite a few stitches in it and we'll see how that is tomorrow."
On when he allows himself to start thinking about Seattle ...
"It's a short turnaround. As I say, I'm more concerned about getting the players rested and getting them in the right frame of mind. But, we've obviously knew them going through two days ago. It's given us time to, you know, we have done most of our prep for the game. So, in the case of getting back as early and quickly as we can this evening, rest the guys up and then going through one or two things. But, certainly, we won't be doing an awful lot outside. A lot of it will be inside watching film and trying to get the players nice and fresh for the weekend as best as we can."
On Emanuel Reynoso coming in on a yellow card tonight and the balance between keeping him on the field to play to win and playing it cautious to preserve his eligible status moving forward...
"That's always the balancing act. He's had the yellow card and the way that Rey [Reynoso] plays, he's an emotional kid. At halftime we said to him, you don't do anything silly. If you have to step aside, then you do so. Because, obviously, it would have been a huge blow if he would have picked up another one. But, he didn't. And, we left it as late as we could to keep him on the field, because, I've played in games when you're 3-nil up and somebody scores in the 78th minute and all of a sudden, it's game on. So, we left him and Ozzie [Alonso] as late as we could. And, we tried to get away with it. So, it seems as though it was a decent decision in the end."
On the strategy in facing off against a team with as much experience as Seattle has ...
"Well, we knew before this game that if we got through, it was going to be difficult. I'm a good friend of [Brian] Schmetzer's. Brian, I really like him. I think what he's done is incredible. When you look at the service he's given to that club, 20-odd years. I couldn't be more pleased for another coach who is getting the plaudits that he's getting. But, hey, Schmetz is old enough and wise enough to know that if they don't play well and we play well, we can win this game. We know it's going to be tough. I really like their team. I like everything about them. So, hey. But we'll go and give it our best shot. I think it was the bookies and everybody, I think when we got to the last eight teams, if I'm not mistaken, we were the outsiders of all the tournament. Maybe that's changed a wee bit, but, I guarantee you, we're going to be the underdogs again. So, hey, let's go and enjoy that. Let's go and enjoy the game. Let's go and try and win it, and that's what we'll do."
MINNESOTA UNITED DEFENDER MICHAEL BOXALL
On Adrian Heath saying "goals change games" and what it meant to get his head on that save...
"I mean, there's probably less days in year that he hasn't said it. I don't think we started off too badly, I think we kind of moved the ball well in the game, but obviously they have dangerous plays. I think the first, what is it, ten or fifteen minutes Dayne [St. Clair] comes up huge for us, twice, and mine was just being in the right place at the right time. That kind of really got us into the game, allowed us to get the ball to [Kevin] Molino and [Emmanuel Reynoso up higher, and I mean those guys are just so much fun to watch, they are class, and what they did in the first half was pretty special"
On having been on the losing side so many times in Kansas City, what does this win mean...
"Coming into this, like how it felt like the last two games, I expected us to win that one. I don't know, I just had a good feeling about the group. Even when we were warming up, they throw up the all-time stats - I think we've come here like six times and yeah, lost every one. I think been outscored 15-to-1, that's what the stat was they put up before the game. I was like, that's not happening today. Honestly, boys all over the club did their jobs in every aspect. I mean it's difficult to single out one person, but full pressure from everyone."
On not facing Alan Pulido ...
"We found out before we warmed up. I mean, obviously Shelton offers a bit of pace and he's still a tough number nine. But, I think not having [Alan] Pulido in there, it was a challenge I was looking forward to after that game in Orlando. I was preparing for it for the last few days. Yeah, he's a great player when healthy and unfortunately for Kansas City, obviously he wasn't good to go."
On when he realized he had something special with Dayne St. Clair between the posts...
"I could kind of tell half way through last season. Just from in the work that they did and all the small-sided games, he's absolutely class. Honestly surprised when he went out on loan. I thought he deserved a few opportunities at least, and obviously it was tougher in the beginning stuck behind a - there's an MLS goalkeeper there - but he's been absolutely outstanding. I'm so happy that everyone else gets to see it outside of us up at Blaine, because he's a class goalkeeper. He's got so much to improve on too and I think the ceilings pretty high for this kid."
On when he felt the tide turn in the game...
"Even to start, I mean against this team and their place, they could've had chances. And even with those chances, they never really made me feel too uncomfortable. I know once we get the ball down and start playing with the front four we have and then obviously Jan [Gregus] and Ozzie [Alonso] are always so reliable, and I know we've got a chance. Even if they do score, we've got it in us to come back from that. So, even with the chances I didn't really feel too uncomfortable, because yes, they had their chances, but they weren't spraying the ball in as comfortable as they have been in the past when we've come here."
On Adrian Heath playing the "underdog" card and how he handles the mental side of things...
"I know within this group, there's no one we're afraid of playing, or no one we don't we think can't beat in this league. The underdog talk, that's for you guys to write about I guess. I think, even during the course of a 90-minute game, Adrian says so much stuff. You take it some, you ignore some, get on with the game and we just do our jobs. I don't really read, all due-respect to you guys, I don't read anything you guys write. So, it doesn't really affect me."
On looking at Seattle's frontline and the quick turnaround...
"Obviously I watched the game against Dallas, and I thought Dallas was really strong against them and causing a few problems, but honestly Seattle have been a class side as long as I've been in and around the league. So, they're used to the stage. I think it's similar to this evening, where we kind of let them get comfortable, and I think we just have to be a bit more disruptive and really go after them and that's when we are able to establish a dominance in the game. Get our key players on the ball higher up the pitch like we did. After the, I think, 20th minute or so, when they work their magic and we put away those goals."
On four years with Minnesota and what it means to be two victories away from the MLS Cup...
"I don't know. I haven't really stood back and looked at the bigger picture, it's always one step at a time. Obviously the last week or so has just been preparing for this one and I've only just started thinking about Seattle now that you guys have been asking about it. Just got to get back to Minnesota, recover, and I know the boys are fired up. And a certain Cuban who's really excited for this one."
On putting off the offseason given the uncertainty of what they've been able to do...
"I mean, my offseason was based on us playing a game on December 12th. Yeah, I was going to be around anyways, so just delighted that I'm going to have more friends to hang out with up until then."
MINNESOTA UNITED GOALKEEPER DAYNE ST. CLAIR
On Kansas City putting the pressure right away...
"I think we really trusted our front four, we knew that we'd get chances. So, going into the game for me, was just try to keep the ball out of the back of the net for as long as possible and I knew our front four would definitely get a chance and score on them."
On what it's been like coming into the lineup and getting consistent time...
"I think it's been a whirlwind for us, going out on loan to start the year, but I think with every game - and I think the loan was also beneficial for me because I was able to get comfortable with the games, playing games, and then I was able to come back continuing to do well. So, it's been a great year for me and I hope to keep it going, but I just feel more and more comfortable with every game and I know I've played in big games before and I hope to continue to in my career."
On only having three days to rest, do the Sounders have an advantage...
"I mean of course anytime you have two days less rest is not ideal, but we're still going to go there and have a game plan and try to execute it."
On Michael Boxall's clearance off the line...
"Oh man, I think that sets the tone for the game. And knowing the guys around us that were not going to give up on any play. It was a great clearance. I think it was a ball that I had to come out for, to try and close the angle, I think he kind of knows that with my playing style I'm going to be a little bit more aggressive. So, he did well to drop back to the line and great clearance. So yeah, I'll definitely owe him something now (chuckles)."
On his two big saves and what that did for the group...
"I think it gives motivation. As they kept putting on pressure, we know that we can be really deadly on the counter. So, I think it kind of opened up space and I think when you make saves like that it kind of gives the team a boost that we all know that we need to pick it up and go give us confidence to get one."
On Alan Pulido not being available for Kansas City...
"I mean Alan [Pulido] is a great striker as we've seen when he's played this season. Our job out there is to do the same thing no matter who's playing, so going into the game I think my mindset was to keep a clean sheet no matter who was on the pitch."
On all the adversity they've faced and how they maintain consistency with so many faces coming in and out of the lineup...
"Well this year has been difficult and I think it's tested a lot of teams' depth this year, and I think we've done well because we have really good depth in a lot of positions that we've seen guys filling in. I think we also have such good chemistry that whosever in there we also want to do well, so I think it's been a tough year for everyone, but I think we are all in it together and we know that."
On three straight clean sheets and if he's surprised himself...
"No, I know I'm more than capable. It's just about putting the performances in and having the confidence. I felt like going into each game that I can keep a clean sheet, and I look forward to keep it going because every time I step on the pitch, that's my goal."
• Discuss this story on the Major League Soccer message board...


Major League Soccer Stories from December 4, 2020
The opinions expressed in this release are those of the organization issuing it, and do not necessarily reflect the thoughts or opinions of OurSports Central or its staff.