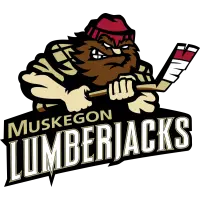 Mehlenbacher Nabs a Pair, Lumberjacks Steamroll Team USA by a 7-2 Thrashing
January 14, 2022 - United States Hockey League (USHL) - Muskegon Lumberjacks News Release



MUSKEGON, Mich. - Owen Mehlenbacher scored two goals and an assist as his Muskegon Lumberjacks danced into the night to the tune of a 7-to-2 victory over Team USA U17 on Friday, Jan. 14 from Mercy Health Arena in downtown Muskegon. For the third consecutive game, Muskegon was able to push at least seven goals past the opposition netminder. With the win, the Jacks extend their winning streak to six games while also securing their eighth consecutive home win, dating back to Nov. 27.
1st Period
It only took 5:45 for the Lumberjacks to take an early lead after a goal from Owen Mehlenbacher to make it a 1-to-0 lead. Mehlenbacher's third goal of the season was assisted by Tyler Dunbar.
Muskegon's Ethan Whitcomb doubled the Lumberjacks lead at 13:01 of the first period to make it a 2-to-0 score. Whitcomb's fifth marker was assisted by David Hymovitch and Emil Jarventie.
Just 53 seconds later, Jake Braccini scored a five-hole goal for Muskegon to open the game up to a 3-to-0 lead for the Lumberjacks. Braccini's 14th lamplighter of the season was assisted by Nathan McBrayer and Parker Lindauer.
Alas, Team USA was able to put a crooked number on the scoreboard courtesy of Will Smith on a back-door goal. Will Vote and Carter Slaggert picked up assists at 15:24 of the first period to cut it to a two-goal deficit with Muskegon still leading 3-to-1.
With 19 seconds left in the opening stanza, Team USA's Alex Weiermair put the U17's within a goal after a broken play in the Muskegon end. Weiermair's fifth goal of the season was officially unassisted to make it a 3-to-2 score.
After 20 minutes of action, the Lumberjacks came away with a 3-to-2 lead over Team USA.
2nd Period
The Lumberjacks went back up by a pair of goals after David Hymovitch's nifty backhander at 8:46 to make it a 4-to-2 lead for Muskegon. Ethan Whitcomb and Tyler Dunbar added assists.
At 16:12, the three-goal lead was restored for the Jacks when Joey Larson roofed a wrist shot to increase the Muskegon advantage to 5-to-2. Owen Mehlenbacher scored the lone assists on Larson's 18th goal of the season.
Through two periods of action, the Lumberjacks controlled a 5-to-2 lead over Team USA heading into the second intermission.
3rd Period
Muskegon kept their foot on the gas pedal as defenseman Jacob Guevin added an insurance goal at 14:40 to make it a 6-to-2 lead for the Lumberjacks. Tyler Dunbar and Ben Strinden picked up assists of Guevin's fourth goal of the season.
Owen Mehlenbacher scooped up his second goal of the game at 15:57 of the third to pad the Muskegon lead. Mehlebacher's fourth goal of the season was assisted by Nathan McBrayer and Tyler Hotson.
When it was all said and done, the Lumberjacks scored seven goals for the third consecutive game as they steamrolled Team USA U17 by a final score of 7-to-2.
On Deck
The Muskegon Lumberjacks return home to open up a two-game series against the Green Bay Gamblers on Saturday and Sunday, Jan. 15 and 16, respectively. Saturday's match will start at 7:00 pm EST while Sunday's matinee will begin at 4:00 pm EST, all from Mercy Health Arena in downtown Muskegon.
Upcoming Theme Nights - Star Wars Night/Youth Hockey Day
On Saturday, Jan. 15, it's Star Wars Night, presented by Red Five IT! In a galaxy not far, far away...the Jacks take on the Green Bay Gamblers! Whether you're on the light side or the dark side, you're invited to watch the action with all your favorite Star Wars characters! Finally, it's Youth Hockey Day on Sunday, Jan. 16, presented by Jason Ryan State Farm! A day to honor local youth hockey organizations. For more information, call the Muskegon Lumberjacks Business office at (231)-799-7000 or email afranczek@muskegonlumberjacks.com.
Images from this story
• Discuss this story on the United States Hockey League message board...


United States Hockey League Stories from January 14, 2022
The opinions expressed in this release are those of the organization issuing it, and do not necessarily reflect the thoughts or opinions of OurSports Central or its staff.