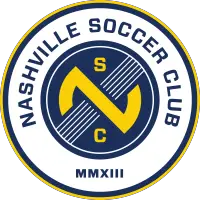 Lebo Moloto to Host Chebeng Community Cup in South Africa for the Second Straight Year
October 30, 2019 - United Soccer League Championship (USL) - Nashville SC News Release



NASHVILLE - As the team's No. 10, Nashville Soccer Club's Lebo Moloto commands the center of the field, breaking up even the league's best defenses and putting on multiple-point performances that have earned him the title of 2019 Offensive Player of the Year. But long before Moloto became a household name for Nashville soccer fans, he was learning the basics of the game on dirt fields in Polokwane, South Africa.
Moloto turned his raw talent into opportunity and moved to the United States with a scholarship to play collegiately for Lindsey Wilson College from 2009-2012. Seven years and two degrees later, Moloto's professional career is established and thriving, and the midfielder now feels a sense of responsibility to give back to the village that raised him. For the second year in a row, he will be holding the Chebeng Community Cup to provide an unforgettable experience for youth players in his home country. Not only does Moloto plan to help these players develop their game, but he also wants to provide them with inspiration and tools to pursue an education as he did.
"For me, the best way to push for education and mentor these kids was through something that I know-soccer," explained Moloto. "Growing up in the village in a place where there's not a lot of opportunities, I think my biggest thing was to push for education because I'm very big on it. I got a few professional offers when I was in college, and I opted to stay in school and finish. I've always believed that with education, you better yourself. Being literate and being educated are two different things."
During the tournament, participants will receive soccer essentials such as cleats, socks and shin guards, and items for school including backpacks and a full set of school uniforms. As one could imagine, organizing a tournament of this size requires detailed planning and added expenses. Last year, Moloto raised over $7,000 for the event thanks to various donors and collected gently used items to bring with him to South Africa. He hopes to see the tournament grow in 2019 and is accepting donations once again to support the tournament and its participants.
"It was a one-day tournament. This year, we're trying to make it a two-day tournament," he continued. "Last year it was a lot of planning. We had more than 80 kids who all go to different schools and have different uniforms. Instead buying stuff in my hometown where things are double the price, we had to drive to Johannesburg to buy everything and that took forever. When they received all of this stuff, their smiles, their faces were just priceless. It can give them the tools to make themselves better for the future. It was all worth it."
Moloto has become a positive role model for the young players in Polokwane who dream of playing at the next level, and that responsibility provides him with extra motivation while on the pitch for Nashville SC.
He hopes that by seeing someone from their home village succeed both in school and on the field, those children and teenagers will aspire to do the same.
"I was actually talking to my wife the other day that sometimes you forget where you come from. All the hardships that got you to where you are today," Moloto said. "For me growing up, I didn't have a pair of cleats until I was 13. Every time I go on the field, I try to remember those hardships and push myself. We always complain about the pitch that it's not nice or its not flat; I played on dirt, so for me, it doesn't bother me. Obviously, those kids are the motivation for me to do what I've been doing, and at the same time to be humble."
To support Moloto and his efforts, make a donation to the Chebeng Community Cup here. Moloto is also accepting donations of gently used cleats, shin guards, running shoes and backpacks. For more information and content, follow the tournament on Instagram @chebeng_cup.
• Discuss this story on the United Soccer League Championship message board...


United Soccer League Championship Stories from October 30, 2019
The opinions expressed in this release are those of the organization issuing it, and do not necessarily reflect the thoughts or opinions of OurSports Central or its staff.