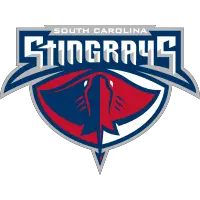 Gov. Palin vs. Gov. Sanford in Kelly Cup Finals
May 21, 2009 - ECHL (ECHL) - South Carolina Stingrays News Release



North Charleston, SC - The South Carolina Stingrays and Alaska Aces are set to meet for the 2009 Kelly Cup Finals with only one team becoming the ECHL National Champion. South Carolina Governor Mark Sanford and Alaska Governor Sarah Palin are so confident that their respective team will win, they've made a friendly wager on the best-of-seven series: Shrimp and Grits and award-winning She-Crab Soup from Tristan Restaurant vs. Alaskan King Salmon. The winner will not only get the Kelly Cup trophy, but also the opportunity to taste the local cuisine from the losing team.
"We're awfully proud of how well the Stingrays have done this year, and we're excited not only for the opportunity to show off a first-class sports franchise, but for the opportunity to show off the Charleston area as well," Gov. Sanford said. "But personally, I'm most excited about the king salmon that Sarah is going to be sending my way when the Kelly Cup is decided!"
The Stingrays and Aces have only met four times in team history; twice in the regular season in 2004, where the Stingrays went 2-0, and twice this season when the Stingrays traveled to Anchorage for the preseason games in October, falling 3-2 in overtime on October 8 and winning 5-1 the next night.
"I've always responded to a challenge, just like the Aces, and I also enjoy trying new food, which is why this bet is a no-brainer," said Alaska Gov. Sarah Palin. "I have extreme confidence that our supremely talented team will represent our great state well enough to bring home our second championship in four years. I'll make no predictions, other than I expect I'll be trying the she-crab soup and shrimp and grits real soon."
As both teams enter the national championship round of the playoffs, the Stingrays are looking to win an ECHL record third Kelly Cup while the Aces look for their second. Neither team has lost in the final round.
The series starts this weekend in Anchorage this Friday and Saturday night, both games beginning at 11:15 ET. The action returns to the North Charleston Coliseum on Wednesday, May 27 and Friday, May 29 at 7:05 p.m. Tickets are available by visiting the Coliseum Box Office on online at www.ticketmaster.com. For more information, visit the Stingrays website at www.stingrayshockey.com. Stingrays Hockey - Family Affordable Entertainment.
• Discuss this story on the ECHL message board...


ECHL Stories from May 21, 2009
The opinions expressed in this release are those of the organization issuing it, and do not necessarily reflect the thoughts or opinions of OurSports Central or its staff.