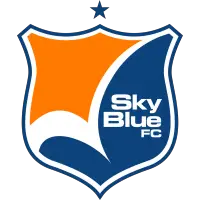 First 2011 Player Signings Announced
October 20, 2010 - Women's Professional Soccer (WPS) - Sky Blue FC News Release



Somerset, N.J. (Wednesday, October 20, 2010) - Sky Blue FC of Women's Professional Soccer (WPS) announced today its first player signings for the 2011 season, making official the return of eight players while also issuing contracts to three players who will be unprotected in the upcoming WPS Expansion Draft. Players returning to Sky Blue FC in 2011 include goalkeepers Karen Bardsley and Jenni Branam, defenders Kendall Fletcher, Danielle Johnson and Brittany Taylor, midfielder Heather O'Reilly, as well as forwards Kiersten Dallstream and Laura Kalmari. Contracts have also been given to goalkeeper Shannon Myers, defender/midfielder India Trotter and midfielder Angela Salem, but those three players will be left unprotected during the WPS Expansion Draft on November 4th for a new franchise in Western New York.
"We are happy with the eight protected players we have, and we feel that a good solid core has been established," stated Jim Gabarra, Sky Blue FC Head Coach/Technical Director. "This is just the first step of a complex and difficult process, and we are determined to put together the best team that we can. People may look at the protected list and be concerned about what players are not there, but no one should read too much into that. We have spoken with our own free agents, and we will take a look at what other free agents become available as we now prepare for that part in the process of assembling our team."
All seven of the current WPS teams were required to submit a protected player list to the league on Tuesday, leaving a minimum of three players available for the upcoming expansion draft with no more than 10 players being protected. The WPS Expansion Draft will be conducted at 4:00 p.m. EST on November 4th, with live draft results being announced via the league Twitter page @womensprosoccer.
"We have a good mix of both youth and veteran leadership within our core, all of whom have positive traits that will help us build future success," assistant coach Rick Stainton commented. "It has been exciting to work with someone who has the expertise and experience that Jim Gabarra has during this process, and I look forward to the next phase as we approach free agency and the possible re-signings of our own free agents."
With remaining players from 2010 rosters now becoming free agents, Sky Blue FC will work with its own players from last season as well as additional free agents across the league to assemble its complete 2011 roster. The start of the WPS free agency period will soon be announced by league officials.
"It is tough to leave some talented players vulnerable for the upcoming draft, but this is all part of the process as the league expands into new markets," General Manager Gerry Marrone said. "A lot of work still has to be done as we shift into free agency and continue to compile our 2011 roster. Keep in mind that just because a player is on our current free agent list, that does not mean she will not be playing for Sky Blue FC next season."
Among those players now set to return in 2011 include Bardsley, who was a 2010 WPS All-Star and Goalkeeper of the Year Finalist despite suffering a season ending injury during the midseason All-Star Break. In 10 starts, she registered a 5-3-2 cumulative record with five shutouts and a 0.90 goals against average. Branam made six starts last year, going 2-2-1 with one clean slate. Taylor, who was the first round selection of Sky Blue FC in the 2010 WPS College Draft, was an All-Star Selection and Rookie of the Year Finalist. On the season, she recorded a pair of goals and was the only player on the Sky Blue FC roster who played every single minute of the season. O'Reilly, whose only two missed two games this past season were due to national team duty, registered one goal and a team-leading five assists in 2010. She was also selected to the All-Star Game for a second consecutive year. Kalmari, the lone international currently under contract, was tied for the team lead in goals by knocking in five tallies in 2010, and she also received an All-Star nod for her efforts.
Fletcher was acquired via free agency by Sky Blue FC early in the year and eventually started 16 times and made 21 appearances. Johnson was another versatile defender for the team, making five starts in six matches. Dallstream, whose season was cut short by injury, made six starts in 12 games while adding an assist to the stat sheet.
Currently under contract but unprotected in the WPS Expansion Draft is Trotter, who made seven starts in 13 appearances, along with Salem, a versatile player who played in three games this past year. Myers is an experienced goalkeeper who served as the third netminder for the team in 2010.
Note: All team transactions must be approved by WPS before becoming official.
• Discuss this story on the Women's Professional Soccer message board...


Women's Professional Soccer Stories from October 20, 2010
The opinions expressed in this release are those of the organization issuing it, and do not necessarily reflect the thoughts or opinions of OurSports Central or its staff.