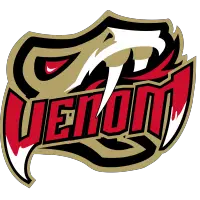 Dusters quarterback Basseuner conquers 72 oz. steak
March 23, 2009 - arenafootball2 (af2) - Amarillo Venom News Release



Amarillo, TX 3/23/09 - It was man versus man versus food Monday night at the Big Texan restaurant on east I-40 in Amarillo, as Amarillo Dusters quarterback Matt Basseuner reigned supreme over Amarillo Gorillas' defenseman Sam Ftorek and his meal Monday night.
Both the competitors had to take on the world-famous 72-oz. steak, along with a salad, baked potato, three fried shrimp, and dinner rolls within one hour. The challenge has become a tradition at the long-time tourist destination, with the meal being awarded free of charge to those that can successfully down the meal within 60 minutes.
Ftorek and Bassuener each started with the steak when the meal was delivered, as the Gorillas' leading scorer cut the slab of grilled cow into sections and began devouring immediately. Bassuener, meanwhile, took a more metered approach, slowly downing the ribeye as time ticked off the clock. Ten minutes into the competition, neither diner had moved on to the "fixin's", as both were still hard at work on the medium-rare meat.
At the twenty minute mark, however, strategies for both men changed. Ftorek poured a healthy dose of Kraft brand Catalina Italian dressing-brought from home to aid in the digestion of the meal-onto his plate of salad and began to munch on greens. Bassuener, taking a page from his compatriot, shoveled salad onto his plate to sit alongside the steak, utilizing ranch dressing as his flavor enhancer of choice.
Ftorek began to slow slightly at the halfway point, stopping to exchange words between bites with his wife, Misti, as well as Gorillas' teammates John Snowden and Mike Gorman. Bassuener, surrounded by a supportive cast of fellow Dusters, continued to eat at a brisk pace, nearly finishing the steak with 25 minutes remaining in the competition.
With 16 minutes left, Ftorek found himself with about 16 ounces of meat left, while Bassuener had completely finished off the steak. The Gorillas' defenseman attempted to pace himself by joking around with onlookers-meanwhile, Bassuener was all business as the two headed down the stretch run, picking up speed and vigor with under 15 minutes to go.
With under ten minutes to go, it had become apparent that Ftorek was well-done. Meanwhile, Bassuener blistered through the rest of the salad, the baked potato, and the dinner roll. At the 53:06 mark, Bassuener finished off the last of his shrimp cocktail-and a shrimp of Ftorek's, to boot-before standing and claiming victory over both Ftorek and the food.
"That's a lot of meat," said an exhausted Ftorek after the defeat. "I haven't had a normal appetite until last week, thanks to an illness...I felt good through the first part, but then about halfway, it just sat there like a rock. My head is swimming with beef right now."
"Can I have a take-home box?" Ftorek asked immediately after the competition.
"It felt good...I had the entire team cheering me on," said the victorious Bassuener. "I could go for some dessert right now, actually."
For his victory, Bassuener received a 50-dollar bill offered up by Gorillas and Dusters owner Randy Sanders. Bassuener and Ftorek both received t-shirts and a free meal at the Big Texan as compensation for their efforts.
THE AMARILLO DUSTERS are a member of the arenafootball2 league. The team front office is now located at 901 S. Buchanan in downtown Amarillo. Season ticket packages for 2009 are available by calling (806) 350-PASS (7277), and start at just $96 a seat.
• Discuss this story on the arenafootball2 message board...


arenafootball2 Stories from March 23, 2009
The opinions expressed in this release are those of the organization issuing it, and do not necessarily reflect the thoughts or opinions of OurSports Central or its staff.