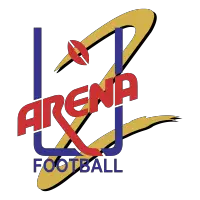 2009 Southwest Division Preview
March 23, 2009 - arenafootball2 (af2) News Release



CHICAGO - The af2's 10th anniversary season began on Friday, March 20 as the Central Valley Coyotes defeated the Tri-Cities Fever, 47-38. The year gets into full swing this weekend with 12 Week 1 affairs, including six on Saturday, March 28. Over the past week, a special team-by-team preview has been presented for each division. The sixth and final division profiled is the National Conference's Southwest Division, which features four teams: Arkansas, Bossier-Shreveport, Corpus Christi and Rio Grande Valley.
SOUTHWEST DIVISION
Arkansas Twisters (2008: 11-5, 0-1 playoffs)
Home Field: ALLTEL Arena (6,820)
Head Coach: Chris Siegfried, second year with Arkansas, sixth season overall; 68-42 record (including playoffs)
Rookies Invited to Camp: 22
Key Players Lost: WR Chris Denney, WR Jamaal Perry, DB Donte Williams, DB Jamie Hattley, DB Tracy Belton, DL Tito Hannah, WR Jon Schoonover
Key New Faces: DL Jerry Turner, OL Brandon Leyritz, FB/LB Brandon Isaiah, WR/DB Robert Johnson
Key Returners: QB Kyle Rowley, WR/DB Lawrence Richardson, WR Steve Bergeski, OL Isaac Morales, K James Paul
Burning Questions: Can QB Kyle Rowley improve on his amazing 2008 season? Will WR Steve Bergeski return to his form from 2007? Can Coach Siegfried's rookie cast of defensive backs make a swift transition to the Arena game?
Last Game: Lost to Central Valley, 55-68, in first round of 2008 ArenaCup playoffs (August 3)
Comments: As one of the founding members of the af2, the Twisters celebrate their 10th season of play in 2009. This year the Twisters would also like to celebrate their fourth consecutive playoff berth and potentially their first-ever division title. Behind Head Coach Chris Siegfried and QB Kyle Rowley, both league veterans in their first seasons with Arkansas, the Twisters won 11 regular season games in 2008 and fell one win short of a division championship. Both Siegfried and Rowley are back for another run in 2009. Siegfried, who owns 68 career wins (2nd all-time), is one of the best coaches in league history. Rowley had his best statistical year in 2008 with 89 TD passes, 4,393 yards passing and a league-high 125.2 passer rating. Arkansas' other top playmakers on offense, however, are not with the team this year. Trying to replace Chris Denney, Jamaal Perry and Jon Schoonover at the receiver position will be Steve Bergeski and rookies such as Robert Johnson and Tyre Burks. Bergeski, who had a banner rookie year in 2007 (121-1478-33 TDs) with Amarillo, was limited last season with injuries and caught only 14 passes for 191 yards (6 TDs) in eight games (5 with Amarillo, 1 with Arkansas). Siegfried hopes a healthy Bergeski can return to his old form and the rookies can make an immediate impact. A new addition at FB/LB that should factor in the Twisters offense is Brandon Isaiah. Isaiah played in the af2 with Tennessee Valley in 2007 and also spent time with the AFL's Kansas City Brigade in 2008. Another player with AFL experience with the Brigade that Siegfried secured for 2009 is DL Jerry Turner. Before being promoted to the AFL in 2007, the 6-3, 270-pounder from Tennessee Tech won the af2 Lineman of the Year Award in 2006 for his stellar season with the Bakersfield Blitz. That year Turner turned in a team-record 16 sacks (T-1st in af2) in just 14 games. He still ranks tied for third in league history with 37.5 career sacks. Siegfried hopes Turner's presence up front will aid his young group of defensemen in the secondary. DBs Ahmad Brown, Roderick Knight and Travis Williams are all af2 rookies. Arkansas looks to be in good shape along the offensive line where experienced returnees Isaac Morales and Chris Tucker will team up with league veterans Brandon Leyritz and Derik Stotland. If Rowley stays healthy on offense, expect this year's Twisters to be in the playoff mix yet again.
Bossier-Shreveport BattleWings (2008: 9-7, 1-1 playoffs)
Home Field: CenturyTel Center (12,500)
Head Coach: Jon Norris, third year with Bossier-Shreveport, fourth season overall; 32-22 record (including playoffs)
Rookies Invited to Camp: 9
Key Players Lost: DB Pete McBride, QB Gary Cooper, DB Phillip Geiggar, FB/LB Kendrick Bournes, WR/LB Ken Williams
Key New Faces: WR/KR P.J. Berry, DB Roland Cola, QB Andrico Hines, WR Buchie Ibeh, DB Pierre Lee, DL Joe Woolridge
Key Returners: WR Chavis McCollister, FB/LB Jason Schule, OL/DL Zack Condo, WR Manwell Talbert, WR/DB Dustin Johnson, FB/LB Marvin Byrdsong, OL Greg Hodges Burning Questions: Are the BattleWings the clear favorite to win the division? Does Bossier-Shreveport boast the best cast of pass catchers in the league?
Last Game: Lost to Amarillo, 45-59, in 2008 National Conference semifinals (August 9)
Comments: BattleWings Head Coach Jon Norris looks to have his team loaded up for another successful run in 2009. Last year he led Bossier-Shreveport to its first-ever division title and second straight trip to the playoffs. Thanks to the BattleWings success in 2008, a number of notable players are back on board for 2009. One familiar face is FB/LB Jason Schule. Schule enjoyed another stellar season for Bossier-Shreveport in 2008, earning First Team All-af2 honors for the second straight year. The fourth-year player from Louisiana-Monroe led the league in rushing touchdowns with 19 and ranked second in rushing yards with 318. The BattleWings also return their top two receivers from a year ago, Chavis McCollister (123-1,466-33 TDs) and Manwell Talbert (106-1,327-23 TDs). McCollister also ranked second in the league in scoring with 264 points on 44 total touchdowns. On the defensive side, Bossier-Shreveport got some good news in recent days as LB Marvin Byrdsong, one of the team's top players from 2008, also committed to return. Byrdsong led the BattleWings in tackles for loss (7.5), sacks (6) and fumble recoveries (5) a year ago while ranking fifth in total tackles (38.5). While the team's strong core of returning players is big news, the most notable offseason acquisition has to be on the coaching staff. Derek Stingley, the 2008 Sportexe af2 Coach of the Year, joined the BattleWings after a brief stint as Defensive Coordinator for the now defunct New Orleans VooDoo of the AFL. Stingley was awarded the af2 Coach of the Year after he led South Georgia to a 12-4 regular season record and the South Division title. His addition led a number of his best players from the Wildcats to join him in Louisiana, namely All-af2 WR/KR P.J. Berry, All-af2 DB Roland Cola, DB Pierre Lee, WR Buchie Ibeh, QB Andrico Hines and DL Joe Woolridge. Cola (99.5 tackles, 10 INTs, 21 PBUs) and Lee (71 tackles, 5 INTs, 16 PBUs) will team up with returnee Dustin Johnson to form a strong defensive secondary. Berry (92-1425-28 TDs) and Ibeh (92-914-18 TDs) will form a fearsome foursome with McCollister and Talbert. Woolridge will be a factor up front after leading South Georgia in sacks in 2008 (6). And last but not least, Hines had a career-best 67 TD passes last year and should fill in admirably for last year's starting signal caller Gary Cooper. With this talented group of experienced veterans on the field and Norris back at the controls, Bossier-Shreveport fans should be excited about this team's potential to claim its second straight division title and book its third straight trip to the postseason.
Corpus Christi Sharks (2008: 7-9)
Home Field: American Bank Center (8,498)
Head Coach: Mike Trigg, third year with Corpus Christi, third season overall; 13-19 record
Rookies Invited to Camp: 9
Key Players Lost: DB/KR Ivory McCann, DB Dwayne Ijames, WR Kenyada Tatum
Key New Faces: QB Gary Cooper, WR/DB Terick Thomas, FB Wallace House, DB Terrell Mingo, K Nick Gatto
Key Returners: WR Brandon Hussey, WR Jonathan Graham, OL/DL John Cook, DB Henry Hall, OL/DL Wilbert Martin
Burning Questions: Can Mike Trigg guide the Sharks to their first playoff appearance? Who will fill Ivory McCann's shoes as the team's top playmaker? Do Corpus Christi's chances rest on the right arm of Gary Cooper?
Last Game: Lost at Manchester, 45-46, in 2008 regular season finale (July 26)
Comments: Former AFL head coach turned af2 head coach Mike Trigg enters his third season leading the Corpus Christi Sharks. Trigg's team improved from 6-10 in 2007 to 7-9 last season. Five of the club's nine defeats in 2008 came by seven points or less. This year Trigg has been active in the offseason looking to upgrade a roster he hopes will provide enough talent to break the .500 barrier and propel the Sharks to the postseason. The team returns four key players from 2008 in WR Brandon Hussey, WR Jonathan Graham, DB Henry Hall and OL/DL Wilbert Martin. Hussey (114-1,415-27 TDs) and Graham (97-1,125-18 TDs) were Corpus Christi's top two receivers last season. On the defensive side, Hall ranked second on the squad in tackles (66.5) and pass breakups (15) while Martin led the club in tackles for loss (6.5), sacks (4.5), fumble recoveries (3) and blocked kicks (3). The 2009 Sharks roster also includes a number of key additions. QB Gary Cooper, DBs Terick Thomas and Terrell Mingo and K Nick Gatto, the 2008 af2 Kicker of the Year, are among the group of notable newcomers. Cooper is a proven af2 signal caller who threw 77 TDs and rushed for three more in 13 games played to help Bossier-Shreveport win the Southwest crown in 2008. Thomas (47 tackles, 4 INTs with Amarillo in 2008) and Mingo (Over 100 tackles, 11 INTs in two seasons with Amarillo, 2006-07) should help offset the losses of Ivory McCann and Dwayne Ijames in the secondary. Gatto provides Trigg with another element he didn't have a year ago and that's stability in the kicking game. In 2008, the three-year veteran led all kickers in field goals with 17. Gatto also finished third in PAT percentage (90.6). The Sharks may have found a replacement for McCann in the secondary, but his presence will be sorely missed in the kick return game. Last season he earned All-af2 First Team honors after leading the league with eight total kick return TDs (4 MFG, 4 KO). He also ranked second in kick return average (25.1 ypr). Overall, however, the Sharks roster looks to be upgraded from a year ago. With solid quarterback play and Trigg leading the way, this could be the year that the Sharks make some waves.
Rio Grande Valley Dorados (2008: 7-9)
Home Field: Dodge Arena (5,500)
Head Coach: Marty Hammond, fourth year with Rio Grande Valley, fourth season overall; 30-20 record (includes playoffs)
Rookies Invited to Camp: 20
Key Players Lost: QB Travis Cole, WR Eddie Jackson, WR/DB Jermaine Carpenter, WR/DB Pierre Thomas
Key New Faces: OL/DL Raymond James, DB Dahnel Singfield, WR Ramonce Taylor
Key Returners: QB Tiger Lyon, OL/DL Reggie Hargrove, OL Garrett Mason, OL Tyler Matia
Burning Questions: Did the Dorados do enough in the offseason to contend for a playoff position? Can Ramonce Taylor resurrect his football career with the Dorados? Can QB Tiger Lyon handle the role of full-time starter for Rio Grande Valley?
Last Game: Lost to Lubbock Renegades, 57-72, in 2008 regular season finale (July 26)
Comments: The Dorados are hoping to rebound in 2009 from what they may have considered an off year in 2008. Despite a 4-8 start last year, the team still had an outside chance at making the playoffs after three straights wins. Rio Grande Valley saw its postseason chances dimmed, however, after a home loss to Lubbock in the season finale. This year's Dorados team features only four returnees from a year ago - QB Tiger Lyon, OL/DL Reggie Hargrove, OL Garrett Mason and OL Tyler Matia. With 6-5, 295-pound league veteran Raymond James added, the offensive line looks to be one of the strong suits for Rio Grande Valley. Another addition who will make an instant impact is DB Dahnel Singfield. Singfield has spent three years in the af2, most recently with Manchester in 2008. Last year the former af2 Defensive Player of the Year (2005 with Memphis) led the Wolves in tackles and pass breakups. On offense, the team looks very young at the skill positions. One rookie who is looking to resurrect his football career in the af2 is WR Ramonce Taylor. Taylor played collegiately for two years at the University of Texas (2004-05). His best season came in 2005 when he compiled a team-high of 1,219 offensive yards and 15 touchdowns to help the Longhorns win the National Championship. Other rookie targets include Bret Smith and Rod Windsor. At the quarterback spot, Head Coach Marty Hammond brought in rookie QB Nick Hill to compete with Lyon for the starter's job under center. At this point, it looks as if Hill will get the start in Week 1. Hill, who played college ball at Southern Illinois from 2004-2007, has performed well in camp. The 6-foot-3, 215-pound former Saluki has an accurate arm as demonstrated by his 68.2 pass completion percentage as a collegian. On defense, tackle Walter Thomas is another rookie looking for a second chance with Rio Grande Valley. The 6-foot-5, 330-pound lineman began his collegiate career at Oklahoma State but after some trouble in Stillwater, transferred to Northwest Mississippi Community College in 2006. Thomas played in just two games that season, racking up 16 tackles and four sacks. If he stays focused, he could be a real force up front for the Dorados. If Rio Grande Valley gets solid play from either one of their young quarterbacks, the Dorados have a chance to challenge for a playoff spot in 2009.
• Discuss this story on the arenafootball2 message board...


arenafootball2 Stories from March 23, 2009
The opinions expressed in this release are those of the organization issuing it, and do not necessarily reflect the thoughts or opinions of OurSports Central or its staff.