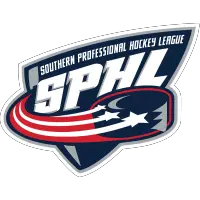 All-SPHL Second Team Announced
March 26, 2010 - Southern Professional Hockey League (SPHL) News Release



CHARLOTTE, NC - The Southern Professional Hockey League on Friday announced its 2009-2010 All-SPHL Second Team as selected in a vote of SPHL coaches and media representatives.
2009-2010 All-SPHL Second Team (statistics through March 25)
F - Matt Zultek, Mississippi Surge (50 gp, 45 g, 21 a, 66 pts, 30 ppg, 6 gwg, 290 shots) F - Michael Richard, Missisisppi Surge (49 gp, 24 g, 50 a, 74 pts, +19, 24 ppa, 7 gwg) F - Lorne Misita, Pensacola Ice Flyers (56 gp, 29 g, 35 a, 64 pts, 6 shg, 5 gwg) D - Kevin Harris, Knoxville Ice Bears (45 gp, 9 g, 27 a, 36 pts, 5 ppg) D - Jeff White, Huntsville Havoc (54 gp, 12 g, 22 a, 34 pts, 6 ppg) G - Ian Vigier, Columbus Cottonmouths (35 gp, 15-14-5, 2.94 gaa,.921 save%)
Matt Zultek of the Mississippi Surge leads the SPHL with 30 power-play goals and 290 shots on goal, while his 45 goals ranks second and his six game-winning goals are tied for third-best in the league.
Zultek's 30 goals with the man-advantage are a new SPHL record, breaking the previous mark of 25 set by Columbus' Ryan Rutz in the 2006-07 season.
Michael Richard of the Mississippi Surge is tied for the league lead with a +19 rating.
Richard's 50 assists, 24 power-play assists and seven game-winning goals are all second-most in the SPHL.
The 2008-09 Rookie of the Year currently ranks fourth in scoring with 74 points.
Lorne Misita of the Pensacola Ice Flyers leads the SPHL with six shorthand goals, just one shy of the league record of seven set in 2007-08.
Misita currently ranks fourth (tied) with five game-winning goals and his 64 points is tied for seventh-best in the league.
Kevin Harris of the Knoxville Ice Bears currently ranks third among defensemen in points (36), assists (27), power-play goals (5) and power-play assists (16) despite having only played 45 games this season, fewest of the top-10 scoring defensemen.
Jeff White of the Huntsville Havoc currently leads SPHL defensemen (with Pensacola's Mark Hinz) with 12 goals and is second with six power-play goals.
White's 34 points and 14 power-play assists are also good for fourth-best in the league among blue-liners.
Ian Vigier of the Columbus Cottonmouths leads all SPHL netminders with a.921 save percentage.
Despite having played the fourth-most minutes in the league, Vigier is second overall in saves with 1,172.
His 15 wins (tied) and 2.94 goals-against average both rank third-best in the league.
The SPHL will announce its Rookie of the Year on Monday.
• Discuss this story on the Southern Professional Hockey League message board...


Southern Professional Hockey League Stories from March 26, 2010
The opinions expressed in this release are those of the organization issuing it, and do not necessarily reflect the thoughts or opinions of OurSports Central or its staff.