Al Louis-Jean Happy at Home
April 22, 2019 - National Arena League (NAL) - Massachusetts Pirates News Release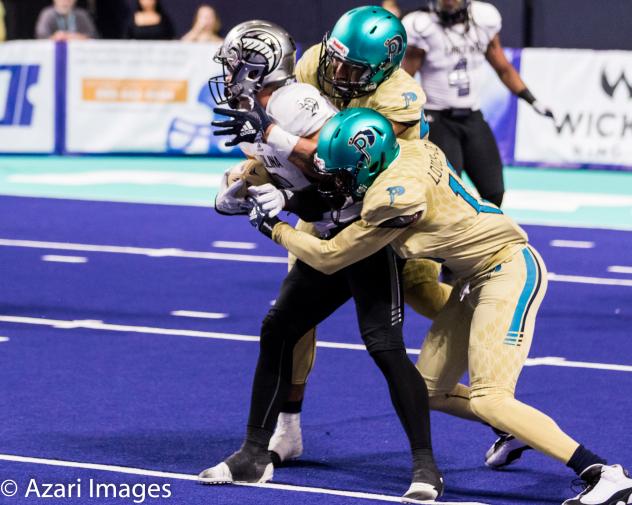 Al Louis-Jean of the Massachusetts Pirates makes a tackle against the Carolina Cobras
(Massachusetts Pirates)
Al Louis-Jean will never forget his first NFL successful tackle. It happened only two weeks after he celebrated his 21st birthday and on the other side of the ball, leading the offense, was a quarterback that made him happy numerous times in the past.
When Louis-Jean, born and raised in Massachusetts, was a second grader, the young and unknown Tom Brady quickly rose to fame and led the New England Patriots to a surprising and historic Super Bowl victory. 13 years later, it was Louis-Jean's job, as part of the Chicago Bears defense, to try and stop Brady and the home team.
About 30 family members and friends came to see Al on that October 2014 day at Gillette Stadium in Foxboro and he did not disappoint them, finishing with what proved to be his NFL career best - Five tackles. The Bears lost that game, 51 to 23, but for Louis-Jean it was an amazing and more than anything, a "socialistic experience", he recalls.
"I played at my home state, against a quarterback I have been watching for so many years. I was so young back then. That was an unforgettable day for me."
Louis-Jean, who went undrafted in the 2014 NFL Draft, found his way to the league thanks to hard work and persistence. He played a total of nine games with Chicago that season and when it ended, was signed to a two-year contract extension, but was later released by the team, just before the next season started.
"I learned so much during those months in the NFL. I was like a sponge," he reflects on his time in the league. "I have seen so many things, all at once and looking back, I think I handled my business pretty well. There were so many tremendous players around all the time and it was a true learning experience, seeing players who had success in the league and how they take care of themselves. It was fun, really fun and exceeded every expectation I ever had from this league. Even when I was not playing, just being next to this kind of greatness felt special."
His next stops were the practice squads of the Washington Redskins and the Miami Dolphins, but he did not play in another NFL game and on March 2017, signed with Ottawa from the Canadian Football League. He admits that there were some moments of doubt, but since he became a professional football player at such a young age and was only 20 years-old in his first NFL preseason game, he knew that there is a long road ahead of him.
"I learned how to appreciate every part of this road," he says. "We all face tests during our lives and sometimes, we don't know or have the right answer, but I stay humble and do not fear tough times or things that don't go my way. I am not afraid to fight the obstacles. People let failure bury them instead of learning from it."
And now, after all the obstacles, the good and bad times, the learning experiences and the tackles against the Patriots, Louis-Jean is home again. The Brockton High School star and Super 26 All-State Team member, who de-committed from the Miami Hurricanes and had some great years playing for Boston College in the early 2010's, is dressing up once more for a Massachusetts team, The Pirates. The relentless Defensive Back signed with the Pirates during the last off season and chose to play with the number 13, since he was born on Oct. 13. This is the first time Al is trying arena football league and he quickly discovered a whole new world, especially at his demanding position on the field as a defensive back.
"This game is more to the point. When you play football, any football, you first must control the basic elements of the game and then, there are many ways to improve that base." Arena football reminds him of the kind of games he used to play when he was younger, leading his previous Massachusetts teams. "If someone is open here, the quarterback will pass him the ball. Everything is much quicker here than in the NFL, where a play develops. There isn't space here like there is in the NFL, so I have to jump lanes much faster and it is really exciting."
He admits he needed the first game to completely get the feel for the game, since "nothing is similar to a real game, no matter how hard you work in practice." He also knows that despite playing for so many years, now that he is an arena football player, his body needs to get used to some changes and he must make adjustments. But it is all worth it.
"Where I come from, it is always good to be at home. Playing here, in my home state, for the Pirates, is way more special than anything else because it gives many people the chance to come and see me and I feel the love. This is my home. Playing in New York or anywhere else is nice, but I always loved the vibe of being home." Now, not only that Al Louis-Jean can see his family members and friends cheering for him and his team at the DCU Center, he is not even being asked to tackle local hero Tom Brady anymore. Talk about a win-win situation.
The Massachusetts Pirates are members of the National Arena League (NAL). The Pirates play all home games at the DCU Center located at 50 Foster St. Worcester, MA. 01608. For more information on the Massachusetts Pirates please call (508) 452-MASS (6277), email [email protected] orvisit www.masspiratesfootball.com. Single game tickets are available online at ticketmaster.com or theDCU Center Box Office. For group outings please call 508-452-MASS (6277). Follow the Pirates on Facebook at Facebook.com/MAPirates on Instagram @mass.pirates, as well as Twitter @mass_pirates.
Images from this story
• Discuss this story on the National Arena League message board...


National Arena League Stories from April 22, 2019
The opinions expressed in this release are those of the organization issuing it, and do not necessarily reflect the thoughts or opinions of OurSports Central or its staff.