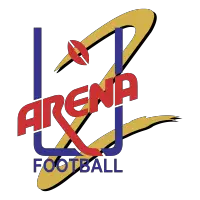 af2 semifinal recaps
August 15, 2005 - arenafootball2 (af2) News Release



FRIDAY, AUGUST 12
Louisville Fire 69, MANCHESTER WOLVES 56 (Attendance: 4,736)
MANCHESTER, N.H. - The Louisville Fire (13-5) defeated the Manchester Wolves (12-5) 69-56 at the Verizon Wireless Arena to advance to their first ever American Conference Championship Game. Matt Sauk threw for 288 yards and six touchdowns on 24-of-34 passing with no interceptions. Rob Mager and Lawrence Matthews both totaled over 100 receiving yards. Matthews also rushed for two touchdowns. Manchester's Jake Eaton threw for 344 yards and seven touchdowns with one interception on 30-of-40 passing. His one interception came on the first drive of the game when Rob Green picked off an Eaton pass at the Louisville one yardline to allow the Fire to take a 7-0 lead. Jamaal Perry, David Bailey and Marc Bacote each caught two touchdown passes for the Wolves. The difference in the game was Louisville taking a six-point lead just before halftime and scoring on the first two possessions of the second half to take a 49-28 lead in the third quarter.
MEMPHIS XPLORERS 71, Amarillo Dusters 30 (Attendance: 1,975)
SOUTHAVEN, Miss. - The Memphis Xplorers (14-3) defeated the Amarillo Dusters (9-9) for the third time this season, 71-30 at the DeSoto Civic Center on Friday night. Memphis' Brian Jones completed 7-of-15 passes for 116 yards and four touchdowns. The first score of the game was a Jones 25-yard touchdown run. Kevin Prentiss caught four passes for 58 yards and three touchdowns. Terrell Adams caught two touchdown passes, rushed for two touchdowns, recovered a fumble in the endzone for a touchdown and threw a touchdown pass for Memphis. Amarillo's Julian Reese threw for 300 yards and two touchdowns on 31-of-44 passing with no interceptions. Reese also rushed for 19 yards and a touchdown. Chavis McCollister caught 11 passes for 146 yards and two touchdowns. The Xplorers and Dusters finished the season tied as the highest scoring offenses in the league but Memphis allowed just 14 points through three quarters. A Steve Azar 51-yard field goal with 3:47 remaining in the second quarter started a 37-0 scoring run through the fourth quarter where the Xplorers took control of the contest.
SATURDAY, AUGUST 13
FLORIDA FIRECATS 59, Wilkes-Barre/Scranton Pioneers 45 (Attendance: 5,244)
ESTERO, Fla. - The Florida Firecats (15-2) knocked the Wilkes-Barre/Scranton Pioneers (10-8) out of the playoffs for the second straight season with a 59-45 victory at Germain Arena on Saturday night. Florida was down by five in the second quarter but a 45-yard touchdown catch by Brent Burnside gave Florida a three-point lead going into halftime. They took this momentum and shut out the Pioneers in the third quarter to jump out to a 16-point fourth quarter lead. For the Pioneers Jurron Kelly and Leroy McFadden both caught two touchdowns. Florida's Chris Wallace completed 18-of-28 passes for 317 yards and eight touchdowns with no interceptions. Cainon Lamb caught four touchdowns and Magic Benton caught nine passes for 185 yards and three scores. Benton scored the final score of the contest with three seconds remaining in the game.
Rio Grande Valley Dorados 65, TULSA TALONS 42 (Attendance: 3,293)
TULSA, Okla. - The Rio Grande Valley Dorados (12-6) earned their first ever road playoff victory with a 65-42 victory at the Tulsa Convention Center over the Tulsa Talons (11-6). John Bradley recovered a fumble in the endzone on Tulsa's second possession to allow the Dorados to jump out to 14-0 lead. Rio Grande Valley's Josh Kellett threw for 233 yards and five touchdowns on 16-of-31 passing. He also rushed for a score. Marquis Floyd caught nine passes for 139 yards and three touchdowns. He also returned an onside kick 10 yards for a touchdown and intercepted a pass on Tulsa's first offensive possession. The Dorados defense limited Tulsa's Donovan Morgan to just three receptions for 35 yards and one touchdown. Robert Reed caught five passes for 77 yards and two touchdowns for the Talons. He also rushed for a score. Chris Canty broke up four passes. For Rio Grande Valley Kevin Brown recorded six solo tackles and intercepted a one pass.
• Discuss this story on the arenafootball2 message board...


arenafootball2 Stories from August 15, 2005
The opinions expressed in this release are those of the organization issuing it, and do not necessarily reflect the thoughts or opinions of OurSports Central or its staff.