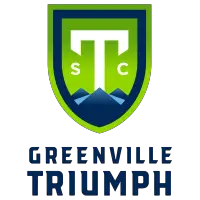 2021 Preseason in Review
April 19, 2021 - United Soccer League One (USL1) - Greenville Triumph SC News Release



Greenville, SC - In one week, the Greenville Triumph will take the field for their first regular season match since being crowned league champions last October. The 2020 season was unlike any other year the sports world had experienced; yet through many challenges, the Boys of the Upstate showed us all just how much can be accomplished when you pair daily commitment with an unwavering determination. The 2020 season is something that will be bookmarked in our club's history forever, but, for Hall of Fame head coach John Harkes, it's really just a starting point for what is still to come.
Preseason officially began on March 1, when 14 Triumph veterans and a handful of new faces gathered together for the team's first practice. Harkes understood from the jump how important a tough preseason schedule would be in order to determine weak spots but to also build confidence within his players. Four preseason matches were scheduled against four upper-division opponents, starting with historic MLS side, D.C. United, then moving onto three USL Championship teams: Charleston Battery, Louisville City FC, and Charlotte Independence.
"Having that confidence to compete against an MLS side was huge for us," said Harkes. "It really taught the coaching staff that we have players that can compete at the highest level. And it's reassuring for the players. It confirms their self-belief which is a key component of preseason."
Triumph SC followed up the 1-1 draw against D.C. United with a 0-0 draw against Charleston Battery before suffering their only preseason loss, a 4-2 defeat against LouCity. The team rounded out its preseason tour with a 2-1 win over Charlotte Independence at Bob Jones University.
"I think the number one thing as to how I approach preseason is going back to the basic principles and getting those right. For us, that's our team philosophy and our style of play," said Harkes. "Are we a team that likes to go direct, or are we a team that likes to build through lines of pressure? We want to have adaptability. We want to recognize moments during the game that are trying to teach us things and have the willingness to change the way we play."
Coaches often use a determinant of success during the preseason matches that differs from their results-oriented approach during the regular season. For Harkes, the preseason matches are about making sure players understand the team's philosophy and style of play and making sure that he understands where his team sits mentally.
With a team of 14 returning players from the 2020 title-winning squad, team philosophies are borderline habitual for the Greenville Triumph. But with that strong of a retention rate from season to season, it's easy to wonder how the Triumph newcomers are adapting. For Harkes, incorporating different players into the mix is one of the most important things he can do for his veteran players.
"When you bring other players into the mix, they will inevitably challenge the team in a different way; and we need that healthy competition, but we also need to understand how to be a team first and foremost."
Harkes and company added a handful of talented players to the mix ahead of the 2021 season including former Forward Madison FC attacker, Don Smart and former USL Championship striker, Marios Lomis.
When asked about the newcomers he'd been most impressed with, Harkes replied stating, "I'm always impressed when new players come into the environment and try to understand our team's culture right away, and from day one, Don Smart has stepped into that." He continued to say, "I've always respected Don's intelligence as a player, but I've really enjoyed understanding him as a person more."
In a team filled to the brim with talent -- including five All-League First Team selections and newcomers such as Lomis, who Harkes describes as "quality" -- how does a coach choose his starting eleven?
"In terms of performance culture, and transparency from a coaching standpoint, if you're performing well in training then that is going to give you a showcase window," Harkes said. "You're automatically putting yourself on a platform to start on the weekends, and that's the environment we're trying to create here. That's how we believe guys will improve every single day."
On multiple occasions throughout our conversation, Harkes preached the importance of mentality and response to adversity being a key factor to determine and master throughout the preseason. With the 2021 season only a week away, I asked the Hall of Fame head coach what his approach was going to be and if that approach was different now that he's won a league title.
He responded, "The first thing I said to our team was that our attitude is not going to be one of defending a title with a target on our back. We're going to attack it."
In reflection, Harkes said "What we did in 2020 was exceptional as a club. Growing our brand, being number one all season: you honor that work." He then added the caveat, "But you don't carry over that work. You start fresh, and you approach the new season in terms of how to make it better than the last."
Asking Harkes how they could make it better, he touched on a few specific items such as an increased amount of creativity on the field, solid levels of conditioning and joining the midfield third with the attacking third more consistently. But he ended with a big picture idea that seemed as much of an everyday philosophy as it did a season-long mentality.
"We will always rely on the foundation of who we are, and of course, we want to win a championship. But you have to put the work in," Harkes said. "Once you put the work in, then it becomes a great process, and that's what you begin to enjoy."
• Discuss this story on the United Soccer League One message board...


United Soccer League One Stories from April 19, 2021
The opinions expressed in this release are those of the organization issuing it, and do not necessarily reflect the thoughts or opinions of OurSports Central or its staff.
Other Recent Greenville Triumph SC Stories