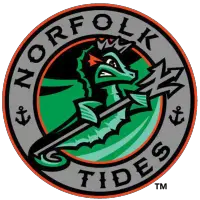 Terry Blocker - Tales of Tides During Black History Month
February 3, 2023 - International League (IL) - Norfolk Tides News Release



In 1981, TERRY FENNELL BLOCKER was drafted by the New York Mets in the 1st round, 4th overall from Tennessee State University. Born in Columbia, South Carolina, Blocker was a left-handed hitter and thrower standing at 6'2 and 195 pounds. He played at TSU from 1978 - 81 and became the third player from the school to be drafted in its history.
Playing 36 games in his first professional season with the Little Falls Mets of the New York-Penn League, Blocker hit .341 with seven homers, 16 RBI, 14 stolen bases and slashed .378/.570/.948. He would spend his 1982 season with the Double-A Jackson Mets of the Texas League and then stayed in Jackson until the second half of the 1983 season. While playing for Jackson in 1982, Blocker shared the outfield with two other 1st round pick Mets outfielders in Darryl Strawberry and Billy Beane.
Blocker made his Triple-A debut with the Tidewater Tides in a doubleheader on June 22, 1983. He would go on to play in five different seasons with the Tides, one of 16 hitters in Tides franchise history to do so. In those five seasons he totaled 503 games, making him one of three Tides hitters to reach the 500-game mark. Blocker ranks among Tides franchise career leaders in hits (2nd, 529), runs (2nd, 253), stolen bases (2nd, 110), triples (T-4th, 17) and RBI (8th, 185). His best season with the Tides came in 1987, when in 124 games, he hit .312 (164-for-525) with 89 runs, 21 doubles, five triples, six home runs, 37 RBI, 33 stolen bases and slashed .344/.406/.749. Not only was it his best season with the Tides, it was one of the most productive seasons in Tides franchise history. For franchise single season records, Blocker tied for the second-most hits, the seventh-most runs, tied for the 13th-most stolen bases, and was the 20th-best single season batting average (minimum 351 plate appearances).
As for his Major League career, Blocker played 18 games for the Mets in 1985. After his stellar season with the Tides in 1987, he was traded to the Atlanta Braves on November 11, 1987 in exchange for southpaw pitcher Kevin Dewayne Brown. Blocker would play a total of 92 games with Braves between 1988 - 89. Between the three years of playing Major League Baseball, Blocker hit .205 in 110 games.
In an article by the New York Times on May 14, 1986 by Dave Anderson, it was reported that the Mets were considering trading Blocker straight up for future Hall of Famer and former Met, Tom Seaver. Seaver, who was 40 years old and playing for the Chicago White Sox at the time, had one more year under his contract and would have been a Met through the end of the 1986 season at the age of 41. When Mets manager Davey Johnson was asked about the trade, he responded, ''Tom's a legend, and I could use him for the stretch run, but when I was told he had another year on his contract, I was immediately turned off to the idea because he would push one of my four young starters, Rick Aguilera or Sid Fernandez, out of the rotation next year, and that would be unacceptable to me." The 1986 Mets went on to win the World Series in seven games over the Boston Red Sox, which was aided by an infamous error in Game Six by first baseman Bill Buckner that would have won the Red Sox their first World Series since 1918.
Fast forwarding to the 1995 season, MLB was coming off the 1994 Player's strike. Blocker was invited to the Braves Spring Training as a replacement player with a chance to get back to the Major Leagues. While there, his fellow replacement player teammate Dave Shotkoski was murdered on March 24 while walking near the Braves' hotel in West Palm Beach, Florida. According to the Dallas Morning News, Blocker was cut by the Braves soon after but was bothered by the unsolved mystery of the murder. Blocker went into the hard neighborhood near the hotel, found an acquaintance made when he played for the Braves in the late '80s, and started a search for the killer.West Palm Beach police confirmed Blocker helped target suspect Neal Douglas Evans. The locals initially stonewalled Blocker, but eventually word got out that Evans was bragging about the murder. Blocker learned Evans was hiding in an alleged crack house and relayed that to police. They arrested Evans -- who, police said, has a rap sheet "seven feet long" -- at the house.
"I look at it like this: I was sent down here for a purpose," Blocker said. "I know that I can play baseball, but at my age [34], it doesn't bother me if I'm not playing. I do feel pretty good about being able to help Dave. That was something important."
Images from this story
• Discuss this story on the International League message board...


International League Stories from February 3, 2023
The opinions expressed in this release are those of the organization issuing it, and do not necessarily reflect the thoughts or opinions of OurSports Central or its staff.