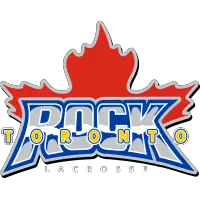 Sandy Chapman Named NLL Defensive Player of the Year
May 12, 2010 - National Lacrosse League (NLL) - Toronto Rock News Release



TORONTO - Toronto Rock assistant captain Sandy Chapman has been named the 2010 National Lacrosse League Defensive Player of the Year.
"It is definitely an honour, but our defensive system plays as a unit, so to be centred out comes as a surprise," said Chapman. "I just try to be a steady defender back there and pressure opposing offensive players into making bad decisions."
This season Toronto is known for the up-tempo defensive style brought in by GM Terry Sanderson and Head Coach Troy Cordingley. What has proved to be a learning curve for some has fit perfectly with Chapman.
"He was made for the type of defence we have," said Sanderson. "It's a high pressure, thinking man's defence, and he has all those qualities."
Cordingley couldn't agree more.
"He is unbelievable, and so technically sound with our system. He pressures the ball and is such a smart defender.
"There are so many great defenders in this league that he has gone under the radar for the last couple years," continues Cordingley. "It is great he is finally getting some recognition. It's all about team for Chappy, but this is great to see."
The righty from Waterdown, Ontario is no stranger to the bench bosses, playing for both Cordingley and Sanderson in summer ball with the Brampton Excelsiors. Chapman was also part of the 2005 Toronto team that won the Champion's Cup under Sanderson's lead.
"They ask a lot of their players, and the style goes against what we've been taught," said Chapman on the up-tempo defensive. "Initially it is tough, but as you keep at it it becomes routine. This team has picked it up fairly quickly."
Chapman, 29, ended the 2010 regular season with 10 points from four goals and six assists and a team high 86 loose balls. After two winning playoff games, he heads into the Champion's Cup with two penalty minutes and 10 loose balls.
When Sanderson was hired as general manager of the Rock in July, he had a hit list of players that he was determined to get back in a Toronto Jersey. He says Chapman was near the very top of that list.
"He was targeted to recapture and bring back to Toronto," said Sanderson. "Any coach wants that kid on his team. He is the type of guy we needed in that room."
Cordingley and Sanderson knew they were bringing in a much younger roster of players, and were looking for leaders for the rookies to follow.
"Chappy is a performance leader," said Cordingley. "Seeing someone that works that hard for 60 minutes in each and every game, and every practice, that rubs off on guys."
"He's been more vocal this year than in the past, but he is the kind of guy that leads by example; the ultimate player," said Sanderson. "That's what guys feed off of, his effort.
"It was just so easy to make him one of the captains of this team."
Sanderson, also Toronto's defensive coach, thinks Chapman can do damage on both sides of the turf and is not a strictly defensive player.
"He's a smart player with impressive speed and footwork," comments Sanderson. "He transitions the ball better than he's given credit for because he may not have some of the numbers on offence that other D or Transition guys do. Chappy gets the ball up the floor second to none."
Chapman was also a unanimous vote amongst the Rock coaching staff as the 2010 recipient of Toronto's Les Bartley Award that is given to the player that best exemplifies former head coach Les Bartley's emphasis on the importance of character and commitment to the team. He was honoured with the award at Toronto's final regular season game of the year on April 16 at the Air Canada Centre.
"I think Chappy is one of the most respected players on the floor," said Cordingley. "He plays honest and he plays hard."
The league awards are determined by a vote of the league executives, general managers and head coaches.
"A little recognition it's nice, but it shows how much our team defence concept worked this year," Chapman said. "It means a lot but will mean a lot more with a win. It is still about winning this weekend."
• Discuss this story on the National Lacrosse League message board...


National Lacrosse League Stories from May 12, 2010
The opinions expressed in this release are those of the organization issuing it, and do not necessarily reflect the thoughts or opinions of OurSports Central or its staff.