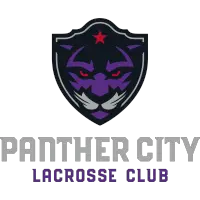 Panther City Lacrosse Club Post-Practice Report - January 15, 2022
January 15, 2022 - National Lacrosse League (NLL) - Panther City Lacrosse Club News Release



Long Island, NY - The Panther City Lacrosse Club held a shootaround this morning at the Nassau Live Coliseum as they prepare to face the New York Riptide this evening at 7:30 p.m. ET / 6:30 p.m. CT on ESPN+. This game will reunite Panther City goalie Kevin Orleman with his younger brother, Steven, who is a goalie for the Riptide. Tonight would mark the first time the two have ever squared off against one another in their professional careers. The two spent two years on the same team in Georgia during the 2018 and 2019 seasons. Dan Teat, Panther City's Offensive Coach, will be on the bench tonight as his son, Jeff Teat, will suit up for the Riptide. This is the first time in both Teat's careers that they will face off against one another, as Dan Teat has coached his son for a majority of his career. Dan Teat was a 14-year NLL veteran and has been inducted into the Ontario and Canadian Lacrosse Hall of Fame and his son, Jeff, was the first overall selection in the 2020 NLL Entry Draft.
QUOTES
Panther City Lacrosse Club Head Coach Tracey Kelusky
On the message to the team this week...
"We need to win the 50-50 loose balls and continue to compete. I thought we had a real good second half building upon those things, but again there are things we can't control. Guys might be out with Covid. No one is coming. We know the group of men we have here. We have reserves for a reason. We have practice guys for a reason. If the opportunity is in front of yourself, go earn it and go get it."
On the team's younger players just focusing on going out and playing lacrosse...
"Exactly. Have some fun. Embrace the opportunity. We have to play urgent. Understand that it is an opportunity and seize it by going out and working hard and having some fun and just play lacrosse.
On the message to the team as the league and its teams are facing an uphill battle against Covid...
"Everyone understands what it is. It is only in time that it will affect us. We will have guys out and it is the next man up. Next guy up - hey you might get it, but if someone gets it then what are you doing to continue to pull on the rope for your teammate. You look at the guy beside you and ultimately that is what we do anyways - we battle for the guys besides us. If he is not in the lineup because of Covid then I know guys are going to play that much harder."
"On one key area the team needs to focus on tonight...
"50-50 loose balls. That is my big thing. I don't think we have done a real good job, particularly on the face-off dot. The balls that are loose and up for grabs we have to come up on the majority side of that.
Panther City Lacrosse Club Offensive Coach Dan Teat
"On coaching against his son, New York Riptide's Jeff Teat, for the first time in either of their careers...
"It is one of those things where it is going to be really weird. I heard him in an interview a long time ago say, It is going to be weird because we have been on the same bench his whole life. At the end of the day, he is on the other team and we are looking for our first win. We are going to do whatever we can to beat them."
On mixed feelings about wanting to win while also see his son be successful...
"If we can win 10-8, but he is four [goals] and four [assists] laughs ... Then I am okay with that. You are always proud of your kids and what they do, right. Like I said earlier, we need a win. We want to win. We prepared for this week and we prepared for their team and somebody's going 0-3 or 0-5 and someone's going 1-3 or 1-4. We want that 'W' to be on our side tonight.
On if there was trash talk this week between his son and himself...
"Nope. No messages. It is one of those where we just left each other alone and that was it. There was no lacrosse talk between the two of us this week. We will talk after.
Panther City Lacrosse Club Goalie Kevin Orleman
On facing off against his brother, New York Riptide goalie Steven Orleman, for the first time ever in their professional careers...
"It is definitely a really exciting night for both of us, for our parents - we both have invested a lot in this game, playing from a young age, playing together on the same team , supporting each other, coaching each other throughout our careers, so to be able to play across from one another is going to be a different experience. It is going to be pretty cool and I am really looking forward to it."
On if he gave his teammates pointers on how to score on his brother...
"Yeah, I think all is fair in love and war, so no holds barred. I expect the same thing from him. I was letting the boys know a couple things on him.
On if there was trash talk between the two this week...
"We were keeping it civil. He likes his head games. I was trying to get in there and ask him if he knew if he was starting or not. He was playing with me a little bit. Nothing too gutless.
On returning to action this week after not playing last week and his mindset going into tonight...
"I am feeling hungry, I thought the boys battled hard last week and we just came up short. That first win has been a little evasive for us and I think this is a great opportunity for us to grab ahold of it and really show this league what we are all about."
• Discuss this story on the National Lacrosse League message board...


National Lacrosse League Stories from January 15, 2022
The opinions expressed in this release are those of the organization issuing it, and do not necessarily reflect the thoughts or opinions of OurSports Central or its staff.