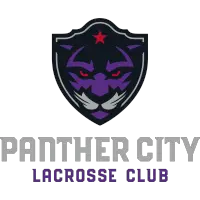 Panther City Lacrosse Club Defeats New York Riptide 13-12 in OT
January 15, 2022 - National Lacrosse League (NLL) - Panther City Lacrosse Club News Release



The Panther City Lacrosse Club (1-4) defeated the New York Riptide (0-4), 13 - 12 (OT), at Nassau Live Center in New York, Saturday night.
Rookie forward Patrick Dodds scored the game winning goal in overtime to not only record the first win in Panther City history, but also the first hat trick of his career. Fellow rookie Taite Cattoni also recorded his first career hat trick as the two accounted for six of the nine Panther City goals scored by rookies. Dodds also added five assists to lead the team with eight points, while forwards Will Malcom and Dawson Theede each tallied two goals of their own to finish out Panther City's scoring efforts.
Goalie Kevin Orleman (1 - 2) racked up 41 saves on 53 New York shots, the first time a Panther City goalie has stopped more than 40 shots this season. Defensively, Liam Byrnes paved the way for Panther City, leading the team with twelve claimed loose balls and three forced turnovers.
Forward Connor Kearnan netted four goals to lead New York in scoring, and forward Callum Crawford dished out seven assists to go along with his one goal to lead the Riptide with eight points.
Panther City next visits the Saskatchewan Rush (1-4) on Saturday, January 29. Faceoff is set for 7:30 p.m. CT at the Sasktel Center.
QUOTES
Panther City Lacrosse Club Head Coach Tracey Kelusky
On his feelings right now...
"How hard it is to win in this league. Honestly - it is crazy. Obviously, there are ups and downs and the roller coasters and the adversity. Getting the win in the fashion that we did. I don't think I would have had it any other way. Obviously, you go back and say, 'We gave them a chance to come back,' but the way we did hunkered down on defense and offensively trusted the process and trust one another. It is pretty surreal to be honest. The thing that stands out the most to me - this is hard, hard league to win in. Certainly going to savor it tonight."
On the play of goalie Kevin Orleman...
"Orley was outstanding. His play thus far this season has been great. The more he continues to play the way he does, the more his teammates are starting to trust him. Young team and a group that hasn't played together and I don't think there was a point of panic at any point in that game. I think they trust one another, but in particular because of our goaltender Orley.
On the play of the young offensive players, especially Patrick Dodds...
"We talk about we have to do this by committee. We are not built that way where we have that one dominant guy. Certainly, any given night anyone can step up. I thought we did a lot of really good things. For me, for that group - they have to trust it. There is a pretty good opportunity in front of them and they are put in pretty significant roles. Doddsy [Patrick Dodds] is 20-years old. We are putting the ball on his stick in overtime. We are drawing up the play for him to score. We certainly have trust in these guys. They have to start trusting themselves a little more and believe in what we are doing."
On his walk into the locker room as the winning head coach for the first time and his message to the team...
"It is not about me. I know it is my first one, but it is Panther City's first one. This is our team. That is how we have created this thing from day one. Thankfully [President/CEO and Managing Partner] Greg [Bibb], our owner, operates that way, our General Manager [Bob Hamley] operates that way and I am the head coach, but they are the players. It is our team. It is Panther City. It us. It is the fans back in North Texas. There is no one person that is bigger than the organization."
Panther City Lacrosse Club Forward Patrick Dodds
On how it felt to win...
"Honestly just ecstatic to get the win, probably blacked out at the end of the game there along with a couple other of the guys. Heard TK [Head Coach Tracey Kelusky] speak after the game and kind of settled in. We are all just happy to be in the winning column for one and we are looking forward to the next game to make it two wins for us."
On the game winner...
"We ran the exact same play the possession before, and TK just said do it again. Taiter [Taite Cattoni] threw me a great pass, hard to mess that one up, it went far side the first time - no go, brought it back short side and I was lucky enough for it to go in."
On the young talent on the floor tonight...
"I think it takes time to settle into roles and whatnot, but we are gaining some good confidence. Obviously, no Phil [Caputo], we were missing Phil tonight, but we had a guy [Jack Jasinski] step in and play a great game and obviously he got his first goal. We have a lot of good pieces, and we are just moving forward."
Panther City Goalie Kevin Orleman
On what is going through his mind after the team's first win...
"I'm really proud of our group. We had a lot of key roles that were missing tonight with Covid, a lot of leadership guys, so some secondary guys had to step up and they did that in a really big way. I can't say enough about how proud I am of these guys. It's been a long battle and this first one has been a long time coming, so just feeling it tonight and taking it all in."
On the team's resilience...
"It's been a reoccurring theme for us to get ahead by a few and then kind of show a little too much and let our opponents back into the game and we haven't been able to recover in the past. Tonight, again we saw New York come back a little bit, but we settled down and we played off each other, we didn't too down on ourselves and just took it one shift at a time. We were able to rally around that, it was pretty incredible."
On what it felt like in the winning locker room...
"Tired. We re-watched the video already and those five guys on the floor are not in a hurry to get to him. You can just tell the exhaustion from everyone. We all had to give 110 percent tonight, so it feels good. It's so relieving. Honestly, I blacked out and don't remember when we scored, I was just so excited, so it feels really good."
• Discuss this story on the National Lacrosse League message board...


National Lacrosse League Stories from January 15, 2022
The opinions expressed in this release are those of the organization issuing it, and do not necessarily reflect the thoughts or opinions of OurSports Central or its staff.