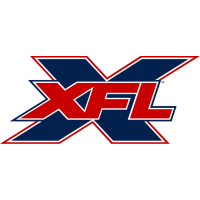 OSC Weekly Ratings Wrapup
by David Carlson
February 19, 2020 - XFL (XFL)



XFL ratings down over 30% across the board in week 2
Ratings for week 2 of XFL action took a hit after the debut weekend, as one would suspect. From an historical standpoint, the decline in the second week was pretty much in line with other spring football leagues which have aired games on broadcast networks, outside of the first year of the Arena Football League on NBC, which was able to keep ratings steady for 2-3 weeks before dropping off. The key for the XFL this year will be if it can stabilize the ratings sooner than previous attempts.
Week 2 vs. Week 1 by timeslot (All Viewers/18-49/HH):
Time Slot
Week 1
Week 2
Diff.
Sat 2p
ABC (3.38m/1.33m/2.07)
ABC (2.14m/828k/1.35)
(-38%/-38%/-35%)
Sat 5p
FOX (3.29m/1.41m/1.91)
FOX (2.32m/838k/1.47)
(-30%/-41%/-24%)
Sun 2p/3p
FOX (3.38m/1.34m/2.10)
ABC (2.40m/875k/1.52)
(-29%/-35%/-28%)
Sun 5p/6p
ESPN (2.50m/1.21m/1.43)
FS1 (1.35m/661k/0.76)
(-46%/-46%/-47%)
The largest drop was the Sunday night game. Having the game move from ESPN to FS1 likely explains the extra 10% drop vs. the other timeslots.
Still, the performance was a marked improvement over the XFL's first go-around, which saw more than half the initial week's audience erode a week later.
Comparisons to previous spring football league TV debuts vs. week 2 results:
| | |
| --- | --- |
| AAF (NFLN Sun): | -33%/-39%/-31% |
| AFL on NBC: | HH Rating change - No change (1.6 both weeks) |
| XFL 2001 (NBC): | HH Rating change - Down 52% (9.5 to 4.6) |
What's Ahead for the XFL?
The XFL won't have another Sunday over-the-air network game until week 7, with four games on FS1, two on ESPN, and two on ESPN2 in the meantime. With half of the broadcasts airing on the lower-rated FS1, it will be interesting to see how well the league can hold up Sunday ratings, and what ABC can get in week 7 on Sunday opposite the first weekend of March Madness.
The "March Madness Gaunlet" in weeks 6-8 could be a classic telltale on how the XFL is faring. Those 3 weeks (the conference championship weekend/bracket announcement, and the first two weekends of the tournament) have been weekends that have clobbered the ratings of other spring leagues, including the XFL 2001 and AFL on NBC. If the XFL can get through those three weeks without losing another 40-50% of their audience, they may have a positive tale to tell heading into the playoffs.
In week 6, the league gets hammered on the TV schedule because of college tournaments on ESPN and FOX, with games dropping all the way down to FS2 on Saturday, and FS1 and ESPN2 on Sunday. ESPN has their bracketology special and the beginning of a Lakers NBA game against the XFL on ESPN2. Weeks 7 and 8 will bring more consistency, as both weeks will feature a Saturday 2pm ABC game, and a 5pm FOX game, and Sunday has ABC with a 3pm game, and FS1 with a 6pm contest.
In another XFL programming note, FS2 has been rerunning FOX network XFL games on Monday afternoons.
Last Week's OSC Leagues Ratings Summary (18-49 demo rating/total viewers):
| | | | | |
| --- | --- | --- | --- | --- |
| 2/15 | 2pm | XFL | ABC | 0.63/2.15m |
| 2/15 | 5pm | XFL | FOX | 0.64/2.32m |
| 2/16 | 3pm | XFL | ABC | 0.67/2.40m |
| 2/16 | 6pm | XFL | FS1 | 0.50/1.36m |
| 2/16 | 6pm | MLR | CBSSN | (Not Nielsen rated) |
OSC Leagues on TV in the coming week:
| | | | |
| --- | --- | --- | --- |
| 2/22 | 2pm | XFL | ABC |
| 2/22 | 5pm | XFL | FOX |
| 2/22 | 10pm | MLR | CBSSN (Not Nielsen rated) |
| 2/23 | 3pm | XFL | ESPN |
| 2/23 | 6pm | XFL | FS1 |
Follow OSC TV and ratings discussion at https://twitter.com/OsctvR.
NOTE: Don't know what the "demo" is? Unsure of why the different ratings numbers don't match up? Read our explanation of TV ratings in our first article here.
• Discuss this story on the XFL message board...


XFL Stories from February 19, 2020
The opinions expressed in this article are those of the writer(s), and do not necessarily reflect the thoughts or opinions of OurSports Central or its staff.