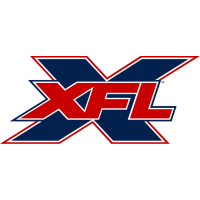 OSC Weekly Ratings Wrapup
by David Carlson
February 7, 2020 - XFL (XFL)



XFL Kicks Things off for OSC Focused Leagues this weekend
In our last column of 2019, we had a chart with each league OurSports Central covers and their best demo rating. The defunct AAF had by far the most-viewed telecast, the opening weekend regional prime time games on CBS, which drew 3.2 million viewers.
While the AAF is no more, the XFL tries to make spring football a success starting this weekend. There are a lot of things that could point to even better ratings for the XFL than AAF. First, there are better networks in ABC/ESPN and FOX. There has also been a bit more promotion than the AAF saw, especially with the connection to the original XFL, WWE, and Vince McMahon. The time slot may possibly hamper the XFL rating as their broadcasts will air in Saturday and Sunday afternoon timeslots, rather than in prime time.
The XFL will have four windows every weekend, with this weekend having two games on FOX, one on ABC, and one on ESPN. Future weeks will have some games on FS1, with week 6 having some games on ESPN2 and FS2 because of scheduling issues.
Major League Rugby also starts out this weekend with a game on CBSSN, which is not Nielsen rated.
Dates for the first national TV coverage in other OSC Leagues:
MLS - Sat 2/29, Nashville vs. Atlanta, FOX 8pm
WNBA - Sat 5/16, L.A. vs. Washington, ESPN 4pm
BIG3 - TBD
PLL - First weekend 5/29, TV TBD
CFL - TBD
MLR(?) - 2/9, Seattle @ San Diego, CBSSN 5pm
NWSL - TBD
Follow OSC TV and ratings discussion at https://twitter.com/OsctvR.
NOTE: Don't know what the "demo" is? Unsure of why the different ratings numbers don't match up? Read our explanation of TV ratings in our first article here.
• Discuss this story on the XFL message board...


XFL Stories from February 7, 2020
The opinions expressed in this article are those of the writer(s), and do not necessarily reflect the thoughts or opinions of OurSports Central or its staff.