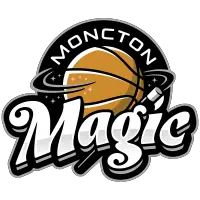 Magic vs Hurricanes Rivalry - Game Preview
February 18, 2020 - National Basketball League of Canada (NBL Canada) - Moncton Magic News Release



Here's a primer for tonight's matchup between the 11-4 Moncton Magic and the 5-11 Halifax Hurricanes tonight at 7 PM at the Avenir Centre.
1. Every team faces a crossroads point in every long season....this feels like the Magic's: Picture it....Sicaly....errrr....Prince Edward Island, Friday, January 11, 2019. The Magic are the #1 team in the league and playing a team on a 10-game losing streak. They had faced some recent adversity themselves with personnel changes and a couple close losses on their Ontario trip, but it felt like get-well time against the Storm. Well, it finished 108-91 for the bad guys and it wasn't that close. Suddenly their lead in the division was shrinking, reinforcements hadn't arrived yet and they had a matchup on the docket against the Halifax Hurricanes. Well, 24 hours later, the Magic gutted out a 3-point win in Halifax and they were back on their way. Fast forward about 57 weeks and the Magic are coming off another maddening result and have another Hurricanes game on their calendar. It's a home game and their rivals are having a down year, but they're coming off a big win over the same Windsor Express team that just stymied the Magic......and they ARE the Hurricanes. This is a MASSIVE game for the home team.
2. Get Billy the ball MORE: This isn't the time to abandon the game plan for one of the league's best players, it's time to expand it. Nothing has changed. Billy White is still the league's biggest single matchup problem. It's why he has multiple bodies running at him when he puts the ball on the floor. He's bigger, stronger, quicker and/or more athletic than almost anyone in the league 1-on-1. So, get him the ball early, often and where he wants it......BUT......he's got to make better decisions when he gets it. If it's not there with the first touch, give it up and repost or give it up and ask for it back on the wing. He's got a deep and smart reserve of teammates on the perimeter. They ain't stupid. They know what they've got in the first team All-Star. They'll either take the shot if that's the right thing, or they'll get him another touch. I doubt Coach Salerno's game plan tonight envisions his starting 4-man only getting up 9 shots the way he did against the Express. Billy's averaging under 13 a game on 35% shooting the last 4 games. Zero chance that lasts much longer.
3. Speaking of our fearless leader....: Ask me how much I loved his reaction to the loss on social media. Not often a seasoned pro will take to twitter and Facebook and say "we got outplayed and outCOACHED." Heady, impressive stuff. I think it both motivates his guys while also saying "I'm with you and putting the same pressure on myself I'm putting on you." It certainly FELT like a "back to the drawing board" moment when the buzzer sounded on Monday night. Thing is....it's absolutely not. Yeah, the Magic looked like swiss cheese defensively at times. And offensively they were stuck in the mud. However, this is still the best defensive team in the league and have more than enough offensive firepower in reserve. But other coaches are really good, watch film and have veteran players to execute a game plan as well. Even the best players and coaches are going to have off-nights against a better-prepared team. It's how they react to them that matters. I loved Coach Salerno's reaction after Monday's loss and I'm expecting to see a focused team that's rallied around each other this week at the Avenir Centre tonight.
4. We need to talk about Wayne McCullough for a moment: "3 and D player" may be an overused basketball term nowadays, but the need for them isn't going anywhere and they don't come much better than Wayne right now. A 33% shooter from downtown last year (45% overall), he's now one of only a dozen players in the league shooting over 40% and he's making over 60% of his 2's. He was the Magic's best player on the Rock last week, averaging 21.5 and 5 boards on 64% shooting in the 2 games. Meanwhile, my colleague Steve Power called him one of the three best defensive players in the league. High praise, but I'm not about to argue. He followed it up with 19, 5 boards and 2 steals against Windsor as he continues what is easily the best stretch of his pro career. Now, if we could just do something about that 61% shooting from the line....
5. Funny you should mention that.....: This time last year I wrote at least one game preview bellyaching about the Magic's struggles from the line. They went on to make 'em when they counted in the playoffs and nobody remembers them being the second-worst team in the regular season at the charity stripe. Well hopefully Lightning strikes twice. The team stats from the first game on the Rock last week are almost identical between the teams, except that the Magic converted just 16 of 25 free throws versus 24-26 for the Edge. In game 2, that went up to 32-41, 78%, during a comfortable victory. That may be an unfair correlation (and they shot over 80% in the loss to Windsor) but the fact is the Magic sit in 7th in free throw percentage right now while #s 1, 2 and 3 all reside in their division. Come playoff time, you can't afford to give even 1 game away in the fashion of game 1 in St. John's.
6. Let's Talk About The Visitors: Magic fans aren't about to sleep on a matchup with the Hurricanes, and coming off a 26-point win over the Express last night, no one else should either. The thing is, a lot what's jumped up and bitten Halifax so far this year was on display, they just overcame it by dominating the three-point arc. They held a 48-9 advantage in that category, effectively eliminating any chance Windsor had, despite the Express' 52% shooting inside the line. This continued an alarming defensive trend for the Hurricanes, who allow a 53% mark on 2-point shots for the season, a full 4 points higher than any other team in the league. Despite being one of the best teams in the league defending shots from deep, they are last in the league in opponents FG%. They outrebounded Windsor by 2, but it was the first time in 4 games they'd won that battle, and they remain last in the league in rebounding margin as well. Windsor only turned it over 11 times and only St. John's turns their opponents over at a worse rate than the Hurricanes. Now for the good news if you're a Hurricanes fan: you turn the ball over less than anyone in the league outside of the Magic, when you get to the free throw line, you're deadly, and when it's going from behind the arc, you can beat anyone. With that in mind, I give you three names: Clinkscales, Mason, Zimmerman. All three were tremendous last night and all three rise to the occasion for Moncton games. Clink has an almost unthinkable 8-1 assist/turnover ratio this year and seems destined to average a career high in assists. Mason is getting to the line twice as much as anyone in the league and is going to be MVP if Halifax makes the playoffs, and Zimmerman is shooting 16-26 from three since he returned to the lineup 4 games ago. This game is even bigger for the visitors and they're going to give their hosts all they can handle.
• Discuss this story on the National Basketball League of Canada message board...


National Basketball League of Canada Stories from February 18, 2020
The opinions expressed in this release are those of the organization issuing it, and do not necessarily reflect the thoughts or opinions of OurSports Central or its staff.