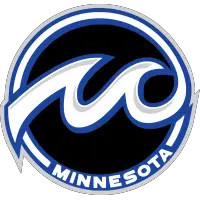 Leveille Carving Impressive Legacy in and out of Her Crease
May 28, 2021 - Premier Hockey Federation (PHF) - Minnesota Whitecaps News Release



If goaltenders are the most important players on the ice then it's fair to suggest that nobody in National Women's Hockey League history measures up to the standard of Amanda Leveille.
And it's an impressive legacy she continues to carve both inside and outside of her crease.
The 12th overall pick of the Buffalo Beauts in the inaugural NWHL Draft back in 2015 has blossomed into a two-time IsobMario Fornoel Cup champion, was recently voted Goaltender of the Year for the second time in her five-year career, and also added Foundation Award recognition to her resume based on notable contributions to her Minnesota Whitecaps community.
"I'm grateful to be part of the Whitecaps and to achieve these awards," Leveille said. "Goaltender is a reflection of the team so I'm grateful for everything that everyone does to support me, how the team does whatever it takes to win, the NWHL for providing an opportunity to play this season, and that they (NWHL Media Selection Committee) thought I'd be deserving. I have so much respect for the goaltenders in this league who had such great seasons."
While the conditions of a COVID-19 shortened campaign were challenging at times, the veteran netminder appreciated every chance to be at the rink with her teammates and have a sense of normalcy that has been hard to come by in the outside world.
"There's a social aspect of hockey that made it so much fun to see people that you otherwise couldn't because of the lockdown. One thing that stands out for me this season is the resiliency of everyone who battled all year to make the best of the situation. Playing this season was an incredible feeling."
Leveille had three victories in four regular-season appearances with a goals-against-average of 2.47 and save percentage of .936. She posted a shutout victory with 44 saves in semifinal action against the Connecticut Whale, and then stopped 26 shots despite a 4-3 loss to the Boston Pride with the title on the line, giving her Whitecaps a chance to win right until the bitter end. It was the team's third straight appearance in an Isobel Cup final having won in 2019 with Leveille between-the-pipes.
"Amanda Leveille is the foundation of the Minnesota Whitecaps and has been one of our leaders since joining the team in 2018," said Whitecaps general manager and co-head coach Jack Brodt. "She is a super teammate and a great person off the ice as well. The Whitecaps are very proud to have Amanda on our team and encourage her to continue her goalie mentoring program for young females."
The dedication Leveille has to give back to the game on a daily basis is what inspired the Whitecaps to make her their Foundation Award recipient. She's always at the rink, four months a year, teaching and mentoring aspiring female athletes whether it's through her girl's 8-18 program for the Bloomington Association or her 'Try Goalie' program geared towards girls aged 6-16 who are curious about the position.
"Lev has been the backbone of our team since our inaugural year. She rises to the challenge every game and gives our team the best possible chance to win by being consistent in net," said Whitecaps co-head coach Ronda Engelhardt. "Not only is she committed to getting better every day, she takes time to develop goalies in the community. She spends hours and hours working with and developing goalies of all ages. She is a role model and mentor for them and Minnesota is fortunate to have her influencing our goalie community."
As a Goaltending Director for Os Hockey Training, Leveille has developed a passion for coaching while working with teammates like Winny Brodt Brown and Meaghan Pezon in various programs and estimates reaching close to 300 girls a year by providing female guidance she never had on the ice in her youth.
"Growing up I didn't know there would be a women's pro league," Leveille said. "I hoped there would be something but I never had this kind of female mentorship and it's so important to have. It's fun to be on the ice with the girls because I want to give back and help them achieve their goals. These girls adore the Whitecaps and seeing their faces around the other girls when they come to our games is rewarding."
Without professional women's hockey, the Kingston, Ontario native grew up aspiring to play in the NHL and also set her sights on representing Canada at the Olympics. Her pursuit of excellence led her to the University of Minnesota where she played four seasons for the Gophers. She developed a winning pedigree as a three-time NCAA National Champion and still carries with her values of being tough, grateful, disciplined, and devoted that the program instilled.
"The Gophers aligned with my goals and was an environment that helped push me because we were held to high standards," she says. "Winning is not something that happens overnight. It's all about doing your best and fulfilling roles as a team where everybody buys in and everybody becomes successful. There are a lot of great feelings in hockey, but at the end of the game when everyone is skating towards you and you look your teammates in the eyes and everyone is so excited it's truly special."
Leveille had only completed her junior year in Minnesota when her name was called by the Beauts in 2015. That very first selection process naturally featured the very first top pick in league history with forward Alexandra Carpenter going first overall to the New York Riveters, Gophers forward Hannah Brandt went second to the Whale, and current U.S. National Team forward Kendall Coyne Schofield was chosen third overall by Boston.
"That was such an exciting time," Leveille says, recalling how she learned she was picked while sharing a meal at Perkins restaurant with her teammate Milica McMillen (chosen 10th overall) and her father. "I didn't know I would be drafted. It was something that I had always hoped would happen and when it did I was blown away and super excited. As soon as I had a conversation with (Beauts coach and GM) Ric Seiling I knew it was a program I wanted to be part of. It's a good memory for me."
Her rookie NWHL season in 2016-17 was another championship campaign for Leveille splitting time in goal and developing strong friendships with Kelsey Neumann and Brianne McLaughlin. She won her first Goaltender of the Year honor in Buffalo the following season with 11 wins and a league save percentage of .918. She departed for the expansion Whitecaps in 2018-19 where she would win a second Isobel Cup title and enjoy some of her fondest league memories that coincidentally involved the opposing Beauts.
"I don't think I realized how cool it was to be part of this league and playing professional women's hockey until I faced off opposite Shannon Szabados," she says, recalling a pair of one-goal victories in late October against her childhood hero and former team. "It hit me that I'm watching a legend I grew up emulating and I'm being paid to do it. Seeing her opposite me was a dream come true."
Described as an acrobatic and athletic goaltender, the soon-to-be 27-year-old Leveille is still determined to develop her game despite the individual awards, accolades, team successes, and triumphs she's enjoyed along the way.
"I'm grateful to my coaches who help me focus on the tiny details. I also believe I've matured mentally and am able to keep my emotions in check. I understand that it's ok to be scored on but it's how you react to the goals against and losses that matter. I've definitely noticed how mentally I've improved."
Her focus and peace of mind can also be attributed simply to how content she is in life and where the game has taken her so far in her career on and off the ice. She's proud to be part of the NWHL and how strong the league has become heading into Season 7 with an increase in salary cap among the highlights.
"It's hard to put into words how much the league means to me. The increase in salaries, help to secure the proper visas to work and pursue my goals, I have a career I absolutely adore. Being able to wake up and go to the rink and coach or play hockey is special. I know how hard it is and the sacrifices I've made and can't wait to see the league grow beyond what it is now. Maybe one day some players I coach will make it and can enjoy what we helped build."
With the 2021 NWHL Draft scheduled for June 29, there very well could be a Leveille inspired goaltender among the next wave of prospective professional women's hockey players. For them, she offers some advice.
"Be grateful for the opportunity but be disciplined. It's the real world and a change from your college routines. You'll need to stay focused to grow your game and get better, but it's a lot of fun."
• Discuss this story on the Premier Hockey Federation message board...


Premier Hockey Federation Stories from May 28, 2021
The opinions expressed in this release are those of the organization issuing it, and do not necessarily reflect the thoughts or opinions of OurSports Central or its staff.