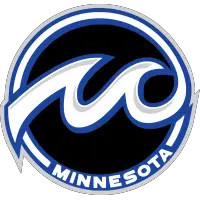 Thunstrom Believes Tide Will Turn for Whitecaps
December 11, 2021 - Premier Hockey Federation (PHF) - Minnesota Whitecaps News Release



Through six games of the 2021-22 Premier Hockey Federation season, the Minnesota Whitecaps hold a fifth-place record of 1-4-1 with only 10 goals scored in six games.
Yes, it's still very early, but these are uncharted waters for the perennial contenders who have enjoyed a wave of success since joining the PHF in 2018-19.
Allie Thunstrom has been around for it all. As the only player to compete in all 50 of the Whitecaps all-time regular-season games to date, the veteran forward has a solid perspective on the state of the game in the State of Hockey.
"There was definitely a lot of excitement coming into the season and to play a normal year," Thunstrom said. "We have a ton of new faces and talented players. At this point it's been a tough schedule, starting out with four games against the defending champs. And Connecticut, give credit where it's due. They have a great offense. We haven't hit the ground running as we hoped."
The Whitecaps opened the season with two road losses in Boston but took four out of six points against the Pride on home ice two weeks later. They were swept in their most recent weekend series, losing to the Whale for the first time in franchise history.
"This is a different start for us but these are important hurdles," Thunstrom said. "It hasn't been all that positive but it forces us to step back and find out where we need to improve. In no games have we said we've done everything we could. We're not happy with the games we've been playing. We haven't put our best foot forward. I would rather experience this now than later. We've got a lot of talent that when things set in it'll come together."
It's certainly come together for the team in the past. During their inaugural 2018-19 campaign the Whitecaps started with a 6-0 record and went on to win the Isobel Cup. The team opened the 2019-20 season with a 1-3 record but quickly turned it around and won 13 of their next 15 and marched all the way to the final. They also suffered just a single loss in Lake Placid.
"We're coming together on a different level. When you win you may not feel the need to connect deeper because it's going well. This has forced us in a positive way to come together to get better and our morale is better in that sense. We don't like our record but we really do feel like we're in it together. This has brought us closer. It's bringing everyone to the same page with better communication."
This edition of the Minnesota roster has five PHF newcomers including 2021 first-round pick Mak Langei and a pair of 2020 top picks in Alex Woken and Patti Marshall. Fellow 2020 selections Haley Mack and Maddie Rowe are also adapting to the structure of a normal PHF season after debuting in Lake Placid, while free agents Lexie Laing and Taylor Turnquist join from Boston and are being integrated into a lineup that predominantly features longstanding Whitecaps.
"We have a lot of talent and we're trying to figure out how to put it together in the most productive way," Thunstrom said. "We still need to find that chemistry."
A bright spot for the team thus far has been the play of Amanda Leveille who has started all six games between the pipes and carries the league's second-best save percentage.
"Lev is just phenomenal and we can always count on her," Thunstrom said. "She stands on her head. Our results could have been worse based on our play in front of her. We need to help her out."
As for Thunstrom, she has three goals and four points so far this season and is tied for the team lead with Jonna Curtis whose four points have all been goals. Thunstrom's 52 career points now place her within the top-10 all-time in PHF history while her 33 goals rank third.
"I would not say I'm happy (this season) and have struggled so far," she says. "This is not how I saw it going. There a lot of pieces I need to pick up to help my team and my teammates and become the player I know I can be. I need to elevate all around. Defensively I need to be better and create more offensive chances. I don't want to be on the ice for goals against and don't think I'm taking care of the puck. Using my skills to the best of my ability is my focus. I can do better."
The 33-year-old from Maplewood, MN is undoubtedly one of the league's leaders both on and off the ice with a determination to help grow the game and the PHF.
"It's incredibly special to be part of this team and league and not something I take for granted. My Dad's advice was always to treat every shift like it's your last, and I take that to heart. I want to do whatever I can to help the team win but also to grow the game to new levels."
Thunstrom is one of eight current members of the Whitecaps whose tenure with the organization pre-dates the PHF. The club operated independently where players would often run skills clinics in exchange for ice time.
"We have a unique perspective," she says. "It's special to be part of the Whitecaps which gave me a place to play after college to live out my dream. We had to fight to play anyone and scheduled a lot of exhibition games with college teams. We didn't have a guaranteed schedule or league. There wasn't money involved. Having an organized league wasn't something we thought was possible. I'm thankful and proud of where it's come. It's really amazing."
As a result of inclement weather and travel conditions, the Whitecaps weekend series at home against the Buffalo Beauts has been postponed. They'll still count on the support of the home crowd at TRIA on December 18 and 19 when they host the Toronto Six before the holiday break.
"We love playing at home and are excited to be back in front of our fans," Thunstrom says. "We have the best fans in the country. It's always a fun place to play. Even when things aren't going our way, having the fans and how passionate they are gives us that extra momentum."
Thunstrom recognizes the competitiveness of the PHF this season and her belief in the Whitecaps is unwavering.
"Nobody in this league is a pushover. As much as want our record to be better it's great to see the parity that's here because it's brought up the level of play. Our team morale is coming together and you'll see new energy in a positive way."
• Discuss this story on the Premier Hockey Federation message board...


Premier Hockey Federation Stories from December 11, 2021
The opinions expressed in this release are those of the organization issuing it, and do not necessarily reflect the thoughts or opinions of OurSports Central or its staff.