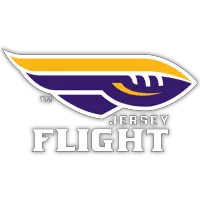 Jersey Flight Re-Sign QB Danny Southwick
August 24, 2020 - National Arena League (NAL) - Jersey Flight News Release



TRENTON - The Jersey Flight today have announced the re-signing of veteran quarterback Danny Southwick.
Southwick has more experience than any other quarterback in the NAL, and began playing arena football in 2008. Over the course of his career Southwick has played for 17 franchises, making the Flight the 18th professional football team that he has been on.
"I'm excited to bring back a quarterback with so much knowledge and experience at the professional level in arena and NFL locker rooms," Flight head coach Terrence Foster said. "Danny is going to compete well for the starting spot and we look forward to him being in our community."
"I want to see how long I can play this game and how long I can play it well, that's why I'm still playing," Southwick said. "Thankfully my wife has allowed me to continue playing and I've been able to find other sources of stability and income for the family. What keeps me motivated is to see how good I can still get, I don't think that you have to plateau when you're 38 years old. I feel like if I can stay in the right system for a few seasons, I can do better than I've done in the past," Southwick said.
Southwick also spoke about what he sees as the competitive advantage of joining the National Arena League.
"I think the NAL is the best brand of arena football right now. The IFL is kind of a totally different game, I don't think my style of play would be a good fit for the IFL," Southwick said. "The brand of football that the AFL had and that the NAL is continuing the tradition of is the best. It's the original game, and that's why a lot of the top quarterbacks from the AFL have joined the NAL."
Southwick's arena football career began in 2008 with the Louisville Fire formerly of the AF2. While he was on the Fire Southwick was coached by Flight offensive coordinator Anthony Payton. Southwick performed well in Louisville and hoped to advance his career that offseason. He continued to workout regularly and wound up throwing for former NFL wide receiver Austin Collie during his pro day at BYU.
Southwick impressed during the pro day and was signed by the Oakland Raiders prior to the 2009 training camp. Southwick was in the Raiders quarterback room with NFL veteran Jeff Garcia and former National Champion and first overall pick Jamarcus Russell. The Raiders released Southwick from the active roster but kept him around the organization as an employee and camp arm.
"I threw the ball really well at the pro day and a couple of teams were interested in me and the Raiders wound up signing me. It was really a developmental thing they wanted to see what would happen. I wound up being with the organization for two years, even though I was only on the roster for six weeks. They kept me around to throw to guys during camp but eventually the coaching staff changed and it didn't pan out," Southwick said.
Southwick returned to arena football in 2011 and started his first game in the AFL with the Tampa Bay Storm. He was the backup quarterback for the San Jose Sabercats in 2012, before splitting time with three teams in 2013. Southwick's first opportunity to become a regular starter came in 2014 with the Portland Thunder, when he threw 2,086 yards and 39 touchdowns. Southwick threw a career high eight touchdowns against Tampa Bay in 2014.
The next year Southwick played for the LA KISS, throwing 43 touchdowns and 2,341 yards. The Kiss faced off against the Philadelphia Soul at Cure Insurance Arena in 2015. Southwick also spent time as a starter for the Spokane Shock in 2015. Southwick returned to Portland in 2016 and started three games, reuniting with Anthony Payton who was the team's WR coach.
Southwick then went to the Cleveland Gladiators in 2017, before briefly spending time in the NAL with the Jacksonville Sharks and Massachusetts Pirates in 2018. Last year he was the opening day starter for the Columbus Destroyers and went on to join the Philadelphia Soul later in the season. Southwick originally signed with the Flight prior to the 2020 season, which was cancelled due to the Coronavirus pandemic.
"I spoke with coach Foster in the fall of 2019 and told him that I'd be interested in joining the Flight. The other NAL team that contacted me that fall was the Carolina Cobras, who at the time were coached by Anthony Payton. I've known coach Payton for years, he was my first OC in the sport of arena football and we worked together again in 2016,"
"I was debating between the two, leaning towards Jersey because I really respected coach Foster and it didn't make sense for me to move my family from our home in Philadelphia. When coach Payton joined the Flight organization it became an absolute no brainer. I know his offense, and I've heard great things about coach Foster, he had a great career as a player. Clint Dolezel speaks the world of both coach Foster and Payton," Southwick said.
"Everytime I call Danny even if we go weeks without talking, he's very funny," Anthony Payton said. "Danny's a little comedian, he has that dry humor and he'll sneak jokes in. Danny always tells me 'if it wasn't for you, I would've never signed with the Raiders.' That means something to me because at the time he wasn't getting a lot of opportunities. I saw what Danny could do, he has exceptional arm talent. When Danny threw in front of Al Davis and the Raiders, he saw the talent as well. Having Danny on the field is like having another coach on the team," Payton said.
Along with his skills on the football field, Southwick is also a dedicated scholar with a masters degree in applied positive psychology from the University of Pennsylvania. Southwick still attends the Ivy League school and is currently a graduate student at Penn.
"When I was a college kid I was a knucklehead, part of what saved me was that I gravitated towards a lot of information that helped me figure out where I screwed up," Southwick said "That became a passion of mine, reading books to help my football career. It got to a point where I read so many books I began the process of getting my masters degree from the University of Pennsylvania.
"At Penn I met Angela Duckworth, a professor who is a very respected psychologist. She mentioned that there was a possibility I could be a grad student and it was a total left turn for me, I thought I was done with school but when I got that opportunity I decided to go for it. It's been a wonderful decision. I love what I do on and off the field."
• Discuss this story on the National Arena League message board...


National Arena League Stories from August 24, 2020
The opinions expressed in this release are those of the organization issuing it, and do not necessarily reflect the thoughts or opinions of OurSports Central or its staff.