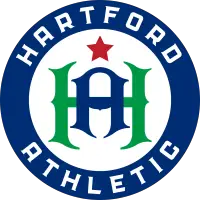 Hartford Earn a Point in Colorado Springs, 1-1 Final vs. Switchabcks
March 18, 2023 - United Soccer League Championship (USL) - Hartford Athletic News Release



Hartford Athletic struck first in tonight's match, but a late equalizer from the Switchbacks sends them home with a 1-1 draw and a point on the road.
The first half of tonight's match was slow-moving and quiet, with just three total shot attempts from both clubs and zero on target. Colorado Springs had the first goal scoring threat of the evening in the sixth minute. Drew Skundrich made a low cross to Romario Williams in the Hartford box, who tried to backheel the ball to Maalique Foster, but Niall Logue was well-positioned and cleared the pass out of the box.
Hartford were patient offensively and began to string together some positive play in the attacking third in the final 20 minutes of the half. Antoine Hoppenot was active on the left flank, looping two crosses into the box and consistently feeding the ball into goal scoring areas for Hartford. Prince Saydee also threatened Colorado Springs from the far right side, using his speed to create space for himself and feeding two crosses of his own. The Green and Blue generated their first corner kick in the 30th minute, leading to their only shot from Jeciel Cedeño. It was a physical half, with 25 total fouls called and two yellow cards handed out.
As they did in the first half, Colorado Springs had the first scoring opportunity in the second half as well. In the 58th minute Speedy Williams dispossessed Kembo Kibato in Hartford's third and took a shot from just outside the box, forcing Richard Sànchez to make his first save of the night. The Hartford keeper followed this with a spectacular save just a minute later, diving to the near post to deny Romario Williams' header off a Switchbacks free kick.
Hartford broke through in the 70th minute, when Prince Saydee and Elvis Amoh connected for a clinical goal to give Hartford a 1-0 lead. Antoine Hoppenot did well to cross the ball to Saydee near Hartford's end line, and the Liberian striker went to work. Saydee cut from left to right, then right to left to beat his defender and booted a quality cross to Elvis Amoh, who finished with a header in traffic against his former club.
Hartford's 1-0 lead would hold until the Switchbacks equalized in the 88th minute on a goal from Zach Zandi. Deshane Beckford split a pair of Hartford defenders and fired off a low cross just before the ball reached Hartford's end line, finding Zandi in the box for the left-footed tap in.
With the score now tied 1-1, the Green and Blue defended for the majority of the final minutes. There were six minutes of stoppage time added, and several more tacked on to that due to an injury to Andre Lewis. The Switchbacks took three shots in stoppage time, and nearly scored the game winner in the 106th minute. Drew Skundrich received a centering pass at the top of Hartford's box and tried to beat Sànchez to the bottom right corner of the net, but the Hartford keeper came up with his third and final save of the night. The final whistle was blown in the 108th minute, ending the match in a 1-1 draw.
An improvement for Hartford defensively, holding Colorado Springs to just one goal after conceding five to Monterey Bay last week. Niall Logue and Kaveh Rad led the way, recording seven clearances apiece. Triston Hodge also contributed four tackles.
The Green and Blue will head back to Connecticut with their first point of the season. They will play their home opener next Saturday, March 25th at 2:00 PM against Birmingham Legion FC. Tickets for the match are available at hartfordathletic.com/single.
FAST STATS
Shots (On-Target): Hartford 4 (1) Colorado Springs 11 (4)
Corners: Hartford 1 Colorado Springs 7
Fouls: Hartford 19 Colorado Springs 20
Offsides: Hartford 1 Colorado Springs 2
Possession: Hartford 41.5% Colorado Springs 58.5%
Passing Accuracy: Hartford 75.3% Colorado Springs 77.3%
Saves: Hartford 3 Colorado Springs 1
SCORING SUMMARY:
70′ - Amoh (Saydee)
88′ - Zandi (Beckford)
DISCIPLINARY SUMMARY:
7′ - Zandi (Yellow)
35′ - Rad (Yellow)
49′ - Kibato (Yellow)
78′ - Foster (Yellow)
89′ McGlynn (Yellow)
104′ - Wheeler (Yellow)
HARTFORD ATHLETIC STARTING LINEUP
1 (GK) Richard Sánchez, 6 (DF) Triston Hodge, 50 (DF) Niall Logue, 3 (DF) Kaveh Rad, 22 (DF) Robin Lapert, 77 (MF) Andre Lewis, 21 (MF) Kembo Kibato, 11 (FW) Jeciel Cedeño, 29 (FW) Antoine Hoppenot, 9 (FW) Elvis Amoh, 7 (FW) Prince Saydee
MONTEREY BAY STARTING LINEUP
Christian Herrera, Macauley King, James Ockford, Matt Mahoney, Patrick Seagrist, Jairo Henríquez, Maalique Foster, Drew Skundrich, Devon Williams, Zach Zandi, Romario Williams
• Discuss this story on the United Soccer League Championship message board...


United Soccer League Championship Stories from March 18, 2023
The opinions expressed in this release are those of the organization issuing it, and do not necessarily reflect the thoughts or opinions of OurSports Central or its staff.