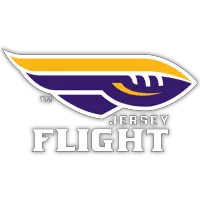 Flight re-sign DL Matthew Hardison
January 5, 2021 - National Arena League (NAL) - Jersey Flight News Release



TRENTON - Former University of Delaware and New York Jets defensive lineman Matthew Hardison has re-signed with the Flight. Hardison played for the Flight in 2018 during the team's inaugural season. Hardison is a special education paraprofessional and football coach at Freehold Township High School, his alma mater.
"I know a lot of the guys on this team, I played with some of them in college at Delaware and I know some guys just through being a professional in arena football. I'm really excited about the core group of guys that we have and the potential to go get a ring. That's what I want man, I want that championship," Hardison said.
Hardison began his professional football career in 2012 as an UDFA with the New York Jets. Hardison was teammates with the likes of Darrelle Revis and Bart Scott and was coached by Rex Ryan.
"I was with the Jets and I was with the Bengals for a short stint as well. I learned how much communication throughout the team is important. I expected a lot of the vets to be selfish and not help me as a younger guy, but during my time with both teams I got the exact opposite. I think wanting an overall level of greatness and having the goal of winning and the mindset of "˜we not me', that's how you jump over the hump to become a great team," Hardison said.
Hardison transitioned to arena football in 2014 when he joined the Tampa Bay Storm of the AFL. Hardison recorded 10 tackles, 1.5 sacks, and one interception. He split time between the Las Vegas Outlaws and New Orleans Voodoo in 2015, and played for the Cleveland Gladiators in 2016.
"Every D-Lineman wants sacks but an underappreciated part of the game is forcing the QB to make errant throws and getting QB hits or putting a hand up when the ball's coming out. You're not going to get a sack every time but being around and making the QB aware that you're nearby will force his throwing angle to change. You want sacks and hopefully they come but being in the QB's face is huge," Hardison said.
Hardison signed with the Jersey Flight in 2018, opting to stay close to his home in Freehold. He started every game at nose guard and was a veteran leader in the locker room. Following a season with the Flight, Hardison joined the NAL in 2019 by joining the New York Streets. Hardison recorded six tackles in five games with the Streets.
Hardison's student-athletes from Freehold will be able to see their coach live in action at the Flight's home opener on Saturday May 1st at Cure Insurance Arena. The Flight will be facing the Albany Empire in the first edition of the "Capital City Clash."
"I coach three sports, one of which is football, and I know a lot of the kids will enjoy coming and seeing a game. Besides being an example in the classroom and as a coach, I can show them how to play the game the right way. I really appreciate that because I've got a lot of kids in the area, them being able to see a work ethic in the weight room and now they get to see me play on the field. It's one thing on a livestream but watching a game in person is different, I'm excited about that," Hardison said.
• Discuss this story on the National Arena League message board...


National Arena League Stories from January 5, 2021
The opinions expressed in this release are those of the organization issuing it, and do not necessarily reflect the thoughts or opinions of OurSports Central or its staff.