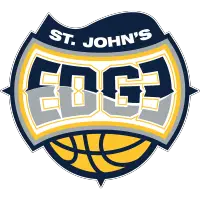 Edge Earn Hard Fought Victory over Island Storm
February 23, 2020 - National Basketball League of Canada (NBL Canada) - St. John's Edge News Release



What can you say, it was truly a special day for basketball in this province as the St John's Edge hosted the Island Storm Sunday afternoon and also paid tribute to Carl English during his retirement ceremony. Fans packed the Mile One Centre as #23 was raised to the rafters and the Edge pulled out a 109-106 victory.
1st quarter - Karrington Ward gets things going with a three, a sign of things to come and the Edge jump out to a hot start. The Storm, on the other hand, look lethargic and slower than last night's game at the outset. Strong twelve-minute performance for the Edge with some fine shooting from Ward and Cane Broome. They lead 32-22 to close out the quarter.
2nd quarter - Once again, Ward gets things going. This time with an absolute monster put-back dunk that ignited the capacity crowd. Edge hit a rough patch and the Storm work there way back to retake the lead midway through. Ward ends the half the same way he started it, with a three and Edge are in front 54-53 at halftime.
HALFTIME - Spectacular tribute to Newfoundland's own Carl English, as his #23 is raised to the rafters of Mile One.
3rd quarter - A lot like the first quarter, the Edge jump ahead and it's Ward leading the way. St. John's playing some solid defence and force the Storm to put up some poor shots. Coron Williams with a three to end the quarter and Edge lead 81-73.
4th quarter - Island really having trouble executing and it leads to a flurry of turnovers. St. John's push the lead to 17 with 7:17 to play in the 4th. St. John's seem to hit a wall though as the four games in five days takes its toll. PEI turn it around and actually take a one-point lead with two minutes to go. Junior Cadougan will not be denied, however as he goes to the basket, gets the hoop and the harm to put the Edge ahead. St. John's hold on for a 109-106 victory.
Coach Steve Marcus said, "Fantastic day today, not only for our group but for the entire city and province of Newfoundland and Labrador. It was great to get a W for Carl on his special day."
Game Notes:
+ St. John's were led by Karrington Ward(26 pts, 9 rebs and 3 assts) and Cane Broome(19 pts, 3 assts and 2 stls).
+ Island were led by Robinson(25 pts, 17 rebs and 4 assts) and Antwon Lillard (24 pts, 3 rebs and 4 assts).
+ Once again the strength of the Edge bench shines through as they held the advantage 44-35.
+ Some great sportsmanship before the game as Carl English addressed the Edge players with a few words of encouragement while the players showed their respects by donning CE23 shirts for warmups.
Don't miss a minute of the action by subscribing to NBLC Live online at www.nblclive.com. The next home games for the Edge are March 24th and 25th versus the visiting Windsor Express. Tickets can be purchased online at www.mileonecentre.com, by phone at (709)576-7657 or by visiting the Mile One Centre Box Office.
• Discuss this story on the National Basketball League of Canada message board...


National Basketball League of Canada Stories from February 23, 2020
The opinions expressed in this release are those of the organization issuing it, and do not necessarily reflect the thoughts or opinions of OurSports Central or its staff.