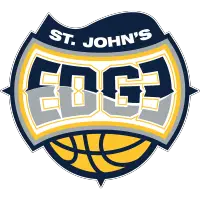 #1 - 58
February 23, 2020 - National Basketball League of Canada (NBL Canada) - St. John's Edge News Release



23 and 58. Two numbers that will forever be engrained in the fibre of St. John's Edge history.
The story goes like this...It's March 3rd, 2018 and the Edge are slated to face the Kitchener-Waterloo Titans in the second of back-to-back games. Carl English, the face of the franchise and team MVP had scored 20+ in seven straight but was coming off a less than stellar performance the night before. He produced twenty points but shot a frustrating 6-18 and only saw 25 minutes of court action. For English, it was a subpar performance. But he would make up for it...and then some.
In his book, 'Chasing A Dream - the Carl English Story', Carl recalls that day...
"Normally, I'd try to nap on the second day of a back-to-back. The kids were super loud the whole day, and there was no chance I was getting a nap in. I said to Mandy, 'There's no sense in me even going to the game tonight, I'm that tired.'
I got into the game, and my legs felt heavy. I missed my first couple of shots, and then they started dropping. I hit three threes in the first quarter and began feeling it. I hit three more in the second quarter and had twenty-four points at the half. The rim felt like an ocean. Everything I put up was going in. I always worried halftime was going to cool me off in games like that, but I came out and hit four more threes.
I had forty-five points heading into the fourth quarter. Someone nudged me and said, 'Hey, you're close to the record.' I had no idea what the NBL scoring record was. It turned out it was fifty-six, so I was getting really close. If nobody had said anything, I might have gotten too seventy. The way I was playing, I couldn't miss.
Once it was in my head, I pushed too hard to get it. The other team also tried to stop me at that point, too. The referees didn't protect the players as well at that level, so on a lot of my shots, guys were closing out into my landing space. I twisted my ankles a couple of times. I was also hunting. I took eleven shots in the fourth, which I'd normally never do. I tied the record with four minutes left and then listed a handful of shot trying to break it.
Eventually, I got to the free-throw line and broke it. I'd scored fifty-eight points on thirty-three shots and hit eleven threes. The Raptors broadcast crew even mentioned it on the air. It was a really great night."
English was never known for his modesty but 'really great' just might have been the understatement of the year. Carl's 58 point tally that night remains the league's single-game scoring record to this day. It truly was a legendary performance in the City of Legends, one of the most memorable occasions in Newfoundland sports history and unequivocally the greatest moment in Carl English's time with the St. John's Edge.
#CE23FOREVER
• Discuss this story on the National Basketball League of Canada message board...


National Basketball League of Canada Stories from February 23, 2020
The opinions expressed in this release are those of the organization issuing it, and do not necessarily reflect the thoughts or opinions of OurSports Central or its staff.