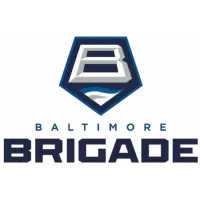 Brigade Today // August 6, 2019
August 6, 2019 - Arena Football League (AFL) - Baltimore Brigade News Release



TODAY'S STORYLINES:
BRIGADE FALL TO EMPIRE IN FINAL AFL PLAYOFF GAME
Baltimore eliminated from postseason with loss
SCORE BY QUARTER 1 2 3 4 FINAL
BALTIMORE 7 0 7 7 21
ALBANY 21 28 6 7 62
The fourth-seeded Baltimore Brigade (7-5, 0-2) were defeated by the top-seeded Albany Empire at Royal Farms Arena in Baltimore, MD on Saturday night 62-21. Albany advances to ArenaBowl 32 with an aggregate score of 123-47 in the AFL home-and-home playoff series.
Baltimore quarterback Shane Morris made his first career start and recorded new postseason highs in pass completions and passing yards and tied his previous high in touchdowns. He finished the night with 19 passes for 110 yards, 2 touchdowns and 3 interceptions. Two Brigade receivers found the endzone, with rookie wide receiver Ervin Philips scoring his first postseason touchdown and veteran wideout Joe Hills recording one receiving and one rushing touchdown. Hills has scored a touchdown reception in 12 consecutive postseason games dating to 2013. He finished the regular season keeping his AFL streak alive with 103 consecutive regular season games with a touchdown reception.
On the defensive side, Baltimore defensive back Joe Powell led the Brigade with 3.5 total tackles (3 solo), followed by defensive backs Nias Martin and Jamal Robinson who both tallied 2.5 total tackles (2 solo). Defensive lineman Justin Lawrence blocked a field goal attempt in the third quarter, preventing Albany from adding an extra point. Lawrence recorded two blocks during the regular season.
Albany was consistent throughout the night, scoring 49 points in the first half, including two scores from interceptions. Baltimore added their only points to the scoreboard in the first quarter with a seven-yard pass from Morris to Hills.
Baltimore went on to score two more times with a 21-yard touchdown from Morris to Philips in the third quarter and a six-yard score from Hills. Baltimore kept Albany to just 13 points in the second half for a final score of 62-21.
SEVEN BRIGADE PLAYERS SELECTED TO AFL ALL-ARENA TEAMS
Four players named to First Team All-Arena, Powell named in two positions
The Arena Football League announced selections for the 2019 All-Arena First and Second Teams, which include seven Brigade players in eight total selections. Defensive back Joe Powell was the only player in the Arena Football League to receive two selections, earning First Team All-Arena as a defensive back and Second Team All-Arena on special teams.
REGULAR SEASON ACCOMPLISHMENTS
Number One Defense: Baltimore's defensive unit dominated the league throughout the entire 2019 season. The Brigade had five defensive players named to the AFL All-Arena teams and five selected for the AFL Player of the Week throughout the course of the regular season. Baltimore led the AFL in average points allowed per game with 36.6 and only allowed 439 points during the regular season. On average, the Brigade allowed 2.9 points less per game than the Albany Empire ranked second with 39.5 points and nearly 8 points less per game than the Philadelphia Soul's defensive who ranked third. The Brigade led the league in turnover margin with their turnover average per game at 1.17. The Brigade caused 28 total turnovers and lost only 14. Defensive back Joe Powell led the league in forced fumbles at 5 and defensive lineman Darryl Cato-Bishop ranked second in the league with four. Powell and defensive back Josh Victorian were the top two pass defenders in the league. Powell led the league with 23 total passes defended and Victorian ranked second with 22. The Brigade was the only team this season to score a touchdown on a field goal return, thanks to Powell in his Week 13 performance. Baltimore was also one of two teams who was able to score a touchdown off a fumble return twice this season.
Brigade Led AFL in Sacks: During the 2019 regular season, the Baltimore Brigade led the AFL in sacks with 19, which is six sacks more than any other team. Defensive lineman Darryl Cato-Bishop finished first in the league with 7.5 sacks and had two games with two sacks. Defensive lineman Justin Lawrence ranked third in the league with 4.5 sacks and recorded one game with two sacks. During Week 10, Baltimore collected four sacks against Columbus with Cato-Bishop, Lawrence, linebacker Dexter Jackson and defensive lineman Royce LaFrance all hauling in one. Jackson is tied for fourth in the league with four sacks. In Week 7, Baltimore sacked the Columbus quarterback four times with Lawrence hauling in two. Cato-Bishop also brought in two sacks against the Atlantic City Blackjacks in Week 13 and the Destroyers during Week 3.
Superman Joe Hills: On Saturday, June 15th, eight-year veteran Joe Hills became the only player in Arena Football League history to score at least one touchdown reception in 100 consecutive regular season games. The 11-yard pass from Brigade quarterback Shane Boyd to Hills at Nationwide Arena against the Columbus Destroyers extended Hills' record far beyond one that any player In the AFL has come close to achieving. AFL Hall of Famer Damian Harrell held the previous record at 78 straight games until Hills broke it on July 15, 2017. Hills finished the 2019 regular season with 103 consecutive games with a touchdown reception. The last time Hills did not score a touchdown reception was on June 15, 2012 which means he has scored in every regular season game he has appeared in for seven straight years. Hills finished the season with 103 consecutive regular season games. Additionally, since Hills scored in both postseason games for the Brigade, he is on a 12- game streak with a touchdown reception in the postseason.
Images from this story
• Discuss this story on the Arena Football League message board...


Arena Football League Stories from August 6, 2019
The opinions expressed in this release are those of the organization issuing it, and do not necessarily reflect the thoughts or opinions of OurSports Central or its staff.