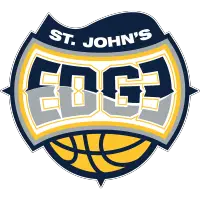 #3 - Opening Night - a New Chapter for Basketball
February 21, 2020 - National Basketball League of Canada (NBL Canada) - St. John's Edge News Release



Over the ten days leading up to February 23, 2020, we will highlight some of the greatest moments of Carl English's tenure with the St. John's Edge.
Dec 1st, 2017. It was a date that changed everything for Carl English and the sport of basketball in the province of Newfoundland and Labrador.
Like most places in Canada, this was a hockey town. St. John's had never had a professional basketball team but all that was about to change. Earlier that year the National Basketball League of Canada had awarded an expansion franchise to the city. Management worked frantically to pull it all together before the season started in mid-November. Ticket sales were decent, relatively speaking, compared to other markets in the league but all that changed the day the team signed #23. Finally, Newfoundlanders were going to get to see native son, Carl English, play professional basketball on home soil.
In his book, 'Chasing A Dream - the Carl English Story', English said...
"I was surprised how nervous I was. I'd played in bigger arenas and higher leagues, and there I was, as nervous as I'd ever been. It was one thing to play in front of 30,000 strangers. I was heading down to Mile One which only held 6,200, but I probably knew 4,000 of those people.
It was almost my team, which was extra pressure. When they did our introductions, they played me in to 'Coming Home' by P. Diddy, and the area went nuts. One of the guys on the other team leaned in and asked me, 'Who are you...Kobe? What the heck is going on?'"
I'd left home after grade eleven to chase a dream. To be able to come home and complete this circle by playing in front of family and friends was incredible...there was a sense of pride that this was my home and my team, and these were my fans.
Whatever way it worked out from there, I knew it was the right choice."
That night things changed forever. It was just electric, you knew this was something special. You couldn't go anywhere in St. John's without seeing an Edge jersey or t-shirt. Kids were scrambling to be the next Carl English. Enrolment in programs exploded and basketball nets were popping up on every street corner.
It was a new chapter for basketball in Newfoundland and Labrador.
Keep watching as the countdown continues tomorrow!
Join us on February 23rd as we celebrate and pay tribute to the career of Newfoundland's own, Carl English. In honour of Carl's retirement, the Edge organization will retire his number 23 and hoist his jersey to the rafters of the Mile One Centre. Tickets can be purchased online at www.mileonecentre.com, by phone at (709)576-7657 or by visiting the Mile One Centre Box Office.
• Discuss this story on the National Basketball League of Canada message board...


National Basketball League of Canada Stories from February 21, 2020
The opinions expressed in this release are those of the organization issuing it, and do not necessarily reflect the thoughts or opinions of OurSports Central or its staff.