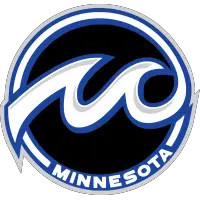 Whitecaps Draft from State of Hockey
July 10, 2021 - Premier Hockey Federation (PHF) - Minnesota Whitecaps News Release



Minnesota is known as the 'State of Hockey' and that's a term the Whitecaps take seriously when it comes to roster composition.
For the first time in franchise history, all five of their NWHL Draft picks on June 29 were homegrown talents building a depth chart to support the 19 Minnesotans who were listed on a Season 6 squad that went all the way to the Isobel Cup Final.
"There's some pride in Minnesota," Whitecaps co-head coach Ronda Engelhardt said on the NWHL's live Draft Show after the picks were made official. "We're proud to add some more Minnesotans to our team. We have great fans and I think that helps our team fight hard each and every night for them."
The Whitecaps had a balanced draft class selecting two defenders off the top, a pair of forwards in rounds three and five, and in the fourth round called the only goaltender among the league's 30 picks. They were also the only NWHL team to hold all of their original picks choosing sixth in all five rounds of the process beginning with Mak Langei from Bemidji State University.
"I am extremely excited," Langei said. "Getting to play for my home state team is amazing and the opportunities that this team has decided to give me is something I will cherish forever. Being in Minnesota, my family is going to be able to come and watch and I'm just so excited to be able to play next to those girls and learn a lot."
Langei captained the Beavers as a senior and posted three points in 20 games while leading the entire Western Collegiate Hockey Association with 73 shot blocks. She earned WCHA Student-Athlete of the Year honors ending her BSU career with 47 points in 130 games. Hailing from East Grand Forks, she shares the same hometown and alma mater as Whitecaps rookie Haley Mack who was chosen in the fourth round a year ago.
"She's only going to help make our defensive corps stronger," Engelhardt said. "She's someone that's going to keep the puck away from our net, she's not afraid to block any and all shots, she's hard to beat one-on-one, so we're excited to have her be a part of our team."
Beavers head coach Jim Scanlan also describes Langei as a player who should have no trouble fitting in at the next level.
"She was just the ultimate competitor," he told the Grand Forks Herald. "She had a great career. She led us in blocked shots, I don't know how many times, but it tells you what type of player she is. The best thing about Mak is she loved to play the game, loved to practice, loved everything about it. She was one of those players where that's why you coach. She was just a pleasure to be around every day because of her passion for the game. It was hard not to enjoy it when she was around."
Following Langei on the Whitecaps, draft board was a fellow Beavers defender, Tina Kampa, who led BSU blueliners with six points in 20 games this season to bring her collegiate totals to 33 points in 127 games played. The Maple Grove resident was adopted from Columbia and proudly represents players of color on the ice and in her involvement with the College Hockey for Diversity, Equity, and Inclusion group.
"It's an honor to be Colombian and a woman of color getting this opportunity," Kampa told therinklive.com. "In showing that representation matters and that little young girls of color can do this too one day, I'm paving the way for them in everything that I do. For any woman that gets to continue to play hockey after college, it's a super humbling and rewarding opportunity and experience. I'm really grateful to have an opportunity like this and to play for my home state."
Plymouth's Taylor Wente (University of Minnesota) and Edina's Kendall Williamson (Colgate University) represent the club's two forward picks. Wente amassed 73 points in 127 games for the Golden Gophers but is expected to focus on her professional career as a Sales Development Representative for Arctic Wolf. Williamson was a four-time ECAC Hockey All-Academic Team honoree for the Raiders and recorded five points in her 107 games played.
Eagan's Jenna Brenneman (Pennsylvania State University) is the first goaltender ever selected by the Whitecaps and also the first member of the Nittany Lions program to ever be chosen in the NWHL Draft. She set single-season records for the program in 2018-19 starting 34 games, playing 2,030 minutes and tied a Penn State record with 13 wins. Her stat line that season featured a 1.74 goals-against-average, .927 save percentage, and four shutouts that could be a nice compliment to the league's reigning Goaltender of the Year Amanda Leveille.
"Jenna is a competitor and culture driver," said Nittany Lions head coach Jeff Kampersal. "She had a great 2018-19 season for Penn State and helped turn our program around. We'll always be appreciative of her team-first attitude and wish her luck with the Whitecaps. I am glad she gets to go back home and play."
The Whitecaps, like all teams, will be looking forward to a season played under more familiar terms. It's a process that Engelhardt knows will help the team better evaluate its talent as they hope to maintain their status as perennial Isobel Cup contenders.
"I'm excited for the consistency," she said in regards to a Season 7 forecast. "I also think in a normal season you have those first few games, you see your weaknesses, you see what you need to work on and then you can start working towards those and build so that you're at your best come the end of season. I'm excited for that, just getting back to normal."
Since joining the league in 2018 the Whitecaps have selected 15 players in the NWHL Draft including eight forwards, six defenders, and one goaltender.
MINNESOTA WHITECAPS 2021 NWHL DRAFT RESULTS:
Pick, Player, Position, Team, Collegiate Program / Hometown
Click on a player's name to see their collegiate program profile
Links to pick announcements will open on Twitter
6. Mak Langei (D) Minnesota Whitecaps (Bemidji State University / East Grand Forks, MN)
Pick announced by Bill Guerin, Minnesota Wild General Manager
12. Tina Kampa (D) Minnesota Whitecaps (Bemidji State University / Maple Grove, MN)
Pick announced by R. Renee Hess, Black Girl Hockey Club Founder and Executive Director
18. Taylor Wente (F) Minnesota Whitecaps (University of Minnesota / Plymouth, MN)
Pick announced by Katie Million, USA Hockey Director of Women's National Team Programs
24. Jenna Brenneman (G) Minnesota Whitecaps (Pennsylvania State University / Eagan, MN)
Pick announced by Spencer Knight, Florida Panthers Goaltender
30. Kendall Williamson (F) Minnesota Whitecaps (Colgate University / Edina, MN)
Pick announced by Whitecaps PA Announcer Kirk Possehl
The inaugural NWHL International Draft will be held on July 25 with the Whitecaps holding the sixth overall selection.
• Discuss this story on the Premier Hockey Federation message board...


Premier Hockey Federation Stories from July 10, 2021
The opinions expressed in this release are those of the organization issuing it, and do not necessarily reflect the thoughts or opinions of OurSports Central or its staff.