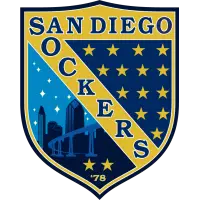 Sockers Seek Sixth Straight Win after Clinching Postseason Spot
March 18, 2023 - Major Arena Soccer League (MASL) - San Diego Sockers News Release



The San Diego Sockers--presented by Kaiser Permanente San Diego--continue a three-match homestand and conclude a two-match weekend as they host the Empire Strykers on Sunday evening. The match is scheduled for a 5:05pm kickoff from Pechanga Arena, and will be streamed live on Twitch on channel @masl_soccer.
The Sockers (17-2, 49 points) have won five in a row, clinching a playoff berth while moving within striking range of clinching the MASL Supporters Shield, awarded to the club with the best record in the Major Arena Soccer League. San Diego leads Chihuahua Savage in the Western Conference by five points in the standings with two matches in hand. The Sockers have a magic number of four points to clinch the MASL Supporters Shield, meaning a combination of points won by San Diego or lost by Chihuahua. The Savage travel to Arena Monterrey to take on the Flash on Sunday afternoon, a 2:35pm kickoff. The Sockers will know the result prior to their kickoff in San Diego.
Sunday marks the fifth of six meetings between the Strykers and Sockers, and the first of two consecutive get-togethers. Empire will return to Pechanga Arena on Friday for a 7:35pm kickoff on Military Night. San Diego is 3-1 against Empire this season, although two of their three wins have come in golden goal overtime. The Strykers broke up the Sockers' perfect season on February 8 with a dominant 10-4 win in Ontario, then rallied with four consecutive fourth quarter goals to tie up the March 9 match at Toyota Arena, only to see San Diego escape with an 8-7 win on Christian Gutierrez's golden goal. The two clubs met one another twice to begin the season, with the Sockers emerging victorious by scores of 8-5 and 2-1 (OT).
On Friday night, San Diego used a big second-half effort to rally past the Monterrey Flash by a 6-4 final score. The Flash came out with a determined first-half effort, and led a heavy-legged Sockers side by a 3-0 score. San Diego netted four goals in the third quarter and two more in the fourth to reverse the score-line to 6-3 before Monterrey scored a late goal with six attackers to set the final margin. It was the Sockers' eighth home win of the season and 18th straight win at Pechanga Arena. Christian Gutierrez led San Diego with a pair of goals, while Kraig Chiles contributed a goal and two assists. Boris Pardo stopped 9-of-13 shots to earn his 17th win.
Empire (12-6-2, 36 points) started the season 0-3-1 before rattling off wins in 12 of 14 contests. The Strykers (formerly Ontario Fury) have since lost two straight, 8-7 (OT) to San Diego and 9-5 on Friday night in Chihuahua. Empire resides in third place in the Western Conference cannot catch San Diego in the regular season standings, and Chihuahua has a magic number of four points to clinch second place. The Strykers lead Mesquite by three points for third place, but the Outlaws have two matches in hand over Empire. Franck Tayou leads the MASL in goals (34) and ranks second in points (47). Rookie midfielder Gabriel Costa, who did not travel to Mexico for Friday's loss in Chihuahua, has 17 goals and 17 assists, and torched the Sockers' defense for three goals and three assists in their last meeting. Fallbrook native Chris Toth sports a .744 SV%, third-best in the MASL, with a 12-3-2 record. Mohamed Ndiaye, signed to be a forward, has revamped the Strykers defense since being moved to defender. He has contributed 12 blocked shots with (7-14=21) points.
Storylines
It's Magic Number Time
The Sockers' win over Monterrey on Friday night dropped the club's magic number to clinch the MASL Supporters Shield to four points over the Chihuahua Savage. The Sockers also hold a magic number of two points over Mesquite, and have clinched a better record than every other club in the MASL. Any combination of four points won by San Diego or lost by Chihuahua on Sunday would clinch the Shield for the Sockers.
We've Made Our Home a Fortress
The Sockers have been the most dominant home team in MASL history, with a 76-6-1 all-time record. San Diego is currently 8-0 at home and riding a 18-match home winning streak. The club is 39-2-1 at home over the past four seasons. The Sockers close the season with four of their final five matches at Pechanga Arena San Diego.
Mustache P-P-P-Power
Sockers captain Kraig Chiles is the franchise's all-time leader in goals (455) and points (661), and is on the long approach to 400 points in the MASL (252-130=382 career, fourth-most). After tying the longest scoring drought of his career with three straight matches without a goal or assist, Chiles--sporting a jaunty mustache--began a scoring barrage on February 24 in Chihuahua, making up for the absence of Tavoy Morgan with a hat trick and assist. He followed it up two days later in Monterrey with two more goals and an assist for a (5-2=7) point weekend, and was named MASL Offensive Player of the Week. Chiles has extended his multi-point scoring streak to five matches and now has (10-6=16) points in his last five. Chiles now is tied for the club lead in goals (19) and points (31).
For Your Consideration: Boris Pardo for MASL MVP
How do you select a league MVP from a star-laden team? Look to the one man who is the singular through-line for the club's league-leading defense. The defending MASL Elite VI goalkeeper and MASL Goalkeeper of the Year, 38-year-old Boris Pardo has maintained his all-league form in 2022-23. Pardo is 17-2 in nineteen starts, having played all but 95 minutes total in net this season while starting every match. He leads the MASL in wins (17), GAA (4.01) and ranks fifth in SV% (.714). Friday's match marked the first time since Opening Night that Pardo has had a GAA above 4.00. All-time in MASL history, Pardo improved his career record to 108-24-7, five wins ahead of second-place William Vanzela. Pardo was the first MASL goalkeeper to reach the 100-win plateau, a feat matched by Vanzela three weeks ago. In 2021-22, Pardo led the MASL in wins (19-0-1 record) and goals-against average (4.20 GAA), while his .731 save percentage was second in the league. Pardo was even better in the playoffs, starting all seven matches and posting a 6-0-1 record, 3.36 GAA and .767 SV%. In 2018-19, Pardo won his first Goalkeeper of the Year award, winning a league-record 22 games in net (22-1 record).
Golden Gutierrez
Sockers forward Christian Gutierrez earned the nickname "Golden" for his ability to finish out overtime matches with the clinching goal, a habit he formed with three last-goal clinchers in the 2021 Ron Newman Cup playoffs. Gutierrez kept his golden habits alive in San Diego's last meeting with Empire, netting the OT winner 23 seconds into extra time. In addition to being tasked with patrolling the defensive side of the floor, Gutierrez is a potent counter-attack striker who often opens up matches late in the fourth quarter, especially against the empty net. Thirteen of Gutierrez's nineteen goals have been scored in the fourth quarter or later this season. In San Diego's February 11 match against Tacoma, Gutierrez scored into the empty net against the six-attacker formation twice in the final two minutes, securing the victory. On the season, Gutierrez is tied for the club lead with 19 goals and sixth with 21 points.
Defense Leads the Way
The Sockers have allowed the fewest goals in the MASL (81), four fewer than second-place Baltimore (85). San Diego's average of 4.26 goals conceded-per-match compares to a league average of 5.78 goals conceded-per-match. Last season, the Sockers were the only club in the MASL to allow fewer than 100 goals in the regular season (98).
Special Teams Matter
The Sockers are fourth in the MASL in power play conversion percentage (18-for-39, 46%). San Diego's eighteen power play goals rank three behind Milwaukee for the most in the league (21). San Diego's penalty kill is 18-for-28 at preventing goals (63%), third in the league. The Sockers are tied for the MASL lead with two short-handed goals. Last year, San Diego led the MASL in both power play efficiency (27-for-45, 60%) and penalty killing efficiency (16-for-22, 73%) during the 2021-22 season. Charlie Gonzalez leads the club with five power play goals.
Electric Escoto Unplugged Friday
Sockers midfielder and Tijuana native Brandon Escoto was held scoreless on Friday for the first time in fifteen matches played this season. A prolific and dangerous scorer, Brandon has (10-13#) points in 15 matches. In his career, Escoto averages almost a goal-per-match, with 137 goals scored in 146 matches played. Escoto was one of the most balanced attackers in the MASL in 2021-22, finishing in the MASL's top-10 in both goals and assists with (21-23=44) points, good for T-7th in the league. Rebounding from a two-match suspension in February, Escoto recorded four straight multi-point matches, with (2-7=9) points during the surge from February 24-March 9.
Leading Scorer? Leo
Brazilian midfielder Leonardo de Oliveira is tied for the Sockers' scoring lead with (11-20=31) points, having played all 19 matches so far this season. "Leo" ranks second in the MASL in assists with 20 (Nick Perera, TAC, 29). Last season, Leo led the MASL with 33 assists, earning the league's first-ever "Pass Master" award. Leo's total was six higher than second-place finisher Nick Perera. Combined with 13 goals on the season, de Oliveira's 46 points scored ranked tied for fifth in the league. Leo added his 100th career MASL goal during the season, and has 116 goals and 266 points in his indoor career, an average of 1.9 points-per-match. His 150 career assists are the fifth-most in MASL history.
Dos Rojos Por Cualquier Otro NombreDefender Ismael "Big" Rojo has made the most of his opportunity to enter the Sockers lineup in the defensive backfield, erupting for five goals in three matches before being shut out on Friday against Monterrey. Four of five goals were struck from beyond the attacking line, and Ismael added an assist for a (5-1=6) scoreline. Rojo earned his first six starts as a defensive runner in the midfield, but has flourished since returning to his natural position. Fellow defender and brother Juan Manuel "Little' Rojo ranks T-8th on the club with (5-7=12) points.
Who's In, Who's Out
Defenders Cesar Cerda and Luis "Peewee" Ortega (lower body) and midfielder Hiram "Pollo" Ruiz (lower body) each missed the Sockers' last match, and are questionable for selection on Sunday.
Player Highlights
Felipe Gonzalez
His (9-7=16) points are the most in his Sockers career
Charlie Gonzalez
Ranks T-3rd on the club with 16 goals and 26 points
Tavoy Morgan
Last year's leading scorer hasn't netted a goal since February 18
• Discuss this story on the Major Arena Soccer League message board...


Major Arena Soccer League Stories from March 18, 2023
The opinions expressed in this release are those of the organization issuing it, and do not necessarily reflect the thoughts or opinions of OurSports Central or its staff.
Other Recent San Diego Sockers Stories