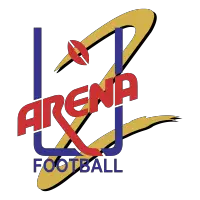 Pioneers Top Coaches Poll For Seventh Straight Week
June 6, 2007 - arenafootball2 (af2) News Release



CHICAGO - The Wilkes-Barre/Scranton Pioneers have maintained the No. 1 ranking of the Weekly Coaches Poll for the seventh straight week, the arenafootball2 (af2) league office announced today. Wilkes-Barre/Scranton collected all 464 possible points and 29-of-30 first place votes in securing the top position. The Pioneers, who are the only undefeated team in the league at 8-0, are coming off a bye week in Week 10.
The South Georgia Wildcats (7-2, 389 points) took over the No. 2 position this week after a 46-44 home win Saturday against Corpus Christi. This week the Wildcats host Wilkes-Barre/Scranton on Saturday night in Albany, Ga. in a battle of the top two ranked teams in the league. Tulsa (8-1, 388 points) improved two positions from No. 5 to No. 3 after the Talons won at Manchester, 75-50. Rio Grande Valley (7-1, 379 points, 1 first place vote) slipped two spots despite being idle in Week 10. Bossier-Shreveport rounds out the Top-5 this week. The Battle Wings (7-2, 328 points) moved up one spot from No. 6 after scoring a 64-21 win at Texas.
Each week during the season af2 coaches will vote for the Top 16 teams in the league by ranking them one through 16 on a ballot. Teams ranked first receive 16 points with the point value decreasing by one for each place below first, meaning a team ranked 16th would receive one point. Total points will determine the Top 16 list. In the event of a tie in total points, the team with the greater number of first-place votes will be ranked higher. The af2 Coaches Poll will be announced every Wednesday during the regular season. Coaches are not allowed to vote for their own team and the poll -results have no bearing on postseason qualification.
The complete Top 16 is listed below. The number in parentheses indicates the number of first place votes the team received.
WEEK 11 TOP 16
RANK, TEAM, PTS
1, W-B/Scranton, 464 (29)
2, South Georgia, 389
3, Tulsa, 388
4, Rio Gra. Valley, 379 (1)
5, Bossier-Shrev., 328
6, Florida, 309
7, Arkansas, 296
8, Oklahoma City, 216
9, Spokane, 213
10, Louisville, 208
11, Quad City, 189
12, Green Bay, 128
13, Alabama, 99
14, Tri-Cities, 97
15, Bakersfield, 92
16, Central Valley, 81
• Discuss this story on the arenafootball2 message board...


arenafootball2 Stories from June 6, 2007
The opinions expressed in this release are those of the organization issuing it, and do not necessarily reflect the thoughts or opinions of OurSports Central or its staff.