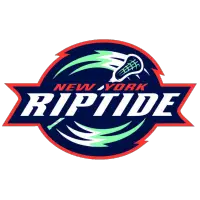 New York Riptide Select Eight in 2022 NLL Entry Draft
September 10, 2022 - National Lacrosse League (NLL) - New York Riptide News Release



Toronto, ON - The New York Riptide selected eight players on Saturday night in the 2022 National Lacrosse League Entry Draft, at The Carlu in Toronto, ON. This marked the first in-person NLL Entry Draft since 2019.
"We addressed our immediate needs of improving our defense, which was a priority for us and added depth in our lefty offense position," Riptide general Manager Jim Veltman said. "We also drafted some pure lacrosse talent that has the potential to turn into something amazing. Overall we feel we had a very successful draft."
The Riptide made their first selection of the evening in the second round at eighth overall, selecting transition player Zack Deaken. Named to the College Crosse/SB Nation All-Freshman Second Team in 2019, Deaken has appeared in 49 collegiate games for Jacksonville University, scoring six points on a goal and five assists, scooping 101 ground balls and causing 49 turnovers. In 60 career Junior A games, Deaken scored 45 points on 13 goals and 32 assists. Deaken won the Minto Cup in 2019 and the Founders Cup in 2016 as a member of the Orangeville Northmen.
New York then picked defenseman Mason Kamminga in the second round at 27th overall. A grad student at Detroit Mercy, Kamminga played in 27 collegiate games, scoring one goal, scooping 28 ground balls and causing six turnovers. In 15 games played for Six Nations Chiefs in MSL Senior A, Kamminga scored seven points on two goals and five assists.
With the 42nd overall pick, the Riptide selected defenseman Tyler Davis. The Captain of Team Canada IIJL World Junior Lacrosse Championship, Davis had 28 points on seven goals and 21 assists in four games played, including nine points in the gold medal game.
In the third round, the Riptide acquired the 50th overall pick from the Georgia Swarm in exchange for a 2023 third round pick and selected forward Chris Gray. The Wading River, NY native currently plays for Atlas in the Premier Lacrosse League. This season, Gray scored 34 points on 17 goals and 16 assists, including one two-point goal, and was named an all-star. A graduate of UNC, Gray scored 299 points on 172 goals and 127 assists in 51 career games. Gray was also a two-time Tewaaraton Award Finalist and two-time USILA and USA Lacrosse Magazine First Team All-America recipient.
The Riptide followed up in round four by selecting forward Ryan Haigh at 72nd overall. In 31 career games played for Cleveland State, Haigh scored 54 points on 48 goals and six assists, and also scooped 16 ground balls. In 32 career Junior A games for Mimico, Haigh scored 36 points on seven goals and 29 assists.
Armed with two picks in the fifth round, the Riptide first selected forward Zachary Sunderland at 78th overall. A graduate of Newberry College, Sunderland scored 120 points on 67 goals and 53 assists, scooped 75 ground balls and caused 11 turnovers in 50 career games played.
New York followed up by selecting transition player Sam Handley 83rd overall. A graduate of Penn, Handley played in 33 career games for the Quakers, scoring 139 points on 74 goals and 65 assists, and scooping 27 ground balls. In 2022, Handley was named a Tewaaraton Award finalist, the first in program history, was awarded the Donald J. MacLaughlin Jr. Award as the USILA's top Division 1 Midfielder, which was just the second in program history, and took home Ivy League Player of the Year honors. In 2019, Handley was awarded the Inside Lacrosse National Freshman of the Year, and Ivy League Rookie Of The Year, as he scored 61 points on 35 goals and 26 assists in 16 games played, all of which set Penn freshman records.
The Riptide rounded out the night in the sixth round by selecting defenseman Andrew Horsley with the 93rd overall selection. In 14 games played for the Brampton Excelsiors this season, Horsley scored two points on a goal and an assist.
"Excited about the balance we struck in this draft," Riptide Head Coach Dan Ladouceur said. "We had a plan to address needs we have immediately while positioning ourselves for growth in the future. We are excited to see all our picks compete in the near future."
The Riptide will return to Nassau Coliseum in December for the 2022-23 season. Season Ticket Memberships are on sale now and are the best way to enjoy the Riptide at an unbeatable price. Benefits include an exclusive post game meet and greet with team, player clinics on the Nassau Coliseum turf, Free VIP parking, an exclusive season ticket member gift, a season ticket member merchandise sale, a flexible ticket exchange program so no tickets go unused and can be added to another game, and much more. Fans can head to NewYorkRiptide.com for all of the details.
• Discuss this story on the National Lacrosse League message board...


National Lacrosse League Stories from September 10, 2022
The opinions expressed in this release are those of the organization issuing it, and do not necessarily reflect the thoughts or opinions of OurSports Central or its staff.
Other Recent New York Riptide Stories