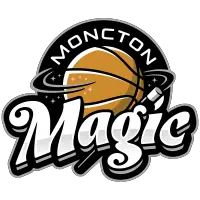 New Years Eve Game Preview vs the Halifax Hurricanes
December 31, 2019 - National Basketball League of Canada (NBL Canada) - Moncton Magic News Release



Two games into last season, the Halifax Hurricanes were reeling, having been shellacked by a combined score of 225-172 in a home and home set with the Moncton Magic. They were 4-6 after 10 games, and didn't score a victory against their division rivals until February 18th, their seventh matchup of the regular season. Yet all that eventually separated them during their epic seven game Atlantic Division final series was a difficult, go-ahead Trey Kell step-back in the final 30 seconds. The two teams lock horns for the first time in the 2019-20 season this afternoon at 4 PM, and Magic coach Joe Salerno believes that, regardless of early season results, both these squads come in with identical attitudes.
"I would say Halifax is where we're at," he said yesterday on his way to practice, "they're not yet firing on all cylinders, but I think we'll both go into this game feeling like ok, we're the two top dogs. Whether we are or not, that's the vibe I'm getting from our guys in practice, and that's the vibe I think we'll get from them tomorrow."
Both teams come into the game off comeback victories over the St. John's Edge in their own buildings. The Magic overcame the biggest halftime deficit they've ever faced at the Avenir Centre in a 114-106 overtime win on Friday while the Hurricanes blew a huge first half lead of their own before recovering in the fourth quarter to topple the Edge 112-108 Sunday at Scotiabank Arena.
Moncton is lucky to be 2-0 considering they opened their season with what may prove to be the worst six quarters of defensive basketball they will play all season. The team talks openly about their defense keying everything they do and preaches toughness and attention to detail on that end of the floor. Those principles translated to the number one unit in the league last year, but it's a level they haven't come close to reaching through two games.
"We know we want to be that hard-nosed, aggressive, controlled defensive style team," Salerno admits. "My problem right now is the consistency of effort level it takes to play that style. It hasn't been there from all 5 guys at once for more than just spurts. We have to start holding guys a little more accountable when the effort is not there, and we won't play a consistent style of basketball until that happens."
Strong words, but he couldn't be more correct. Those first six quarters were full of missed box outs, ball penetration, and getting beat down the floor in transition. It's a long season full of adjustments, but focus and consistent effort isn't an X's and O's thing and won't be negotiable for Coach Salerno. His choice of starters for the second half against St. John's on Friday tells you all you need to know about that.
"I thought going back to five returning guys changed things," he says. "It was said at halftime, this is the most we've ever been down in this building and it's time to check the pride a little bit here fellas." The five Salerno went to included starters Billy White, Corey Allmond and Marcus Lewis with Denzell Taylor and Jason Calliste. Taylor was a monster defensively in the second half, adding six offensive rebounds at the other end, Lewis had his best half of the young season and White finished things off on the offensive end, dominating the overtime session.
"Going with this group of guys, it was going to be a mental message to the rest of this locker room," says Salerno. "These 5 guys have been there, done that before, and really stepped it up. I do think that some of our guys weren't playing with the proper intensity, energy and effort. And that's not just physically, that's communication-wise, everything that we need. And if one or two guys aren't holding up their end, the whole thing breaks down."
Last season, the Magic held opponents to the lowest three-point shooting percentage and overall shooting from the floor in the league and turned opponents over at the third highest rate. Through two games this season, the squad is dead last in those three stats. Offensively, it feels to coach Salerno like they're struggling as well, but the numbers there are more forgiving. They've turned it over less than anyone in the NBL and are converting at a high rate both from the line and the three-point arc. Still, he knows how much work they have to do on both sides of the ball.
"We only played well for 18 minutes I felt in the Edge game, so I was upset about it, but then I looked at the numbers and I thought, are these right? We had 27 assists and only 6 turnovers? We had 20 offensive boards? So we won the game, but I'm beating myself up over how we played.
"I'm having a hard time figuring out exactly where we're at," continues the coach. "We're averaging 116 point through two games, but we shoot the air out of the ball on the island and then can't throw it in the ocean against the Edge. Yet when you watch the tape of the game, we got good looks. So, it's tough to gauge where we are. I don't think we're in a great place, but I don't think it's as bad as some may think."
The numbers for Halifax in a small sample size through two games are pretty ugly in spots as well, but transitioning from perennial league coach of the year candidate Mike Leslie to newcomer Ryan Marchand no doubt accounts for some of the struggles. Coach Salerno wasn't familiar with Marchand before he took the job, but it didn't take him long to pinpoint the differences between he and Leslie, his former assistant coach who now operates as the Halifax General Manager.
"(Marchand) comes from an NBA, G-league background," observes Salerno, "where it's all about spacing, open-side screen and roll, and forcing rotations. You can tell that team was built with rim rollers up front and that's all the NBA and G-league are at the 5 position. They play a much different game than they did with Mike the last 2 seasons with constant movement off the ball instead of standing and holding space. Both can be really effective, it just comes down to how you execute it."
It's looked pretty in spurts, such as the first half of their Edge game on Sunday. However, when stalwart Cliff Clinkscales hits the bench, they've struggled. Any system fits a brainy guy like the NBL all-time assist leader, and the ageless wonder has looked as good as ever through two games. However, Devin Sibley and Tyler Scott haven't gotten anything going behind him and they've relied on Antoine Mason to operate as a de facto point guard in many situations. The returnee and 2017/18 NBL all-star is more than capable of putting up points, but shot creation for others isn't his forte and the ball has come to a stop without Clinkscales on the floor.
In addition, the Hurricanes lack that guy up front that they can throw the ball into and get a bucket. In the past, CJ Washington, Billy White or Jordan Washington provided that look, something that new big guys Asauhn Tatum-Dixon and Tremayne Johnson don't offer. What they do bring to the table, particularly Johnson, is activity, size, and aggressive rolls to the hoop off the actions that make up Marchand's offense.
"I have not been more impressed with any new player in the league than Tremayne Johnson," comments Salerno. "He's looked outstanding. He and Dixon-Tatum are similar guys, they're rim rollers. But Tremayne just makes a lot of plays with his motor, kind of like Denzell Taylor." Johnson is one of the guys that Clinkscales has clicked with immediately and that comfort has contributed to his 24-2 assist to turnover ratio. However, the rest of the team has combined for only 22 assists through two games. Marchand has to find a way to get that ball humming out of that new offense before it can reach it's potential.
He certainly has the pieces to work with and the time to make his imprint. If anyone thinks that this team won't be a threat late in the year needs to read their history books. Ta'Quan Zimmerman was the Sixth Man of the Year when last we saw him in a Halifax uniform, raining in threes off the Hurricane bench. Additionally, Mason averaged over 19 per game in his previous stint with the squad, Joel Kindred is dynamic in the second unit, and hometown boy Chris Johnson looks to be healthy and in shape and capable of scoring the ball consistently.
Familiarity with an opponent can breed contempt in a rivalry, but, just as easily, can give a competitor a comfort level as well. The Storm and Edge have very few returnees whose games the Magic would recognize. No such issue with the Hurricanes and so many familiar faces. "I think our guys are plenty up for tomorrow's game," declares coach Salerno. "I feel better about our team going into it than I have the last two. They have Mason, Zim, Clinkscales, Johnson and Kindred around and a lot of our guys were here two years ago when they had those guys. They're comfortable with the matchup and more focused."
"The other thing is," continues the coach. "I haven't got rotations set. Guys don't really know exactly what the role is, when they're coming in, when they're going out. And when those things come together, that's when teams really start operating at a high level." Well ready or not, there is a Hurricane coming to the Avenir for New Year's Eve and you need to be there to see it. 4 PM is the tip time so start ringing in 2020 with some Magic basketball Hub City fans. See you there.
• Discuss this story on the National Basketball League of Canada message board...


National Basketball League of Canada Stories from December 31, 2019
The opinions expressed in this release are those of the organization issuing it, and do not necessarily reflect the thoughts or opinions of OurSports Central or its staff.