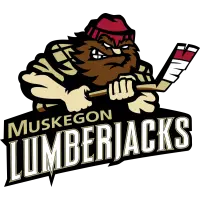 Lumberjacks Announce All-Decade Team
July 1, 2020 - United States Hockey League (USHL) - Muskegon Lumberjacks News Release



MUSKEGON, MI- After a week-long fan vote that saw nearly 1,500 votes cast, Muskegon Lumberjack fans have selected the seven-player All-Decade team, as well as a head coach to lead them.
Fans were able to cast multiple ballots, voting in three forwards, two defensemen, one goaltender, one wildcard skater, and a head coach.
Here are the results:
Forwards
Egor Afanasyev (41.3%)
Afanasyev skated in Muskegon from 2017-2019, racking up impressive totals of 33 goals, 43 assists, and 76 points in 103 career games. Afanasyev is the second-highest scoring Russian in team history, behind only Danil Gushchin, and his goal and point totals are 9th-best in team history.
Afanasyev's stellar 2018-2019 season, a season in which he led the Jacks in scoring with 62 points, vaulted him into the second round of the NHL draft, where he was selected by the Nashville Predators 45th overall. Afanasyev's 62 points in a single season ranks 5th in Lumberjacks history.
"I'm very honored and humbled to receive this award," said Afanasyev. "Thank you to the fans for voting, but most importantly, thank you to my teammates. I couldn't have accomplished anything without your support. My time in Muskegon is something I'll never forget and thank you to everyone who made this possible!"
Andrei Svechnikov (39.0%)
While his countryman Afanasyev wasn't a highly-touted draft pick in the USHL draft (10th round), Svechnikov was tendered by Muskegon ahead of the 2016-2017 season and put together arguably the best season by a first-year eligible player in USHL history.
Svechnikov won USHL Rookie of the Year in his only season in Muskegon, piling up 29 goals, and 29 assists (58 points) in just 48 games. Among all players who competed in at least 40 games in a season, Svechnikov's 1.21 points per game in '16-'17 trails only Rem Pitlick's 2015-2016 season for the most all-time.
Svechnikov went on to be drafted second overall by the Carolina Hurricanes, and he remains the highest drafted Lumberjack ever.
"It's special for me to be one of the best Lumberjacks in the past ten years," said Svechnikov. "It's super exciting. It was an awesome time when I played there, and the people were special; from my teammates, to the coaches, to the staff. It was a lot of fun to play there and is special to be honored like this."
Anthony Del Gaizo (17.9%)
While Svechnikov's career was a quick, blinding burst, former captain Anthony Del Gaizo enjoyed a Jacks career that was both long and incredibly productive. Del Gaizo ranks among the top-five skaters in Lumberjacks history in all of the following categories: games played (3rd), goals (2nd), points (5th), penalty minutes (4th), points in a single season (2nd), goals in a single season (3rd), and points per game in a single season (3rd).
Del Gaizo suited up for the Jacks from 2015-2018, and his 157-game career is among the best in Lumberjacks USHL history. The 2017-2018 season was his last in the USHL, and he made it count, becoming just the fifth player in USHL history (and third Lumberjack) to reach the 40-goal plateau. That 40-goal, 72-point season earned Anthony USHL Player of the Year honors.
"I am so grateful to be recognized by the Lumberjack community," said Del Gaizo. "I have very special memories and have met some of my best friends in Muskegon. I have so much trust and respect for everyone in the organization. Thank you!"
Defensemen
Marc Del Gaizo (28.5%)
Anthony's younger brother certainly didn't play the role of little brother during two seasons in Muskegon (2016-2018). Marc, like Anthony, was proficient in stuffing the stat sheet on an incredibly consistent basis. Marc's 61 career points rank fourth all-time among Jacks blueliners, and his 15 goals also rank fourth.
Del Gaizo's final USHL season was remarkable: the d-man scored 38 points, tied for the third-highest scoring season among all Muskegon defensemen. The following year, his Freshman season at Umass-Amherst, Marc shined for the Minutemen, registering 13 goals and 29 points in 41 games. However, it was his game-winning overtime goal in the Frozen Four that most fans remember most vividly.
"It was a privilege to represent the city of Muskegon and be a Lumberjack," said Del Gaizo. "I had an awesome two years and it's an honor to be recognized as one of the best by our fan base!"
Christian Wolanin (26.5%)
Until the likes of Alex Yakovenko and Colby Bukes came along, it was Wolanin who held many of Muskegon's records for blueline scoring. Wolanin still ranks third all-time with 62 points, and second all-time with 19 career goals.
Wolanin skated for the Jacks from 2013-2015, and helped Muskegon reach the Clark Cup Final in 2015, the Jacks' only Final appearance. In the 12 playoff games Muskegon played that year, Wolanin scored 8 points, the second most productive playoff run by a Jacks' defenseman.
Before leading his team to the Final, Wolanin compiled 41 points during the 2014-2015 regular season, the second-highest scoring season of any Jacks d-man.
"This is awesome," said Wolanin. "Muskegon was and still is one of my favorite places I've ever played, and that includes everyone from the staff, to my teammates, to the fans, who still support and reach out to me. I wouldn't be living my dream if it wasn't for the time I spent in Muskegon and I couldn't be more thankful for the memories I made there."
The dream that Wolanin refers to? Playing defense for the Ottawa Senators, who he has played 43 games for in a two-year NHL/AHL career.
Wildcard
Alex Yakovenko (22.7%)
The numbers speak for themselves in the case of Alex Yakovenko, the third and final Russian to be voted onto the Jacks' All-Decade team. Yakovenko's 22 goals are the most by any Lumberjacks defensemen, and his 69 points are behind only Colby Bukes's 74.
Yakovenko's 2018-2019 season is what stands out about his time in Muskegon. He was named a first-team All-USHL defenseman, scoring a team-record 52 points and 19 goals. Alex's 19 tallies that season ranks second in USHL history among defensemen, behind only Tri-City's Ronnie Attard, who scored a record-shattering 30 goals in that same '18-'19 campaign.
Goaltender
Brandon Bussi (48.1%)
Bussi played only one season in Muskegon, but his elite play in 2018-2019 clearly got the attention of fans. Bussi had arguably the best season by a Lumberjacks goaltender, posting a 2.44 GAA, .915 SV%, and a team-record (and USHL-leading) 33 wins.
In addition to Bussi's team-record 33 wins, he also posted the second-best GAA in team history (2.44), and the second-most shutouts in team history (7). Bussi's 52 games played are the most in a single season among Jacks goaltenders, and the second-most all-time.
"This is an honor," said Bussi. "So many great goalies have come through Muskegon; to be recognized by the fans in this way is an honor."
Head Coach
Mike Hamilton (48.3%)
The only active Lumberjack to make the team, coach Hamilton is certainly deserving of the honor. Under his tutelage, the Jacks reached the Conference Finals in 2018-2019, and were in a playoff spot until Coronavirus cut the 2019-2020 season short. Had the Jacks gone on to qualify, they would have pushed their franchise-record playoff streak to four-straight seasons.
Hamilton's record of 62-40-9 (.599) is the second-best mark in Lumberjacks history, and the 2018-2019 team broke franchise records for points (86), wins (41), and goals scored (228).
Hamilton has coached NHL draft picks Egor Afanasyev, Marc Del Gaizo, John Farinacci, and Hunter Skinner. As the Jacks' video coach in 207-2018, Hamilton also helped Matej Pekar, Jachym Kondelik, Emilio Pettersen, and Mikael Hakkarainen. No doubt, Danil Gushchin will be added to that list very soon, and Cam Berg and Hank Kempf are also listed on NHL Central Scouting's final 2020 rankings.
"What an honor it is to be selected by our fans as one of the all-time best coaches in Lumberjacks history," said Hamilton. "I still benefit from the groundwork laid by past coaches LaFontaine, Krygier, McKenzie, and Patrick."
"I hope to continue the tradition and continue to make Muskegon one of the top franchises in the USHL. All of us have worked hard to get to where we are today, and I cannot wait to bring our fans a well-deserved Clark Cup. Thank you for your votes! I am humbled and honored."
All-Honorable Mention Team:
F Rem Pitlick (12.7%)
D Colby Bukes (18.3%)
G Eric Schierhorn (28.5%)
• Discuss this story on the United States Hockey League message board...


United States Hockey League Stories from July 1, 2020
The opinions expressed in this release are those of the organization issuing it, and do not necessarily reflect the thoughts or opinions of OurSports Central or its staff.