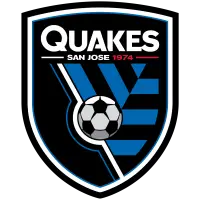 Kikanovic makes MLS debut in 2-0 setback
May 16, 2021 - Major League Soccer (MLS) - San Jose Earthquakes News Release



SAN JOSE, Calif. - The San Jose Earthquakes fell to the Portland Timbers 2-0 on Saturday night at PayPal Park. The match saw the MLS debut of Quakes forward Benji Kikanovic and the season debut of Quakes midfielder Jack Skahan.
Portland took the lead in the fifth minute when Eryk Williamson sent a through ball to Yimmi Chara, who would chip the ball up and over an onrushing JT Marcinkowski.
San Jose would come close to the equalizer in the second half when a penalty was given to the Quakes in the 61st minute, but Chris Wondolowski's low shot was saved by the outstretched arms of goalkeeper Logan Ketterer. Portland later doubled their lead in the 74th minute when Williamson's cross to Marvin Loria was headed home.
The Earthquakes will now prepare to play their third and final match of a three-game homestand next Saturday, May 22 vs. Sporting Kansas City, presented by Coca-Cola. The match kicks off from PayPal Park at 7:00 p.m. and will be broadcast live on NBC Sports Bay Area, KNBR 1050 and 1370 KZSF.
GAME NOTES
The Earthquakes now hold a 3-3-0 record (9 pts.) during the 2021 MLS regular season and are currently in fourth place in the Western Conference.
San Jose earned 12 corner kicks, their most in a single match since July 15, 2020 (22).
The Quakes took 20 shots, their most in a single match since July 15, 2020 (30).
San Jose committed just five fouls, their fewest in a match since Sept. 25, 2019 (5).
Forward Benji Kikanovic made his MLS debut, entering as a substitute in the 63rd minute.
Midfielder Jack Skahan made his first appearance of the season and second of his MLS career, entering as a substitute in the 66th minute.
MLS Regular Season
San Jose Earthquakes 0 - 2 Portland Timbers
May 15, 2021 - PayPal Park in San Jose, Calif.
Scoring Summary: POR - Yimmi Chara (Eryk Williamson) 5; POR - Marvin Loria (Eryk Williamson, Felipe Mora) 74.
Misconduct Summary: POR - Bill Tuiloma (caution) 25; POR - Dario Zuparic (caution) 42; SJ - Chris Wondolowski (caution) 45+3.
SAN JOSE EARTHQUAKES: JT Marcinkowski; Paul Marie (Shea Salinas 58), Oswaldo Alanis, Florian Jungwirth (Chris Wondolowski 58), Luciano Abecasis; Carlos Fierro, Eric Remedi, Jackson Yueill; Carlos Fierro (Benji Kikanovic 63), Cristian Espinoza (Chofis 58), Andres Rios (Jack Skahan 66); Cade Cowell.
Substitutes not used: Tanner Beason, Judson, Tommy Thompson, Daniel Vega.
SHOTS: 20; SHOTS ON GOAL: 4; FOULS: 5; CORNER KICKS: 12.
PORTLAND TIMBERS: Logan Ketterer; Claudio Bravo, Dario Zuparic, Bill Tuiloma, Pablo Bonilla (Josecarlos Van Rankin 82); Andy Polo (Renzo Zambrano 72), Eryk Williamson, Yimmi Chara, Marvin Loria (Zachery McGraw 82); Felipe Mora (Diego Valeri 82), Jeremy Ebobisse (Dairon Asprilla 69).
Substitutes not used: Blake Bodily, Hunter Sulte.
SHOTS: 18, SHOTS ON GOAL: 5; FOULS: 10; CORNER KICKS: 5.
SAN JOSE EARTHQUAKES HEAD COACH MATIAS ALMEYDA
On improving the team's offense:
"I think football is simple. If you score goals and they don't, you win. If you concede and they don't, you lose. Today's match was similar to our previous match. We were able to create opportunities from headers, a penalty and rebounds we could not get to. The opponents had created two dangerous chances and they converted, and we cannot afford mistakes against these teams. We will keep working to capitalize on the chances we are getting."
On giving minutes to younger players:
"It brings me pleasure to allow young players to make their debut. It's not easy to come on in these types of games. Sometimes because of nerves and trying to be perfect, not everything goes right. This is the team we have, with many young players. The day they all have 40 appearances in the first division, and they remain in this league, with this system and style of play, we will become more competitive."
On the team's approach to penalty kicks:
"We practice them. I think if anyone had to be selected to take penalties, it would be the league and this club's all-time leader in goals. The penalty was well taken. The goalkeeper stretched his arm and got to the post. I won't just take away this penalty, I will take away the chances we created. Apart from the penalty, we were missing the finishing touches."
SAN JOSE EARTHQUAKES MIDFIELDER CRISTIAN ESPINOZA
On the team's finishing:
"We need to be more attentive in the final stretch where we really need to make a difference. The goals result from our ability to finish them. We have been great in that sense but in our last two matches, we were unlucky in our finishing. Other times, we cannot capitalize because of the virtues in the opponent. We will keep working and move forward. We have important upcoming matches and now is not the time to give up."
On creating more dangerous chances:
"I think today's match was difficult for everyone, especially the attackers. The opponent just waited in their area, defended throughout the entire match and created counterattacks, and that is how they scored. Personally, I don't feel that neither my teammates nor I performed badly. When you face an opponent with practically 11 players in their own half, it becomes difficult to find space. We have to find a way to generate attacking plays. In this match, the opponent stayed in their area and waited for our mistakes to launch a counter."
• Discuss this story on the Major League Soccer message board...


Major League Soccer Stories from May 16, 2021
The opinions expressed in this release are those of the organization issuing it, and do not necessarily reflect the thoughts or opinions of OurSports Central or its staff.