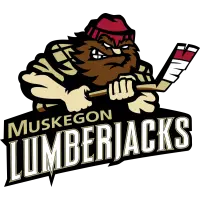 Jacks Announce 25-Man Roster
September 20, 2022 - United States Hockey League (USHL) - Muskegon Lumberjacks News Release



The Muskegon Lumberjacks have announced their 25-player roster as they prepare to open the 2022-23 regular season this week.
The roster features a solid core of returning players from last year's successful team, which advanced to the Eastern Conference finals in the USHL playoffs, as well as a lot of promising young players.
The Lumberjacks will kick off the new season with two games this week in Pittsburgh during the annual USHL Fall Classic. They will play two Western Conference teams - Sioux Falls on Thursday at 3:30 p.m. and Tri City on Friday at 5:30 p.m.
The games will be the Jacks' only opportunity to compete against opponents from the Western Conference during the regular season.
Lumberjacks Coach Mike Hamilton said he's excited about this year's team, but noted that many players are young and inexperienced and will need time to adjust to the USHL.
"We have a team with a lot of talent," Hamilton said. "What it comes down to now is for us to coach these guys up and make them better."
Returning forwards from last year's team are Owen Mehlenbacher (17 goals, 25 assists in 2021-22), Jake Richard (18 goals, 30 assists), Ethan Whitcomb (8 goals, 8 assists), Tyler Hotson (7 goals, 20 assists), David Hymovitch (6 goals, 13 assists) and Benny Barnes.
Promising new forwards include Sasha Boisvert, a 16-year-old who piled up an amazing 51 goals and 43 assists last year while playing prep school hockey at Mount St. Charles Academy in Rhode Island.
Forward Michal Callow, another first-year Lumberjack, had 26 goals and 15 assists in only 25 games last year at St. Sebastian's School in Massachusetts.
Mehlenbacher (Detroit Red Wings), Richard (Buffalo Sabres) and Callow (Anaheim Ducks) were all selected in June's National Hockey League draft.
The Jacks' defensive corps will also have its share of experience with four players back from last year's team - Nathan McBrayer, Tyler Dunbar, Jeremiah Slavin and Gavin McCarthy.
Promising newcomers among the defensemen include two players who were also selected in June's NHL draft - George Fagaras (Dallas Stars) and Matthew Morden (Arizona Coyotes).
The goalies are both new to the team this year. Noah Ruprecht and Conor Callaghan both saw extensive action and had some success in Lumberjack preseason games in recent weeks.
The Jacks will also have two brand new players who were acquired over the weekend from other USHL teams.
Muskegon traded a draft pick to the Dubuque Fighting Saints for forward Billy Renfrew, 19, who showed a lot of offensive potential last season by totaling 25 goals and 27 assists with the Fairbanks Ice Dogs of the North American Hockey League.
"He has a heavy shot, and we think he's going to be a guy who's going to bring some scoring," Hamilton said.
Muskegon also traded a draft pick to Sioux City in exchange for forward William Hughes, 18, who totaled 16 goals and 18 assists last season while playing prep school hockey at Dexter Southfield School in Brookline, Massachusetts.
Hughes, who is committed to play college hockey at Harvard University, comes with good size at 6-foot-3 and 203 pounds.
"He put up some really good numbers, and he's a big kid," Hamilton said.
MUSKEGON LUMBERJACKS 2022-23 OPENING DAY ROSTER
Forwards - Owen Mehlenbacher, Jake Richard, Cody Croal, Tyler Hotson, , Benny Barnes, Ethan Whitcomb, Sasha Boisvert, Jacob Terpstra, Justin Solvney, Nicholas Rexine, David Hymovitch, Michael Callow, Billy Renfrow, William Hughes, Peyton Nelson (affiliate reserve), Matvei Gridin (affiliate reserve).
Defensemen - Nathan McBrayer, Tyler Dunbar, Matthew Morden, Jeremiah Slavin, George Fagaras, Gavin McCarthy, Easton Young, Evan Orloff, Owen Keefe.
Goalies - Noah Rupprecht, Conor Callaghan
• Discuss this story on the United States Hockey League message board...


United States Hockey League Stories from September 20, 2022
The opinions expressed in this release are those of the organization issuing it, and do not necessarily reflect the thoughts or opinions of OurSports Central or its staff.