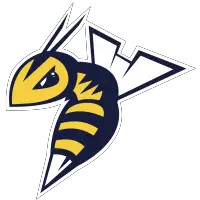 Edmonton Stingers Escape with 101-100 Win over Guelph Nighthawks
July 23, 2022 - Canadian Elite Basketball League (CEBL) - Edmonton Stingers News Release



The Edmonton Stingers avoided disaster with a 101-100 win over the Guelph Nighthawks at Edmonton Expo Centre on Saturday afternoon. The Nighthawks recovered a 14 point deficit in Elam time to tie the game at 100 before Mathieu Kamba ended the game at the free throw line.
"I'd rather win ugly than lose pretty," Edmonton head coach Jermaine Small said. "Give them credit, they came back and made a bunch of threes. For us, we had zero free throw attempts at halftime and we ended up with 24, so they obviously got the message and forced the issue...we found a way to bend but never broke."
The win improves Edmonton's record to 10-8 on the season and maintains their place in fifth in the Canadian Elite Basketball League (CEBL) standings. The Nighthawks dropped to 8-10 on the season and missed another chance to clinch a playoff spot. The Newfoundland Growlers and Montreal Alliance will be happy with the result,
as they keep their playoff hopes alive.
Former Memphis Tiger Trahson Burrell made his season debut with Edmonton Stingers on Saturday and dropped a game-high 37 points. Burrell was fantastic on the offensive end, shooting 14-23 from the field, 7-11 from three and dishing 4 assists to go along with 5 rebounds and 3 steals.
"I feel like this is where I'm supposed to be," Burrell said. "That's why I felt so comfortable out there. Coach [Small] told me to just come play my game even though it's my first game. I literally landed last night at 10 p.m., so I had to get some rest and be ready for the game."
"The higher the stakes, the better [Burrell] is," Small said. "He's a shotmaker and he's guy that I'd call a mercenary. You give him a job and he goes and does it. What makes him so good is he can score when he wants but he had 5 assists tonight too and that's what makes him really good-he can score and create for his teammates late in the clock."
Brody Clarke had an efficient 13 points off the bench for Edmonton, going 5-7 from the field, while Kamba scored 12 points in a starting role. Without Demarco Dickerson and Jahmal Jones, Jordan Baker took over a lot of the playmaking duties for the Stingers. He achieved a double-double with 10 points, 10 rebounds, 5 assists and 3 steals in Edmonton's win.
Meanwhile, Ahmed Hill stepped up as the first option for the NIghthawks with Cat Barber injured and scored 26 points on 9-17 shooting from the field and 4-11 from three. Stef Smith filled in as the starting point guard for Guelph and scored 17 points on 6-10 shooting to go along with 5 assists. TJ Lall had a complete performance with 15 points, 9 rebounds, 3 assists, 1 steal and 1 block while Maurice Calloo came off the bench to score 13 points.
"Our fight was great down the stretch," Guelph head coach Charles Kissi said. "I'm not blaming anyone, we put ourselves in that position. We know when we put ourselves in that position on the road, that's what happens. I'm proud of our guys and the way we fought -come playoff time, we're not the team you want to play."
Ahmed Hill was on fire to start the first quarter, hitting three consecutive triples from the right wing and finishing a layup off a dribble-handoff on his way to 8 first quarter points. New acquisition Trahson Burrell also had a strong start for the Stingers,scoring 7 first quarter points in a back and forth opening 10 minutes. Both teams shot over 55 per cent from the field and didn't get to the free throw line, with Guelph carrying a 25-24 lead into the second quarter.
The second quarter saw both teams continue to exchange blows. Burrell and Giorgi Bezhanishvili dueled, with Bezhanishvili making his inside presence felt. Meanwhile, Burrell scored off a three, a cutting layup and a buzzer-beating three to end the quarter. Guelph went into the locker room with a 46-44 lead over the the Stingers.
Burrell led all scorers with 15 points at half, while Hill led the way for the Nighthawks with 13 points. Bezhanishvili added 9 for Guelph after 20 minutes of action. Edmonton didn't shoot a single free throw in the first half and Guelph shot just four from the charity stripe
In the third quarter, the game lived up to basketball's reputation as a game of runs. The Nighthawks came out of halftime rolling, starting the third on a 10-0 run that gave them a 56-44 lead. From there, however, Edmonton went off. The Stingers went on a 21-1 run that included a pair of Burrell threes, an Adika Peter-Mcneily and-one and a highlight reel transition jam from Brody Clarke on an assist from Burrell. A slashing Stef Smith layup and an Ahmed Hill and-one late in the quarter cut into the Stingers lead, with Edmonton leading 73-70 heading into the fourth.
Trahson Burrell continued his stellar season debut early in the fourth, scoring on a floater, an and-one, an inside finish off a dish from Peter-McNeilly and a transition pull-up three to give Edmonton a 92-78 lead heading into the Elam Ending with a target score of 101.
Powered by 7 points from Stef Smith and 5 points from Maurice Calloo in Elam time, the Nighthawks stormed their way back into the game. However, a pair of free throws from Jordan Baker gave Edmonton a 100-93 lead with a chance to win, forcing a Charles Kissi timeout. The Nighthawks went on a 7-0 run out of the timeout off of a Hill three and a pair of buckets from TJ Lall to tie the game at 100. Mathieu Kamba allowed Edmonton to avoid disaster and finished the game at the free throw line.
The Nighthawks will host the Saskatchewan Rattlers in their return to Guelph on Wednesday at 7:00 p.m. ET while the Stingers will host the Ottawa BlackJacks Wednesday at 7:00 p.m. MT.
Edmonton Stingers tickets are available at https://www.thestingers.ca/tickets while Guelph Nighthawks tickets are available at https://www.thenighthawks.ca/tickets.
Fans will be able to live stream all games including the playoffs on the CEBL's OTT streaming service CEBL+, the CEBL's official app, CEBL Mobile for iOS and Android devices, cbcsports.ca, the free CBC Gem streaming service, the CBC Sports App for iOS and Android devices and on NXT Level Sports in the U.S. As part of its playoff coverage, CBC Sports will broadcast the quarterfinal games Sunday, August 7, semifinal games Friday, August 12, and the Championship game on Sunday, August 14. For the complete broadcast and streaming schedule, click here. All times are subject to change.
The CEBL's fourth regular season began May 25 and ends August 1. A league created by Canadians for Canadians, the CEBL is the largest pro sports league in the country with 10 teams located in six provinces. It has the highest percentage of Canadian players of any professional league in the country, with 71 percent of its current rosters being Canadians. Players bring experience from the NBA, NBA G League, top international leagues, the Canadian National team program, and top NCAA programs as well as U SPORTS. The only First Division Professional League Partner of Canada Basketball, the CEBL season runs from May through August. Head to CEBL.ca for more information or follow us (@cebleague) on Instagram, Twitter, TikTok, LinkedIn, Facebook & YouTube.
Images from this story
• Discuss this story on the Canadian Elite Basketball League message board...


Canadian Elite Basketball League Stories from July 23, 2022
The opinions expressed in this release are those of the organization issuing it, and do not necessarily reflect the thoughts or opinions of OurSports Central or its staff.