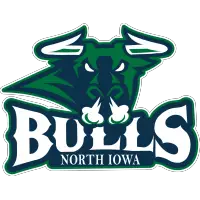 Bulls Turn Back to Win Column with 5-3 Victory to Open 2022
January 2, 2022 - North American Hockey League (NAHL) - North Iowa Bulls News Release



North Iowa Bulls goaltender Hunter Garvey in front of the Austin Bruins' Gavin Morrissey
(North Iowa Bulls, Credit: Alissha Ames)
MASON CITY, Iowa - Downtown Mason City is a few miles from those long and lonesome highways. It's also not exactly east of Omaha.
It does, however, have a junior hockey team determined to turn the page after a frustrating end to 2021.
The first chapter of 2022 was written at the Mason City Arena on Saturday night, and the North Iowa Bulls penned a solid opening statement against the Austin Bruins, breaking out for three early goals in a little more than a minute on the way to a 5-3 victory.
Carter Rapalje opened the barrage at 7:31 of the first period, knocked down with the puck on his way to the Bruins' net. With no brakes, Rapalje careened into the cage underneath Niko Goich, but the puck beat him into the net, allowing the goal to stand and giving North Iowa the lead.
The Bulls added on just 30 seconds later, when Michael Mesic picked a rebound out of the crowd in front of Goich's net and tossed it in to make it a 2-0 game. The final strike came at 8:42 of the first period, when Jack Campion found a rebound behind the net and set it out on the doorstep for Logan Dombrowsky, who stuffed it home just inside the post to make it a 3-0 contest.
The Bruins would call a timeout and bring Goich to the bench, ending his night early and beginning another outing for Klayton Knapp, who scored a 5-2 win at home over North Iowa on Friday. Austin carried a 13-8 shots-on-goal advantage out of the locker room and Knapp got a little breathing room at the 3:13 mark of the second, when Anthony Menghini shoved in a loose rebound in front of Hunter Garvey, trimming the lead to two goals.
North Iowa answered with a goal of its own at 7:31, when Brett Morich settled a bouncing puck in the bottom corner of the faceoff circle and tossed it past Knapp to give the Bulls a 4-1 advantage heading to the third.
The Bruins tightened things up a few loose ends in the third, and tightened the score in the process. Carson Riddle rocketed in a slap shot from the left point at 3:03 of the final period to drop the lead back to two goals, and Walter Zacher capitalized on a North Iowa turnover at the left-wing faceoff dot by zipping home a wrist shot to cut the lead to 4-3.
The Bulls continued to stretch for the insurance goal, hanging onto the one-goal lead for the majority of the period before Simone Dadie's empty-net goal from the bottom of the center circle with 13 seconds remaining, cementing the win.
Mesic headlined the scoring for North Iowa with a goal and an assist, giving him a marker in four straight games. He becomes the third Bull to put together such a streak this season, after Byron Hartley's four-game run in October and Dylan Gajewski's torrid start to his Bulls career in November. Rapalje also had a goal and an assist, with Jake LaRusso picking up two assists of his own. Walter Zacher had a goal and an assist for the Bruins.
Knapp took the loss, dropping back to 6-4-0-1 for the season with a 20-save performance. Goich went 3-for-6, taking the no-decision as the Bruins settled back to 17-11-1-2 for the season. Garvey snapped a personal four-game drought with 36 saves, earning his 11th win of the season and helping the Bulls move their mark to 15-11-1-2.
The Bulls return to home ice next Friday and Saturday night to face the Aberdeen Wings. Both games are set for 7:30 p.m. starts at the Mason City Arena.
Austin 0 1 2 - 3
North Iowa 3 1 1 - 5
1st Period-1, North Iowa, Rapalje 17 (Mesic, LaRusso), 7:31. 2, North Iowa, Mesic 11 (Rapalje, LaRusso), 8:01. 3, North Iowa, Dombrowsky 7 (Campion, Gajewski), 8:42. Penalties-No Penalties
2nd Period-4, Austin, Menghini 2 (Malinski, Catalano), 3:13. 5, North Iowa, Morich 2 (Baker, Potter), 7:31. Penalties-Riddle Aus (roughing-minor, roughing-minor), 7:36; Morich Nio (roughing-minor), 7:36; Dadie Nio (hooking-minor), 14:00; Dadie Nio (checking from behind-minor), 19:24.
3rd Period-6, Austin, Riddle 12 (Jean-Louis, Zacher), 3:03. 7, Austin, Zacher 2 8:18. 8, North Iowa, Dadie 5 (Bulger), 19:47. Penalties-Catalano Aus (tripping-minor), 13:09.
Shots on Goal-Austin 13-18-8-39. North Iowa 8-11-9-28.
Power Play Opportunities-Austin 0 / 2; North Iowa 0 / 2.
Goalies-Austin, Goich 2-2-0-1 (6 shots-3 saves); Knapp 6-4-0-1 (22 shots-20 saves). North Iowa, Garvey 11-8-1-2 (39 shots-36 saves).
A-1,338
Referees-Jared Cummins.
Linesmen-Grant Hendrich, Jacob Rozenberg.
Images from this story
• Discuss this story on the North American Hockey League message board...


North American Hockey League Stories from January 2, 2022
The opinions expressed in this release are those of the organization issuing it, and do not necessarily reflect the thoughts or opinions of OurSports Central or its staff.
Other Recent North Iowa Bulls Stories