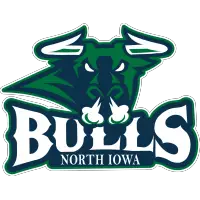 Bulls Tie Thrice, But Bruins Score Last in 4-3 Shootout Win
October 2, 2021 - North American Hockey League (NAHL) - North Iowa Bulls News Release



MASON CITY, Iowa - The Mason City Arena was a rocking place to be on Friday night as the North American Hockey League's newest rivalry wrote its first chapter.
Despite several area high school homecomings, including the hometown Mason City Mohawks', and an Iowa football game to follow, nearly 1,100 people filed into the Bulls' home building to witness the first junior hockey game between teams from North Iowa and Austin since 1985.
They got their money's worth and then some, with lots of fireworks and a five-round shootout as the Bruins got out of town with a 4-3 victory to stay in first place in the NAHL's Central Division.
North Iowa had to deal with a potent Bruins power play several times in Friday's game, and Austin capitalized on its first two - at 6:05 of the opening period, Marian Haborak scored down the slot 26 seconds after a too-many-men call against the Bulls to give the visitors a 1-0 lead.
The Bulls answered back with 5:41 left in the period, with Chris Carroll jamming in a goal off the pads of Hunter Hodges, putting the teams on even footing heading to the second period.
The Bruins held a 10-5 shots-on-goal advantage through the opening period, and stretched the margin to 26-10 at one point before North Iowa began marching back. However, a high-sticking call against Justin Mexico midway through the second period gave the Bruins an opening, and they capitalized with a goal from Nick Catalano over Hunter Garvey's shoulder to take the 2-1 lead with 7:57 remaining in the period.
North Iowa battled to tie the game throughout the first half of the final stanza, but to no avail - finally, right out of the third-period media timeout, Hunter Bulger got one past Hodges with 10:33 remaining in regulation to tie the game at 2-2.
The tie lasted a little more than two minutes - off of a setup pass from Sutter Muzzatti, Carson Riddle banged in a chance out front to give the Bruins a 3-2 lead with just 8:26 remaining in the contest. The Bulls equalized the game once more, with 43 seconds remaining - just after bringing Garvey to the bench for an extra attacker, Sean Vlasich sent one on net from the left point, avoiding the traffic in front and hitting the back of the cage for a 3-3 tie.
It took more than just the five-minute overtime to decide the contest - Jens Richards and Ryan Coughlin traded goals in the initial three rounds, but Gavin Morrissey used his fifth-round chance to beat Garvey along the ice and put the game away.
Riddle headlined the offense with a goal and an assist for the Bruins, while Muzzatti and Jack Mesic had two assists apiece for their respective teams. Garvey took the loss with 34 saves in his North Iowa debut, while Hodges made 27 saves in earning his fourth win of the season for Austin. The Bruins went 2-for-3 on the power play, continuing their stretch of multiple-goal showings on the man-advantage, while holding the Bulls to an 0-for-4 finish.
North Iowa makes its first-ever visit to Riverside Arena on Saturday evening as the Bruins host the rivalry for the first time. The opening puck drop in Austin is scheduled for 7 p.m.
Austin 1 1 1 0 - 4
North Iowa 1 0 2 0 - 3
1st Period-1, Austin, Haborak 2 (Muzzatti, Richards), 6:05 (PP). 2, North Iowa, Carroll 2 (Mesic), 14:19. Penalties-Schoner Aus (tripping-minor), 2:47; served by Tuggey Nio (too many men-minor), 5:39; Simmons-Fischer Aus (tripping-minor), 15:47.
2nd Period-3, Austin, Catalano 4 (Riddle), 12:03 (PP). Penalties-Mexico Nio (high sticking-minor), 10:20; Muzzatti Aus (holding-minor), 19:28.
3rd Period-4, North Iowa, Bulger 2 (Domina), 9:27. 5, Austin, Riddle 5 (Muzzatti, Gajewski), 11:34. 6, North Iowa, Vlasich 2 (Mesic, Coughlin), 19:17. Penalties-Whitehouse Aus (roughing-minor), 5:23; Carroll Nio (boarding-minor, unsportsmanlike conduct-10 minute misconduct), 5:23; Vlasich Nio (roughing-minor), 5:23; Trombley Aus (roughing-minor), 12:33.
OT Period- No Scoring.Penalties-No Penalties
Shootout - Austin 2 (Trombley NG, Richards G, Riddle NG, Gajewski NG, Morrissey G), North Iowa 1 (Tuggey NG, Mesic NG, Coughlin G, Dadie NG, Vlasich NG).
Shots on Goal-Austin 10-17-7-3-1-38. North Iowa 5-10-14-1-0-30.
Power Play Opportunities-Austin 2 / 3; North Iowa 0 / 4.
Goalies-Austin, Hodges 4-1-1-0 (30 shots-27 saves). North Iowa, Garvey 0-0-0-1 (37 shots-34 saves).
A-1,097
Referees-Austin O'Rourke.
Linesmen-J. Morrison, Josh Rosenbaum.
Images from this story
• Discuss this story on the North American Hockey League message board...


North American Hockey League Stories from October 2, 2021
The opinions expressed in this release are those of the organization issuing it, and do not necessarily reflect the thoughts or opinions of OurSports Central or its staff.