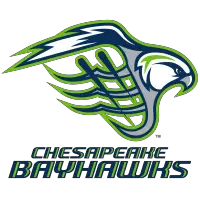 Bayhawks Seek Third Title in Four Years at Championship Weekend
August 23, 2013 - Major League Lacrosse (MLL) - Chesapeake Bayhawks News Release



ANNAPOLIS, MD - The Chesapeake Bayhawks have captured two of the last three Major League Lacrosse championships. The Bayhawks are the winningest franchise in league history and this year's team is comprised of numerous players who have hoisted the Steinfeld Trophy multiple times.
Defenseman Brian Spallina, attackman John Grant Jr. and midfielder Casey Powell are among the current Bayhawks who have earned MLL titles with at least two different franchises.
Head coach Dave Cottle is hopeful that pedigree will make a difference during Major League Lacrosse Championship Weekend, being held this Saturday and Sunday at PPL Park in Chester, Pa. Cottle pointed out that several other members of the team, including starting goalkeeper Kip Turner and standout midfielder Kyle Dixon, have secured championships at both the collegiate and professional levels.
"I would think it gives you tremendous confidence that you can be successful at the greatest sporting moment of your season," Cottle said of players who have been part of several championship teams. "To become a champion, you have to be able to eliminate the distractions and concentrate on the task at hand."
Second-seeded Chesapeake (9-5) will be seeking to defend its crown when it meets No. 3 Hamilton (9-5) in Saturday's second semifinal (4 pm). Top-seeded Denver (14-0) will take on No. 4 Charlotte (7-7) in the first semifinal (1 pm) with the winners meeting on Sunday (3 pm) for the Steinfeld Trophy.
For Chesapeake, it is the exact same scenario as last season when it came in seeded second and beat host Boston in the semis then beat No. 1 Denver, 16-6, in the finals at Harvard Stadium in Cambridge, Mass.
"I think there is a lot that can be learned from what happened last year. In 2012, we felt all along that our team would be its strongest when we got everyone together at Championship Weekend," Cottle said. "It's a very similar situation this season. We have been steadily building to this moment and are playing our best lacrosse going into the postseason. We are very confident, but at the same time we are not arrogant. I can promise you one thing - the Bayhawks will be ready this weekend."
Chesapeake splits its two regular season meetings with Hamilton, falling 12-11 in overtime at home on June 1st then notching a convincing 17-10 victory on the road 28 days later. Head coach Dave Huntley led the Nationals to an MLL crown in 2009.
"Hamilton has played a certain way all season. It is a hard-working and unselfish team and that is a real compliment to Coach Huntley," Cottle said. "Hamilton is great in transition and has a tremendous goalie in Brett Queener. They have the best ground ball guy to ever play MLL in Brodie Merrill and two terrific offensive players in Kevin Crowley and Joe Walters. Obviously, this is going to be a stiff challenge for our team."
Hamilton is led in scoring by Crowley, who was named MLL Most Valuable Player on Thursday. The third-year midfielder out of Stony Brook, who was previously chosen Brine Offensive Player of the Year, leads the league with 55 points on 38 goals and 14 assists.
"Crowley is the best player in the league without the ball. He can catch anything inside and is a very accurate shooter," said Cottle, adding that Barney Ehrmann and Michael Simon will probably share the critical defensive assignment on Saturday.
Hamilton has other potent offensive threats, particularly in midfielder Joe Walters (48 points). Rookie defenseman Jesse Bernhardt did a good job on Walters in the last meeting and will likely cover him again. That leaves rookie Garrett Thul to deal with. Cottle said Nicky Polanco, who did not dress for the last two regular season games, might be a good matchup for the 6-foot-3, 231-pound Thul.
"We have decisions to make with regard to whether we dress five or six long poles and who those defensemen should be," Cottle said.
Chesapeake is led offensively by attackman Drew Westervelt, who received votes for the Brine Offensive Player of the Year award. The 6-foot-5, 205-pound shooting marksman put up the best numbers of his seven-year professional career with 48 points on 36 goals and 12 assists.
"We just have to continue what we've been doing the last few weeks, which is being unselfish and sharing the ball," Westervelt stated. "I think the key is to be patient, to work for the best possible shot. We don't want to take the first option, but rather the best option. What's great about this league is that it doesn't matter what you do during the regular season. This is the real season and everyone comes in even. It's all about who steps up and performs on that championship stage."
Left-handed attackman Ben Rubeor, a steady and reliable veteran, is the team's second-leading scorer with 41 points (30 goals, 11 assists) while Grant, a Canadian stick-handling wizard, has 32 points (20, 12). Second-year pro Matt Mackrides has emerged as the Bayhawks' leading midfielder scorer (30 points) while Dixon tops the team with 18 assists.
All-Star goalkeeper Kip Turner enjoyed the finest season of his career with a sizzling .571 save percentage and superb 10.35 goals-against average. Michael Evans, who finished third in voting for the Warrior Defensive Player of the Year, anchors Chesapeake's close unit.
"Kip Turner has been consistent throughout the season. He's an experienced goalie with a championship under his belt. We're hoping Kip can elevate his game this weekend like he did last year at this time," Cottle said.
Face-offs will be critical to postseason success and the Bayhawks will also be looking for specialist Adam Rand to step up. Rand, who is 171-for-356 on draws this season, gave way to backup Matt Dolente then a long pole in the regular season finale. Cottle has said he will only dress one face-off man for Championship Weekend.
You can watch the Bayhawks take on the Nationals at 4pm Saturday on CBS Sports Network. The Championship game will air live on ESPN2 on Sunday at 3pm. The Bayhawks 2014 Season Tickets are now available and can be purchased over the phone by calling the box office 866-99-HAWKS (42957). For the Bayhawks full schedule go to www.thebayhawks.com.
• Discuss this story on the Major League Lacrosse message board...


Major League Lacrosse Stories from August 23, 2013
The opinions expressed in this release are those of the organization issuing it, and do not necessarily reflect the thoughts or opinions of OurSports Central or its staff.