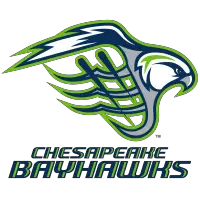 A Day in the Life with BayHawks Midfielder Ryan Tucker
December 26, 2019 - Major League Lacrosse (MLL) - Chesapeake Bayhawks News Release



Boston, MA - An average day for Chesapeake Bayhawks midfielder Ryan Tucker starts at 4:30 in the morning. He makes the short drive to Norfolk Academy, a private school in Hampton Roads, Virginia on Virginia Beach, to workout and lift on the schools track. After a quick workout, he showers, eats breakfast, and gets ready for the day.
Monday through Friday, September until June, Tucker trades in his lacrosse jersey and stick for a tie and a laptop as a middle school teacher at Norfolk Academy.
On the day I spoke to Tucker, he had a meeting with his fellow 7th grade teachers prior to the schools regularly scheduled 8:15AM start. During the school day, Tucker teaches three classes, one seventh grade English class, and two eighth grade history classes. Tucker, feels at home teaching history after graduating from the University of Virginia with a degree in history in 2014.
Tucker says he feels a real sense of joy in knowing he has "the ability to change lives and help influence others." He called teaching "so challenging, in the best way." Tucker takes great pride in, "seeing students progress. It's one of the coolest things I have experienced in my life."
As for what students would say about Mr. Tucker, he said they would say he is "challenging, someone who holds his students accountable, and someone who smiles way too much." As someone who has had the privilege of spending some time with Tucker, I can vouch for the fact that Tucker does indeed smile a lot.
While school ends at 3:15 for most students, Tucker's day isn't anywhere close to its conclusion. Despite being up for almost 11 hours at that point, Ryan goes from Mr. Tucker to Coach Tucker. In the fall, Tucker coaches the Junior Varsity Men's Soccer Team at Norfolk Academy. Under Tucker's guidance, the squad went 8-2-2 this fall, outscoring their opponents 31-8.
In the spring, Tucker coaches men's lacrosse at Norfolk Academy. After several seasons as an assistant coach, Tucker will take over the reigns as head coach this upcoming spring after legendary coach Tom Duquette retired after 38 years at the school.
On most days, Tucker gets home late in the evening, usually around six or seven. He eats dinner, relaxes and is usually in bed by 8:30/9:00 as he prepares to do it all again tomorrow.
During lacrosse season, May until October, Tucker adds an extra layer of responsibilities on weekends as a professional lacrosse player for the Chesapeake Bayhawks. Tucker just completed his fifth season. In 44 career games, Tucker has compiled 43 goals and 20 assists. Following the conclusion of the 2019 season, Tucker was named the Corum's Players Choice Award Winner as "the best teammate in Major League Lacrosse."
In 2019, Tucker won his first MLL Championship with the Bayhawks, scoring two goals in the playoffs. Tucker called winning his first title "fulfilling and validating." He added, "winning a championship means more when you know how hard people worked for it."
As for his busy schedule, I asked Tucker why he fills his schedule out to the max? He responded, "I get a kick out of it. It is so much fun." Tucker added, "I have a vested interest in people. I feel an obligation to give back through sports and education. And I like being busy, idle minds aren't as productive."
"I want to be the hardest worker out there, I want to set a high bar for others through my hard work." On the field and off, Tucker has certainly set the bar high and it's why he is one of the most respected players, teachers, and coaches in the lacrosse community.
• Discuss this story on the Major League Lacrosse message board...


Major League Lacrosse Stories from December 26, 2019
The opinions expressed in this release are those of the organization issuing it, and do not necessarily reflect the thoughts or opinions of OurSports Central or its staff.