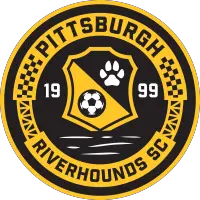 Velarde Succeeding in Role by Being Efficient with His Minutes
July 31, 2021 - United Soccer League Championship (USL) - Pittsburgh Riverhounds SC News Release



Sometimes super-sub, sometimes spot starter, the third-year midfielder is a key piece for Hounds
Every club needs a player who makes the most of his playing time, even if it means he has to come off the bench or play limited minutes.
For the Hounds, that player has been Anthony Velarde.
Velarde has been one of the club's most efficient playmakers over the last three seasons. He has tallied 11 goals on 27 shots in his Hounds career, to go along with seven assists.
"To be honest with you, I don't really look to score," Velarde said. "I don't go into a game thinking, 'Man, I have to bang a goal here.' I'm mainly an assist person, but I do get some goals because of where I put myself on the field.
"When I go in, I try to play a good game, do what the coach asks me to, and usually the goals and assists come with it. I think I've put myself into this mentality, and it's definitely been a big part of my success."
Velarde made his USL Championship debut with the Hounds in 2019, and by his own admission, it took a little while to adjust.
"My whole first year, I could tell it was a whole different kind of standard, a different kind of game compared to college," said Velarde, who came to Pittsburgh from Division II Fresno Pacific University.
"It took me a couple months to get accustomed to that, and midway through my first season, I really got into it. College was more, 'Give me the ball and let me do my own thing,' and obviously, the USL is a different level. It's more of a team thing, and I think I was way more comfortable in a team game."
He credited veteran leaders Kenardo Forbes and Kevin Kerr for setting the standard for success and helping him turn the corner after he arrived.
"Those guys have a level of professionalism that's top of the league," he said. "I mean, I feel like I've gotten better just by playing with Kenny the last couple years. Playing with that caliber of players definitely made a big difference in my career."
Velarde finished his rookie campaign with three goals on just 15 shots, to go along with four assists.
His 2020 season was more impressive. In only 629 minutes - meaning he was on the field just 43.7 percent of the time - he tied for second on the team with five goals on just seven shots, and he also added two assists.
Velarde appeared to get better on both sides of the pitch during his second season, a belief corroborated by both Velarde and assistant coach Dan Visser.
Visser saw Velarde's offensive potential from the start, but noted that he'd made great strides defensively since 2019.
"He's a guy that, early on, had a lot of ability in terms of goals, assists and his ability to play some balls," Visser said. "I think that he's had a lot of that from the start. Since he's come in, though, a lot of what he's done defensively has been huge. He went from a player that was a liability to someone that we now trust defensively."
Visser also noted that to have a guy of Velarde's nature is invaluable for any club to have.
"He's a guy that's always ready," Visser said. "He always trains well, and I think coming off the bench, he can come in, find a goal, find a key pass or even just help close out a game defensively. We trust him to be ready."
This season, Velarde has two goals on five shots and one assist, and he still looks to improve in any way he can.
"I want to just keep getting better technically, tactically. I think those are the main things I want to stress," Velarde said. "Obviously, I wouldn't mind getting faster and quicker, but you can always get smarter. You can get better with your feet, even get better under pressure. I just want to keep getting better and become a top-level player."
• Discuss this story on the United Soccer League Championship message board...


United Soccer League Championship Stories from July 31, 2021
The opinions expressed in this release are those of the organization issuing it, and do not necessarily reflect the thoughts or opinions of OurSports Central or its staff.
Other Recent Pittsburgh Riverhounds SC Stories