The OSC Interview: Portland Arena Football Coach Ron James
by Fran Stuchbury
February 4, 2016 - Arena Football League (AFL) - Portland Thunder


OurSports Central contributor Fran Stuchbury recently spoke with Portland Arena Football Head Coach Ron James who was named to his post last week. James has been a head coach with three AFL teams - the Pittsburgh Power, Las Vegas Gladiators and Utah Blaze - for a total of seven seasons with a 57-52 record. James' first AFL job was as an assistant coach for the Albany Firebirds in the 1990 and 1991 seasons.
Fran Stuchbury: What interested you in being the Portland head coach and general manager?
Ron James: The interest stemmed from being able to run an entire organization. With the team being league-owned it gives me a lot of autonomy to put my stamp on this organization which was why I wanted to take the job.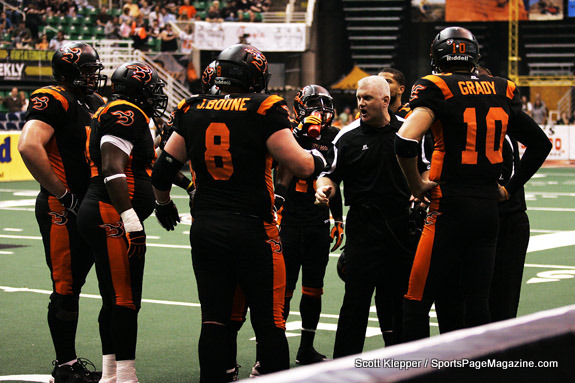 Ron James Coaching with the Utah Blaze
(Portland Thunder, Credit: Scott Klepper/SportsPageMagazine.com)
FS: When will your coaching staff be in place?
RJ: I anticipate the assistant coaches being hired by the end of the week. I have a lot of contracts offered to them that have yet to be finalized by the league.
FS: Have you been given assurances by the AFL you will be able to sign any players you need to have on the team or you under a certain budget?
RJ: I have had assurances that we will be treated like every other team in the league. The league intends to run the franchise in a first class manner. I am going be part of that, obviously. I wouldn't be a part of it if I wasn't given those assurances.
FS: How much communication have you had with AFL Commissioner Scott Butera? Are you happy with how he is running the league?
RJ: I have a lot of talks with the Commissioner. Because this franchise is run by the AFL, the Commissioner is my touchstone for any needs that I have with this organization. I think the Commissioner is doing an excellent job of trying to rally the troops and make sure that the AFL is successful for years to come. It's a very difficult task in professional sports to be able to make sure there is a demand for your product, make sure your product is outstanding and make sure all facets on and off the field are run in a first class manner. I think absolutely we have the right man at the helm to do those types of things. He has the full support of the owners in the league and that is necessary. (I've had) nothing but positive interactions with Commissioner and I am looking forward to that continuing in the future.
FS: What is your take on all eight teams qualifying for the AFL post season? Does it make the regular season less meaningful?
RJ: It doesn't make the regular season less meaningful. What it does is it enables you to jockey for your position as the season goes on. You understand you are going be placed in the playoffs. In years prior, when you had a few teams that were not going to make the playoffs or you didn't see your (playoff) situation being improved... a lot of times at the end of the season teams kind of saved themselves for the playoffs. Now it's going be more of an all-out tournament at the end with everybody having an opportunity to compete.
FS: Will the team have any tryouts?
RJ: I don't think we are going have any tryouts prior to the opening of the season. We will look at things during bye weeks on how the roster looks at that point and certain points of the season. There is just too much work to be done in a short period of time to organize a tryout camp within the next month.
FS: Talk about the quarterback on Portland's roster you are familiar with, Shane Austin, who played when you were an assistant with the Cleveland Gladiators last season. What does he bring to the table?
RJ: Shane is a very good quarterback. His experience in the Arena Football League the past few seasons has put him in the top half of the league. He is one of the elite quarterbacks in the league, and I got to know him personally when I worked at Cleveland last year.
He's a top notch individual, comes from a great family, and he's been a terrific football mind. He will mold into my system much like Tommy Grady did when I was the head coach at the Utah Blaze and Pittsburgh Power. Shane has a tremendous upside in this league.
FS: Talk about the backup quarterback position. The team recently signed Danny Southwick. Is Darron Thomas also a possibility despite him being drafted by Major League Football, a league attempting to launch in April?
RJ: I don't know Darron Thomas' situation. I know he signed with another league. Right now he is on our injured reserve list with Portland. I will look into that when I get out there and figure out if he fits into what our plans are; if he wishes to continue to play in the AFL first and foremost.
Danny Southwick has played seven seasons in the AFL and played in Portland during the 2014 season. I feel good about the quarterback position. I have two veteran players with Shane Austin and Danny Southwick in the fold, so to speak. I am anxious to see what they can do in camp.
FS: Out of the cities at which you have coached - Pittsburgh, Utah and Las Vegas - which would most deserve to get an AFL team back?
RJ: I think all three would be fantastic. I think in particular Pittsburgh and Salt Lake City have the infrastructure for sports that are ready made for the AFL to jump in. Including a NBA franchise in Salt Lake City with the Utah Jazz would be tremendous.
With Pittsburgh I think the NHL Pittsburgh Penguins ownership group would be tremendous as well. There are a lot of people in that Pittsburgh area that are die-hard football fans and that area screams for a need have arena football come back.
Las Vegas is a little bit tougher; it's a tougher sell because in that city there is so much competition for the entertainment dollar. But certainly we made it work in the early 2000's when I was there with the Gladiators. It enjoyed some success at the turnstile and we put some butts in the seats as well.
I think all three places have their upside. I think the AFL is exploring every avenue they can to expand and thrive for years to come.
FS: You were an offensive/defensive line coach with Houston ThunderBears, a team that was taken over by the AFL in 2001 and had to play on the road every single week, finishing 3-11 that season. How was that experience?
RJ: It was totally different. In those days in the early 2000's we were the road warriors, the traveling Bears. We were basically showcasing the game of arena football to potential af2 (arenafootball2) or AFL markets. I can remember one of the games we actually played in West Valley, Utah, not far from Salt Lake City prior to the Blaze joining the AFL in 2006. We also had games in Charleston, WV; Madison, WI; Bismarck, ND and Lubbock, TX.
It gave fans across the country exposure to arena football. It was a great barnstorming event for the league, and being the league's team it did show some advantage for potential markets. It was very tough on the team itself. You could imagine traveling every week and waking up in a different hotel every week. Keeping the team focused was a difficult way to go, but at the same time it was a lot of fun and I am glad I had that experience.
FS: You have had a very long AFL coaching career. Talk about some of the best quarterbacks you have coached.
RJ: I have been very fortunate with the quarterbacks I have had around me in this game. I can go as far back as Fred McNair playing for us with the Albany Firebirds. They had a long list of quarterbacks there including Mike Perez and Mike Pawlawski.
With Houston I had the opportunity to work with Robert Hall. He was a tremendous wide receiver and a quarterback for us. We also had Clint Dolezel, the greatest of all time. Clint is now a head coach in the league with the Philadelphia Soul. I had Clint as a player when I coached in Las Vegas. It was a blessing to have Clint on our team and do the things he did for us.
Then I go up to Utah and coached Joe Germaine, another tremendous quarterback. I actually had Sherdrick Bonner signed with the Utah Blaze prior to the league suspending operations in 2009.
I can't say enough good things about the players I have been around, and to have players like Tommy Grady who developed so much into a good AFL quarterback when I coached him in Utah and Pittsburgh. Last season I had Shane Austin when I was a coach in Cleveland. There has been no shortage of great quarterbacks who have been around as this thing has progressed. Having been around the league since 1990, there has been a depth of talent at that position and that continues to be so.
FS: Would you like to see the AFL get more back to Ironman football or would it be too tough on the players these days?
RJ: I have coached in both, and I can honestly say the Ironman system had its advantages because you had to coach a certain way, had to stock your roster in a unique matter as well.
The way the game is currently run has a tremendous upside for the league: the players' ability to move on to other leagues and progress as football players and hone their skills. Whatever the AFL decides to do with the format of the league, I trust the higher ups and people that run the league. Either way, I think you will get tremendous athletes in this game and you're going get a fan-friendly game that continues to grow. We are just starting to hit our stride a little bit here, and that sounds funny since we had contraction. The league knows who we are and what we need to attack to get where the AFL can succeed.
FS: You go way back with Mike Hohensee when you were a coach with the Albany Firebirds in 1990 and 1991. He was the Portland coach last season. Have you spoken to him since you were named head coach, and did he give you any advice about the Portland area?
RJ: I haven't talked with Coach Hohensee. I worked with him briefly under Rick Buffington when he was the head coach of the Albany Firebirds. We remained friendly throughout the years. Obviously Mike is a tremendous football coach, somebody this league will sorely miss this season. I haven't heard from him this off-season. I didn't really anticipate coaching in the AFL this year. I had an unexpected windfall as far as being able to run a team and I am looking forward to it.
FS: Do you see yourself continuing as a head coach next season if Portland gets an ownership group and stays or if they relocate?
RJ: It's funny, but those are things you tend to gravitate one season at a time until its finality. I have heard nothing but good things about the Portland area and I hope the franchise stays there and will continue with them. I don't have a crystal ball, so I can't tell you what the future holds for that area. I just know that the league is committed to making the franchise attractive to potential buyers and to make the franchise strive for this season.
FS: For the fans in the area who are debating whether they should go to a Portland game, why should they come? With the league taking over the franchise, some fans have expressed skepticism.
RJ: I think fans in the Portland area should come out to games because they are exciting games to watch. We are going be a highly competitive team this year. By supporting the team, you will show any potential owners and investors that it is a viable franchise, something that the people in the area dearly want to see progress. I think it's a big opportunity for fans to come out and support the team.
The Portland area loves arena football. It's a good football town and by doing that, I think they will have a great fan experience and a lot of fun. We are going bring in the type of players that will interact well with the crowd and make our sponsors proud.
Images from this story
• Discuss this story on the Arena Football League message board...


Arena Football League Stories from February 4, 2016
The opinions expressed in this article are those of the writer(s), and do not necessarily reflect the thoughts or opinions of OurSports Central or its staff.
Other Recent Portland Thunder Stories