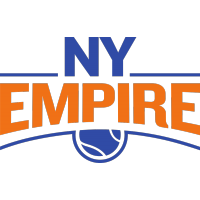 The OSC Interview: New York Empire Coach Patrick McEnroe
by Fran Stuchbury
February 26, 2016 - World TeamTennis (WTT) - New York Empire



OurSports Central contributor Fran Stuchbury recently spoke to World TeamTennis New York Empire Coach Patrick McEnroe. The Empire will be playing its first season in WTT this summer. McEnroe won one singles title and 16 doubles titles, including the 1989 French Open Men's Doubles. He was ranked as high as World No. 28 in singles and World No. 3 in doubles and is the former captain of the United States Davis Cup team.
In World TeamTennis, Patrick McEnroe has seen and done it all. He played for six consecutive seasons with four different franchises, helped found the New York Hamptons (which became the New York Sportimes in 2003), performed double duty as a player and as a coach for the New York Hamptons in 2002, and recruited top junior tennis players to create the first all-junior WTT team for the New York Buzz in 2009. McEnroe also serves as a tennis commentator for ESPN. Patrick is the younger brother of John McEnroe.
Fran Stuchbury: What interested you in getting back involved with World TeamTennis and becoming coach for the New York Empire?
Patrick McEnroe: It was pretty fortuitous. I finished my career at the USTA last year. Now doing my commentary for ESPN, this was a great opportunity to get back involved in WTT when WTT Co-Founder Billie Jean King and WTT CEO and Commissioner Ilana Kloss called me. Number one, having a team in New York obviously was huge.
Also being able to get back involved with WTT; I was a player for a number of years. I was an owner for a couple of seasons: the New York Hamptons in 2000 (which became the New York Sportimes in 2003). I brought a team back to New York; I was part of that group and did that for a number of years. It started to become full circle, and the chance to be a coach of a new team in New York.
Then you combine that venue for the Empire, The West Side Tennis Club at Forest Hills Stadium, which is an iconic place in the history of tennis that hosted the US Open from 1915 to 1920 and 1924 to 1977.
For me growing up like fifteen minutes from there, I have incredible memories of not only going there to watch the US Open as a ten, eleven year old kid but also was lucky enough to play there, not just as a professional.
One of my great memories was actually playing in junior tennis in the Eastern Region where we are in New York. If you went to the semifinals or finals in one of our bigger eastern tournaments, we actually played at the West Side Tennis Club, on the stadium court. I remember playing there and saying how cool is this to be able to play on those courts as a teenager. The fact that all these things combined, it was an opportunity I couldn't turn down.
FS: How is playing matches at the Forest Hills Stadium going be for players and fans?
PM: I think it is going be amazing, I am just so happy they started this concert series the last couple of years and have been able to redo the stadium. Forest Hills Stadium has such a great history of tennis with the grass courts, clay courts and the hard courts. Walking into that club house and walking into that locker room, it's sort of surreal. I think that will be great for people my age that grew up going to the US Open up there and hopefully they will bring their kids and get a little taste of the history of tennis. Since it moved to Flushing Meadows, that has been a huge boostfor the US Open in general, but I think it's great to go back the roots and remember what tennis was in the 1950's, 1960's and 1970's.
FS: How is your relationship with Empire marquee player Andy Roddick? How many matches will he play this season?
PM: I think Andy signed up to play two matches. That will be tremendous. The history with him is long and sitting on the bench with him for all those years at the Davis Cup was a true honor and a privilege. He was somebody that literally gave every ounce of energy he had to help the United States Davis Cup team that culminated in us winning the Davis Cup in 2007.
Really more than that, I remember the trials and tribulations we went through as a team. Remembering in the 2002 Davis Cup Andy sitting in the locker room, in the showers at the home of the French Open, we lost to the French team in the semifinals. Andy, as he always did, gave one hundred percent effort win, lose or draw. That is something I always admired about him. I remember when we got to the airport the next morning when the match was over we shook hands and Andy went on his flight back to Florida, I was going back to New York he said "Oh captain, I am sorry." I was, "What in the world are you sorry about?" He said "I am sorry I lost." My response was, "I don't ever want to hear you say that again. You gave an incredible effort and that's all you can do; this is a long journey."
When we won the Davis Cup over Russia in 2007, it was a culmination of many years of the team trying to accomplish that goal. Andy was certainly the true leader for the team for all those years.
FS: Will the Summer Olympics in Brazil have any impact on you getting players for the Empire?
PM: I think the tournament schedule always has some impact. I am hopeful for the WTT Draft on March 25th in Miami, Florida. You are always waiting to see who is going be in the draft and obviously where you pick in the draft. You can't just hand pick the players you want, but that being said, I am cautiously optimistic that hopefully we can get a local player.
There are a couple of good junior players coming up from the New York area: Louisa Chirico and Noah Rubin, players that will hopefully consider playing. That would be great for the team because they are local, young and very enthusiastic. I would like to see that, obviously some of it is beyond your control where you pick, etc. That is certainly a direction I am hoping to go.
FS: How was your experience in founding the New York Hamptons in 2000 and playing a couple of seasons with your bother John McEnroe on the team?
PM: It was awesome; John obviously was playing till his 50's, playing very well. He still plays extremely competitively on the Senior Tour against guys like Andy Roddick who are twenty years younger. It was a lot of fun; John brings a huge energy to whatever he does. Both of us grew up in a household where we loved to play sports and we loved team sports. Obviously we were drawn to tennis because of the individual nature of tennis and we were pretty good at it. We loved to play soccer, basketball and baseball. Both of us have been really into the team aspect of tennis. Whether it was playing in college at Stanford or playing Davis Cup being a captain of it and being part of TeamTennis.
The concept that WTT Co-Founder Billie Jean King put forward 41 years ago is men and woman playing on the same team with equal footing, equal responsibility. I think that is one of the great lessons we can learn and teach our kids, when they come to watch WTT, not just to have fun, but realize girls and boys, men and woman of all ages can participate and be an important part of what being on a team is about. I think that is a very valuable lesson.
FS: Will your brother John have any part in helping promote the New York Empire?
PM: I haven't had that conversation with him yet, but obviously he was part of the team with the New York Hamptons which became the New York Sportimes in 2003, and John played with them until 2010. John runs a very successful academy that has locations in Manhattan, Westchester and Long Island. Hopefully we can get him involved in some way, shape or form. He has always been a big supporter of WTT and certainly tennis in the New York area.
FS: You stated you are going try to have some younger players on the Empire. You recruited top junior players to help create the first all junior WTT team in the New York Buzz back in 2009. How was that experience?
PM: That was great because one of the things that is good about WTT is getting young players that are just working their way into pro tennis a taste of the pro game, not the tournament part of it which is another challenge. The great thing about WTT you get the support of players, teammates and a coach. You get a schedule you know; you know when you are going play. You know basically who you are going play, and you get the experience. I loved it when we had the all junior team, but also I love it when you have a mix of some veteran players and some retired players like Andy Roddick. Then they have the chance to be around those kinds of players. There is a real mentoring part of it that goes into it. I think that is really a great part of what makes WTT special.
I remember the first time I ever saw Andy Roddick was in a WTT match and I played against him. He was 17 or 18 at the time and had a thunderbolt serve. I was playing against him in doubles. For some reason he kept serving to my backhand that by far was my better shot. Years later I asked him why he did that, and Andy said I wanted more of a challenge. I knew then he was going be somewhat special. He himself would tell you that playing WTT at that age was very good for his development and good for transitioning him into being a full-time special player.
FS: Do you feel the New York Empire will develop a good rivalry with the Washington Kastles who have won five straight WTT Championships?
PM: Listen, we are coming after those guys because the Kastles have been dominant for too long. So we want a piece of them. Our plan is to bring the trophy back to New York and I mean New York City, not upstate New York.
FS: How much of an advantage is it for the home coach being able to pick the order of matches (men's singles, men's doubles, woman's singles, woman's doubles and mixed doubles) in WTT matches?
PM: It's big; it's strategy. It's a big part of WTT and honestly doubles can be more important than singles because there are three doubles sets. Obviously you want to put your format together the way it will most benefit your team. The home team has an advantage, and as a coach you are responsible for doing it right and not messing that up.
FS: With are the similarities, what differences are there between Davis Cup and World TeamTennis?
PM: They are similar in some ways and different in others. It's similar in that you have the players playing for a common goal, number one. They are practicing together, eating together, etc. Certainly they are different with the format, a lot different. It's not best of five sets. The matches happen quickly and there is no add scoring, lets, etc. The idea of playing for a team is very similar. For some players, they gravitate towards that. Other players, they don't do as well. They are sort of more individual based and they sort of get a little freaked out when they play for a team. They feel a different kind of pressure, so someone that is generally a good player in Davis Cup or Fed Cup will probably be a good player in WTT, too, because they are used to that camaraderie. They are used to having someone talk to them during the match and they get fired up and inspired by that, so there are a lot of similarities.
FS: How much communication have you had with WTT Co-Founder Billie Jean King?
PM: I am about to get in a car in couple of minutes with her. Billie is an amazing individual with what she continues to do, not just promote tennis but promote life, sports and woman's participation, so she has impacted the world in far more ways than just what happens on the tennis court. I am constantly amazed by her energy and what she continues to do. I am excited to be back and part of WTT and work alongside her and WTT CEO/Commissioner Ilana Kloss; they have worked tremendously hard for many years to keep WTT going. I am thrilled to be involved again.
FS: Does playing in WTT help the players get ready for the US Open since they are both played on hard court surfaces?
PM: The competition helps, there is no doubt. The form of WTT is you're on from the first point. It's a very good tool for players to start quickly and be ready from the first point. Every point counts. It's not only good for the US Open, it's good for anything. It's good for competiveness. You get to play in front of a crowd either hostile or for you. We certainly know that New York crowds can get into it, so all in all it's a win-win for players.
FS: For fans in the New York area, why should they come to a New York Empire?
PM: They should come because it's fun, for one. It's competitive; again it has men and woman playing on equal footing. It's entertaining. It's a chance to go back and see the West Side Tennis Club; get a little taste of the history of the place and walk around there. You're going to see great tennis: singles, doubles and mixed doubles. You are going see a whole different range of players which I think is one of the great things about tennis. As we always say, it's the sport of a lifetime. You're going to see young players; you're going see older players and players on the tour. There is a place for everyone in tennis.
Images from this story
• Discuss this story on the World TeamTennis message board...


World TeamTennis Stories from February 26, 2016
The opinions expressed in this article are those of the writer(s), and do not necessarily reflect the thoughts or opinions of OurSports Central or its staff.