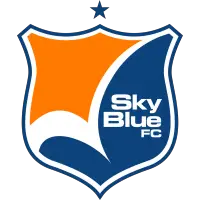 Sky Blue FC Prepared for Opening Day
April 3, 2009 - Women's Professional Soccer (WPS) - Sky Blue FC News Release



SOMERSET, N.J. (April 3, 2009) - Take 21 players from different backgrounds, put them all together for a month, and then go out and make your debut on the professional stage. Sky Blue FC will be following that story line when it plays its first-ever game in Women's Professional Soccer on Sunday.
The New Jersey/New York franchise in WPS celebrates Opening Day on April 5th at 4 p.m. against the Los Angeles Sol at TD Bank Ballpark in Bridgewater, NJ. (888-SBFC-TIX - www.SkyBlueStore.com)
Starting with the United States Women's National Team allocation in September and spanning three drafts and open tryouts, Sky Blue FC head coach Ian Sawyers compiled his roster. After a month of preseason in Greensboro, NC during which a number of players missed time due to international commitments, the team returned to New Jersey to prepare for the season opener.
"I think the preseason has been a little disjointed with players coming in late, and then the weather has been a hindrance this week too so we haven't had as much preparation as we would have liked," Sawyers said. "But in terms of total preparation, our players have been preparing for this all of their lives, so psychologically I think they're very well prepared."
Sky Blue FC will need to be ready when it faces the Sol on Sunday. Los Angeles comes to New Jersey fresh off its 2-0 victory over the Washington Freedom last Sunday in the WPS Inaugural Game in California. The Sol featured a potentially dangerous offense in that match with its international attacking contingent of Marta (Brazil), Camille Abily (France), Han Duan (China), and Aya Miyama (Japan).
"We looked at the match analysis (of Los Angeles vs. Washington) and Marta, Han Duan, and Miyama combined a number of times during the game," Sawyers said. "You can never stop Marta, you just have to contain her and try to shepherd her into the right spots so she's less of a threat. But we feel we have some experienced defenders out there who have played at the international level."
Sky Blue FC counters with a defense led by USWNT captain Christie Rampone and featuring a combination of Anita Asante, Keeley Dowling, Julianne Sitch, Jenny Hammond, and Christie Shaner. In goal, Sawyers will choose from either Karen Bardsley or Jenni Branam, who was drafted by the Chicago Red Stars but claimed by Sky Blue FC during the preseason.
Offensively, Sky Blue FC features an attacking arsenal of its own led by international strikers Natasha Kai (US) and Sarah Walsh (Australia). Sky Blue FC played two exhibition matches in the preseason - a 1-0 victory over the Freedom and a 2-1 loss to the University of North Carolina. Kai scored the only goal in the win against the Freedom while Walsh connected against UNC.
In the midfield, Heather O'Reilly gives Sky Blue FC a relentless presence on the flanks while Australian Collette McCallum, Canadian Kelly Parker, Brazilian Rosana and first-round draft pick Yael Averbuch give Sawyers a number of options in the center of the midfield. Kacey White, Jen Buczkowski, and Meghan Schnur are also candidates to play in the midfield.
While Los Angeles has the advantage of having already played a game, Sky Blue FC has the element of surprise. In addition, Sawyers had the opportunity to analyze the Sol in its first-game performance.
"The advantage they have is that they've played a game and they've got the nervousness out of their legs," Sawyers said. "Our players are really excited to play in front of the crowd and they really want the crowd to get behind them so there will be a little level of nervousness there from our group. Obviously, having watched them on tape we have a good idea what they're trying to do, but they could equally just change that. When you're playing away, it's not always the same as playing at home. We'll try to take the game on its merit and see what they bring."
Included in the festivities for Opening Day are an Official Coin Toss by New Jersey Governor Jon Corzine and an Honorary First Kick by US Olympic Gold Medalist and US Soccer Hall of Fame member Julie Foudy. There will also be a Fan Zone, the live band Mushmouth, halftime contests, and interactive text messaging.
Presale for Sky Blue FC tickets has been strong with all reserved and VIP sections sold out. General admission tickets are still available online at www.SkyBlueStore.com through 9 a.m. Sunday morning or by phone at 888-SBFC-TIX.
WHAT THEY'RE SAYING ABOUT THE GAME
Women's Professional Commissioner Tonya Antonucci: Today is an historic day for soccer and women's sports in the New Jersey/New York area. Sky Blue FC are playing their Inaugural Match in Women's Professional Soccer and have officially joined the professional sports landscape in a region known as one of the soccer hubs in America. WPS has laid a foundation that will support a successful, entertaining and sustainable league and we look forward to seeing the Sky Blue FC feature world class soccer throughout the season in the greater New Jersey region - an area with a great soccer tradition and following.
New Jersey Governor Jon Corzine: It's great to be able to help kick off the season for Sky Blue FC. This is a great sport, and a great team, with an excellent blend of players. We are indeed very proud that Sky Blue FC is the first major women's professional sports team to call New Jersey home.
Sky Blue FC President & CEO Thomas Hofstetter: I'm excited that three years of hard work are finally coming to a conclusion in the best way possible. I'm convinced there will be no doubt that our league is the best women's professional league in the world. It's exciting that we can bring this to the New Jersey/New York market - the best soccer market in the country.
Sky Blue FC General Manager & Head Coach Ian Sawyers: I think having the crowd get behind us is going to be really important. Our players really, really want to do well. As soon as the crowd can get behind us and lift the players as much as they can, that's going to be a big factor. For media inquiries, please contact: Melissa Dziowgo - mdziowgo@skybluesoccer.com - 732-271-7700 ext. 305
About Sky Blue FC Operated by Sky Blue Soccer, Sky Blue FC is the New Jersey/New York franchise in Women's Professional Soccer - a new women's pro soccer league that is set to kick off its first-ever season in Spring 2009. Sky Blue FC will play its home matches at TD Bank Ballpark in Bridgewater, NJ and Yurcak Field on the campus of Rutgers University in Piscataway, NJ. Sky Blue FC will operate under the direction of General Manager and Head Coach Ian Sawyers. Website: www.SkyBlueFC.com
About Women's Professional Soccer (WPS) The mission of Women's Professional Soccer (WPS) is to be the premier women's soccer league in the world and the global standard by which women's professional sports are measured. Play kicks off in the spring of 2009, with WPS teams based in the Bay Area, Boston, Chicago, Los Angeles, New Jersey/New York, St. Louis, and Washington, D.C. The league plans to expand in 2010 with the addition of Atlanta and Philadelphia, while working to secure a facility for a Dallas team for the second WPS season. Website: www.WomensProSoccer.com
• Discuss this story on the Women's Professional Soccer message board...


Women's Professional Soccer Stories from April 3, 2009
The opinions expressed in this release are those of the organization issuing it, and do not necessarily reflect the thoughts or opinions of OurSports Central or its staff.