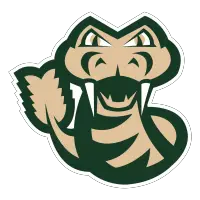 Rattlers Big Fourth Quarter Leads to 90-71 Win over Growlers
June 29, 2022 - Canadian Elite Basketball League (CEBL) - Saskatchewan Rattlers News Release



The Saskatchewan Rattlers started and ended the game hot as they defeated the Newfoundland Growlers 90-71 in Saskatoon.
The game was close midway through the third quarter but the Rattlers went on a run to lead by 22 points at one point. They win their third game in a row with a 6-4 record and move to 5-1 at home. The Growlers (0-9) are still searching for their first victory.
The Rattlers started well with a Devonte Bandoo jumper, a Malik Benlevi three and a Tony Carr floater. Jahvon Blair scored Newfoundland's first points with a jumper. The Rattlers ran in transition for layups as they went up 11-2.
Terry Thomas made his impact coming off the bench, attacking the rim as the Growlers cut into the lead. Saskatchewan's Jordy Tshimanga grabbed rebounds and dunked down low.
The Growlers hit back-to-back threes from Brandon Sampson and Thomas to cut the deficit to 21-18 after 10 minutes. They took their first lead of the game as Nysier Brooks scored off a post up.
Carr showed his playmaking skills with a pass to Ishraad Hunte for an open dunk as the Rattlers regained the lead. Carr also got into the paint and to the foul line.
Most of both teams' shots were from two-point range and free throws. Carr scored a floater and found Bandoo for a three as the Rattlers went ahead 45-37 at the half.
Brooks had a team-high 14 points by halftime and continued scoring with a layup to start the third quarter as Newfoundland came out strong. Sampson found Brooks streaking to the basket to tie the game. The teams traded scores and moved the ball well.
Saskatchewan went on a 10-point run to restore their advantage as Scottie Lindsey dunked the ball from a pass from Carr. Lindsey hit a triple and finished off a fast break layup as they took an 11-point edge into the fourth quarter.
The Rattlers forced a shot clock violation in the first possession of the fourth quarter while they built on their lead. Sebastian Åris knocked down a three to make it 74-58. They took a 81-65 lead into the Elam Ending.
Saskatchewan turned defence into offence as Bandoo flushed down a fast break dunk. The Rattlers continued to score as Benlevi buried a corner three to win.
The Rattlers shot well from three once again (42 per cent) while also having more assists (17-12) than the Growlers. Carr led the offence with 22 points, seven assists and four rebounds. "I've been seeing a steady progression in his ability to control games," Saskatchewan head coach Dean Demopoulos said. "I thought his defence was a little bit better."
Bandoo (21 points, four rebounds), Benlevi (13 points, three-for-four from deep) and Lindsey (17 points, five rebounds) also had standout performances.
"I thought generally, we played in spurts very well and in other spurts not so well," Demopoulos noted. He pointed out how they didn't turn the ball over and their offensive rebounding was good during their second half run.
The Growlers' attack was headed by Brooks (20 points, 15 rebounds). Newfoundland head coach Patrick Ewing Jr. called his performance fantastic. "I don't run a set for him," Ewing Jr. added. "He goes and gets it. He's playing hard, he's doing what I ask him to do on defence."
Meanwhile Sampson (11 points, three rebounds), Blair (12 points, three-for-five from three) and Thomas (10 points, four rebounds) also made an impact.
"Like every game, there's spurts where we looked like we're the best team in the league and then there's spurts where we look horrible," Ewing Jr. noted. For him, the focus going forward is figuring out what they're doing well in those spurts and sustaining it.
The Rattlers finish off their homestand against the Niagara River Lions on July 1. The Growlers continue their road trip against the Edmonton Stingers on June 30.
All games will be streamed live internationally on the CEBL's OTT platform, CEBL+ and on CEBL Mobile the official app of the CEBL for iOS and Android devices. Games are also available to stream live in Canada via cbcsports.ca, the CBC Sports app for iOS and Android devices, and the free CBC Gem streaming service.
A league created by Canadians for Canadians, the CEBL has the highest percentage of Canadian players of any professional league in the country, with 71 percent of its current rosters being Canadians. Players bring experience from the NBA, NBA G League, top international leagues, the Canadian National team program, and top NCAA programs as well as U SPORTS. The only First Division Professional League Partner of Canada Basketball, the CEBL season runs from May through August. Head to CEBL.ca for more information or follow us (@cebleague) on Instagram, Twitter, TikTok, LinkedIn, Facebook & YouTube.
Images from this story
• Discuss this story on the Canadian Elite Basketball League message board...


Canadian Elite Basketball League Stories from June 29, 2022
The opinions expressed in this release are those of the organization issuing it, and do not necessarily reflect the thoughts or opinions of OurSports Central or its staff.