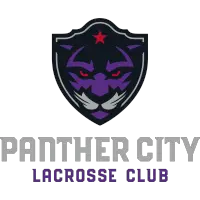 Panther City Media Day Recap
November 15, 2021 - National Lacrosse League (NLL) - Panther City Lacrosse Club News Release



On Friday, November 12, the Panther City Lacrosse Club held media day at the Omni Fort Worth. Below are quotes from Head Coach Tracey Kelusky, veteran forward Ryan Benesch and recently named Team Captain Chad Cummings.
Head Coach Tracey Kelusky is an NLL veteran who netted 823 points in his 14-year career on the field before hanging up the gloves to become a coach. He has served as a coach for the New England Blackwolves, the Philadelphia Wings, the Peterborough Lakes of Major Series Lacrosse, and an assistant coach for Team Finland during the World Indoor Lacrosse Championships in 2015.
Veteran forward Ryan Benesch is entering his 15th year in the National Lacrosse League, becoming just the tenth player to reach 1,000 points during the 2018-19 season. Benesch was selected first overall in the 2006 NLL Entry Draft by San Jose before being traded to the Toronto Rock where he won Rookie of the Year for his play during the 2006-2007 campaign.
Team Captain and defenseman Chad Cummings was acquired via trade with Calgary on July 30 and was originally selected 36th overall in the 2012 NLL Entry Draft out of SUNY Brockport. Up to this point, he has spent his entire career in Calgary and won the NLL Championship with the team in 2019. A left-handed defender, Cummings has appeared in 61 career games and has caused 44 turnovers.
Head Coach Tracey Kelusky-
What should people expect from your boys?
We are not reinventing the wheel as far as how the game is played but we are going to bring a flavor of lacrosse that is going to be true to the city of Fort Worth. As in, we are going to be a blue-collar team, we are going to earn everything we get, we are going to be a fast, athletic team and truth be told we are built from the back end, so we are going to beat up guys on the back end. We are going to play a physical brand of lacrosse.
I had a vision of how we wanted to play being an expansion team and bringing in new players. The players have bought in to that and we are physical and athletic, and it's going to be a super-fast paced game and style of lacrosse that we are going to play.
How long do you get to coach your players on a week-by-week basis?
That is just our league and that's just annoying. You get a couple practices a week prior to (games) and typically on weekends. So, we are flying guys in on Saturday and Sunday, and we beat in our systems. Most guys are full-time workers as well: we have police officers, fire fighters and even a pilot. So, we have guys working 9 to 5 jobs but one of the things lacrosse players do is have to watch film, have meetings, and go over tactical stuff virtually.
Veteran Forward Ryan Benesch-
What are the similarities between Lacrosse and Hockey?
The hand eye coordination for sure, the physicality and the speed. We play offense and defense too. For us, lacrosse is a mix of basketball and hockey, so for those who have not seen a box lacrosse game that is the best way to put it: we are a mixture of basketball and hockey.
What is the physicality level of box lacrosse?
I think people will gravitate towards our game [because of the physicality]. In box lacrosse there are huge hits, lots of goals, there are a lot of hits and the odd fight here in there. It's just a fast-paced game with non-stop action and I always say if you haven't seen a game, once you see a game you will come to every game after that.
How do you build team chemistry?
Basically, through group chat. When we are here on the weekends, we try to talk to everybody. The good thing for us is we don't have any cliques, so everybody talks to everybody on the weekend. Throughout the week, we stay active on the group chat because that is the only way we are going to get to know each other before the season started and before training camp even started. So once guys were selected or drafted, or signed to the team for tryouts, they were added to the group chat, and everyone pipes in here or there. You get to know who everyone is but obviously you can't put a face to a name until you meet them, but as far as chemistry-wise, that is the best way, through those group chats.
Do you have a full-time job?
Yes, I do- I work for the city of Kitchener, about 15 minutes from my hometown. I fix manhole catch basins and I pour sidewalk and curb, and, in the wintertime, we plow snow.
What type of team are you guys?
We are going to be a hard-working, blue-collar team, that's going to be our motto. We are not blessed like other teams with multiple super stars, so our mentality is come put your hard hat on and your work boots and get to work.
Defenseman and Team Captain Chad Cummings-
How do you build team chemistry?
So far, so good. We have had a few weekends of training camp and the have allotted some time for us to meet as teammates, have meals together, spend some quality time together. It is definitely unique compared to other leagues as we don't have the whole week to team bond, but the time we do spend together we try to make the most of it and get to really know our teammates. Especially as an expansion team, we got guys coming from teams all over, so we try and take advantage of the time we do have and get together as a group and get to know each and build some chemistry.
What should fans expect from the Panther City Lacrosse Club come opening night?
They should expect a fast group, an athletic group, that's for sure, probably a rough group. We like to play hard defense. A lot of sandpaper and grittiness and a team that focuses on the small things. Outworking teams is going to be our priority and we got some flash up front to, some guys that can score some goals. We are going to have an exciting a team, a team that wants to get up and down the floor and show our athleticism and hopefully create some athleticism out there.
What constitutes winning lacrosse?
In this league, its small margins because everyone is so good, every team is so good, so it comes down to the teams that focus in on the little things and are willing to do the hard stuff to win games. A lot of games are one goal games so it's the team that wants to battle to win one last ball to get the last possession and score that last goal. You do see blowouts, but mainly its tight games and tough competition. The league is very competitive, and it comes down to the teams that are willing to outwork the other team, do the little things right and come out on top.
What is your job outside of lacrosse?
I am a flight instructor. I am teaching right now at a flight school, and I have been doing it for five months now and its great. It gives me the flexibility to come down here on weekends and play.
Why play lacrosse in addition to your full-time job?
It is just that good of a game, the competitiveness of it, the Xs and Os, it's just one of those games that once you play it for so many years, you fall in live with it, get a passion for it and while you are still able bodied you want to keep playing it. The team camaraderie is another one, being around a good group of guys, like we got here, it's really driving, and you want to win this group. It keeps you coming back, coming down here every week, or going to whatever city were playing in and going to battle.
What's different about playing for a new expansion team?
It's exciting because you don't know what you got until you get on the floor. The unknown is an exciting part. Trying to build that team chemistry is a challenge for sure because all the players are coming from different teams, different systems, and stuff like that. So that is a hurdle we are trying to battle right now in training camp, and I think we are doing a good job of it, kind of coming together building some chemistry, getting to know one another and how one another play. There are going to be mistakes made, obviously, we are all trying to start something new and whenever you start something new, you are going to have some little mistakes here and there, and it is about overcoming those and learning from them step by step. I think that is kind of a big thing about starting an expansion steam and having a successful one as well.
What are you looking forward to about being in Fort Worth (outside of lacrosse)?
I am looking forward to getting some barbeque and hopefully catching a football game or two. I love some football and I would love to see some in the state of football, Texas, so those are the two things I am most interested in outside of lacrosse right now!
Images from this story
• Discuss this story on the National Lacrosse League message board...


National Lacrosse League Stories from November 15, 2021
The opinions expressed in this release are those of the organization issuing it, and do not necessarily reflect the thoughts or opinions of OurSports Central or its staff.
Other Recent Panther City Lacrosse Club Stories